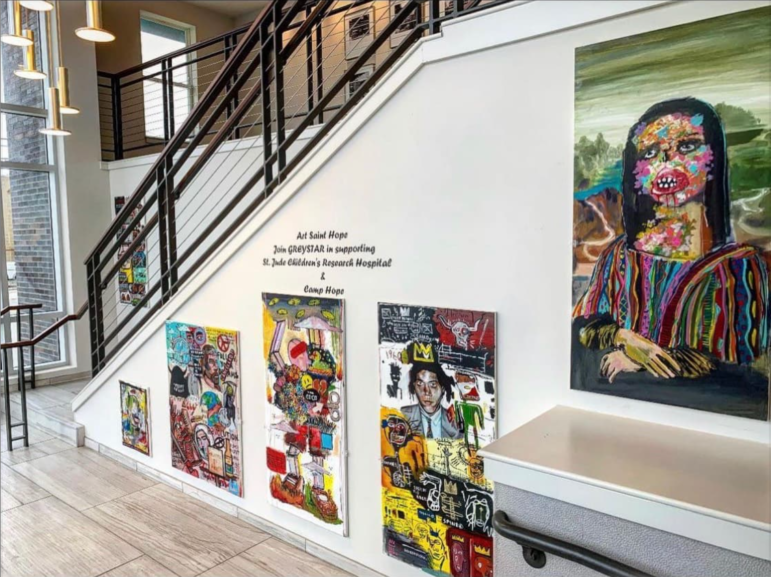 A new gallery in a Watertown apartment complex will feature art from nearly a dozen artists, and proceeds from the show will benefit children's cancer research and veterans with PTSD.
Art Saint Hope is the brainchild of Shamere Ross, the lead technician at Elan Union Market apartments, who wanted to give artists an opportunity to showcase their work and raise money for charity. Money raised will go to St. Jude's Hospital, which does children's cancer research, and Camp Hope for soldiers returning from war who are going through PTSD.
"It is special because it not only raises money for these two great initiatives, but it also helps struggling artist who are not able to show and sell works at many other popular galleries. Or who have been affect by the devastation of COVID," the event announcement said.
A show will be held on Tuesday, Aug. 31, from 6:30 p.m. to 8:30 p.m. at Elan Union Market, 130 Arsenal St., in Watertown. Tickets cost $10.
Ross put a call out for artists in May, and he got a good response.
"I have over 60 pieces from about 10 different artists," Ross said.
There is free public parking for attendees in the garage at 130 Arsenal St., as well as on the street in front of the building.
To get tickets, and to see some of the artwork at Art Saint Hope, click here: https://www.eventbrite.com/e/art-saint-hope-tickets-164322748765