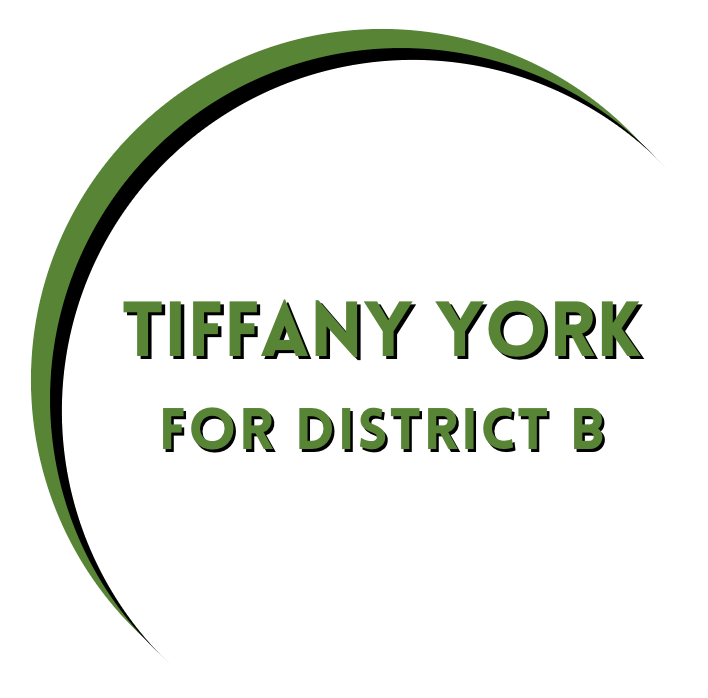 Watertown organizer, small business owner focusing on community conversations,
granddaughter of Mexican immigrants, and parent of 2, running for Town Councilor for District B.
My name is Tiffany York and I am running for Watertown Councilor for District B. I am filled with many emotions as I step into this opportunity. I want to build off of the amazing work folks are doing here in Watertown and I want to represent District B with integrity and vulnerability. I realize many people in Watertown may not know who I am or what I am doing for our city or where I come from, so I wanted to take this opportunity to introduce myself.
I started my relationship with Watertown in 2009, as I visited my now husband of 11 years, Eric. I remember the community we experienced in our building on Whites Ave., neighbors across the hall, new neighbors to laugh and cry with when a water leak affected three floors. As we continued to fall in love with Watertown, we were able to purchase a family home in 2016 and welcome our children into this home. I can say without a doubt that our Riverside St. neighborhood has filled us in ways we didn't even realize we needed. When our children Nora and Isaac were born, we were surrounded by folks bringing nourishment and community care. Five years later, we hear our next door neighbor directing us how to park straight, I hear brother and sister building a COVID-friendly Halloween shoot so we can all smile and have some chocolate through the sadness of the pandemic. We have found our home in Watertown and I am excited at the opportunity to be your public servant.
Now that you know a bit about what Watertown has come to mean to me, here's what I'm all about: I'm committed to equity in Watertown. I will focus on learning and using racial equity tools which are designed to integrate explicit consideration of racial equity in decisions, including policies, practices, programs, and budgets. The use of racial equity tools can help Watertown develop strategies and actions that reduce racial and social inequities and improve success for all groups. I believe that as a community, we can do more with more. En español we say, podemos hacer mas con mas. We can do more with more access, more resources, more voices and representation in policies and decision making processes in Watertown.
I will use my professional experiences, lived experiences, and values to offer District B and Watertown more transparent goal setting, a culture of maintaining and repairing relationships, and reimagined systems which will reflect and empower unbiased, equitable outcomes for the city government and all residents. I am currently doing this working within my roles as JEDI (Justice Equity Diversity and Inclusion) Project Lead for Postpartum Support of MA; within my role as a facilitator and member of the operations team of WCBL (Watertown Community for Black Lives); and as the co-organizer and emcee for Watertown's first Juneteenth community learning event. I bring my skill set of relationship management, facilitation, equity project management, and trauma informed support and advocacy. I believe these are values, skills, and passions that will continue to make Watertown a city in which all residents can thrive.
I'm committed to raising voices that have been ignored, historically and systematically, right here in our city. When our city can truly hear and create changes for our most vulnerable, we make a step toward equity, connectedness, and accountability for the next generation. This is why the November election and structural changes on a policy level are so important. These voices are important, these policy changes are necessary, and these cultural and behavioral changes in our city will give us opportunities to take better care of each other today and for the generations after us.
I'm Tiffany York, and I am excited to be with you all in the hard work of transforming our city so we can take even better care of each other. En espanol, we transform together, transformamos juntos. En español, we are stronger together, somos más fuertes juntos. Thank you, Gracias.
Please email me: TiffanyY4DistrictB@gmail.com
Follow me on social media: @TiffanyY4DistrictB