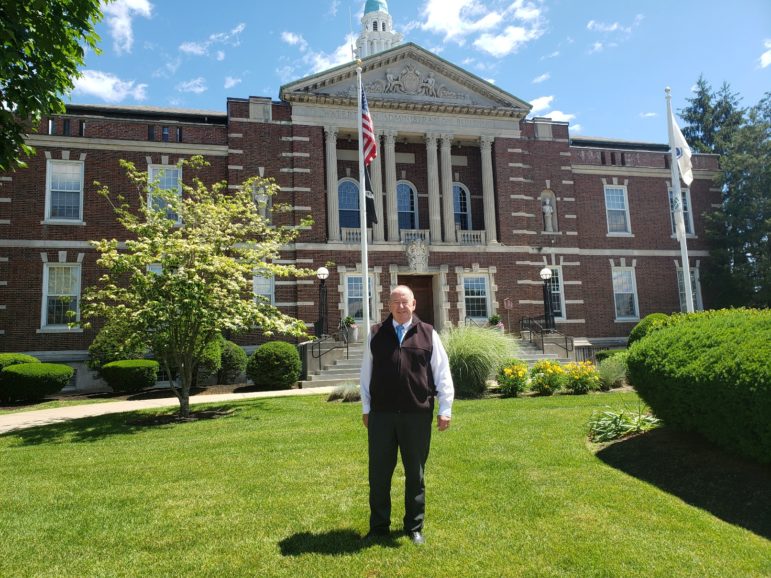 The Town Council gave Town Manager Michael Driscoll a raise, and some kind words as he nears the end of his long career in Watertown.
On Tuesday, the Town Council approved a pair of 2 percent annual raises and an additional 1.5 percent performance bonus for Driscoll. The pay increases moved his salary from $210,000 in Fiscal Year 2020 to $217,415 in Fiscal Year 2021 (which ended on June 30, 2021), and $221,765 in the current Fiscal Year, FY 2022.
In June, Driscoll announced he would retire at the end of January 2022 from the job he has held for 29 years, and after 45 years working for the Town of Watertown.
To change the Town Manager's salary the Town Council must pass an ordinance. The ordinance approved unanimously on Tuesday pointed to some of his accomplishments, including paying for construction projects at three elementary schools and the high school (with help from state funding) without going to residents for a debt exclusion tax increase, the Town's AAA bond rating, and paying off the debt in the Town's retirement system and plans to pay off the Other Post Employment Benefits shortfall.
Council President Mark Sideris said that the 2 percent raise is the same amount given to Town Auditor Tom Tracy and to other Town employees. He added that he also appreciated all the work that Driscoll did during the pandemic. He was at Town Hall working with the Council even when meetings were being held remotely.
Council Vice President Vincent Piccirilli added that Driscoll was able to get all the Town Council's Budget Policy Guidelines into the Fiscal 2022 budget, and that all the Town's unions agreed to new contracts a year ahead of schedule.
"Certainly the last year has been challenging with COVID-19, and he managed to get it done and move forward despite that," Piccirilli said. "I am extremely pleased to vote on this and I think it is well deserved."
Councilor Angeline Kounelis said she has worked with Driscoll since he first came to Watertown, and is proud to have called him a friend for so many years.
"I have been proud to work with Mr. Driscoll, especially on the Budget and Fiscal Oversight Committee," Kounelis said. "He has done a great job for the community fiscally. We have certainly had our disagreements, but we have gotten over them. That is the way business works representing the electorate."
The vote was a bittersweet one for Councilor Anthony Donato.
"This is the last time we are going to be able to vote on a raise for the Town Manager," Donato said. "It is extremely well deserved, we are so much better off for his efforts. I appreciate his dedication and commitment to the Town. Thank you for all that you have done, Mr. Manager."
Councilor Lisa Feltner said she appreciates the stability that Driscoll has brought to Watertown's government, and for being helpful and kind when she was a new Town Councilor.
"I definitely think you are deserving of the funds and I hope you won't be a stranger," Feltner said. "It isn't farewell tonight but I wanted to give you words of congratulations."