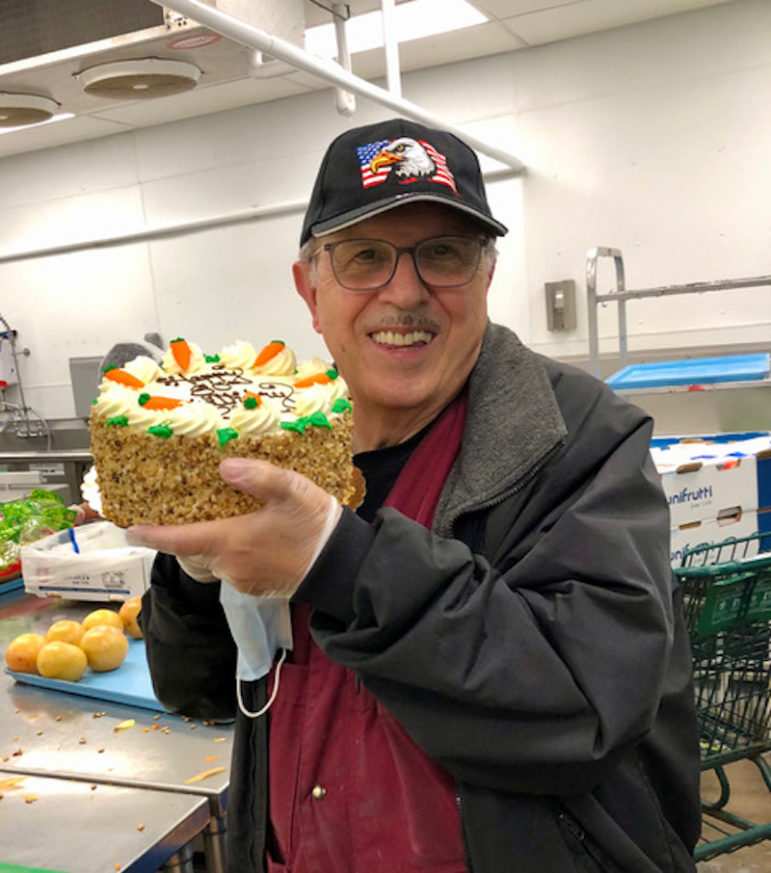 The news that Russo's market will be closing hit many people hard, and sparked plenty of memories. None more so, perhaps, than for a pair of daughters of a man who worked at the Watertown institution for just short of half a century.
Anne Korte and Susan Amatangelo shared just a handful of memories of their father Phil Amatangelo with Watertown News. The Italian immigrant settled in the Boston area and his ties to the Russo family go way back, said Anne, who lives in Watertown.
"My father started working at Russo's when I was 5 years old; I don't think there is any employee (other than Tony) that has worked there longer," she wrote.
Labor Day 2021 would have marked Phil's 50th anniversary working at Russo's; unfortunately he could not celebrate that milestone.
"My father was diagnosed with lymphoma last October and he passed away on January 31, 2021," Susan said. "Because of the pandemic, we were limited to a private service for immediate family."
Phil began working for Tony's father, Olgo, at their warehouse on Lexington Street, then moved to Franco's supermarket in Newton Highlands, where they rented space to sell their produce, Susan wrote in a letter to the Boston Globe. From there, he worked at Town Garden on Main Street in Watertown, with Steve Russo, Tony's cousin, and then it was back to the warehouse on Lexington Street after Town Garden closed. Finally, our father moved to the "new" store on Pleasant Street.
Phil's official title was produce manager but he was a "factotum" or jack-of-all-trades. One role that sticks out for both daughters was as the creator of the Russo's fruit baskets, Anne said.
"He was really an artiste when it came to the fruit baskets," she said. "He chose/ordered special baskets, foils, tissues, plastic wrap, and bows. He would go into the store and handpick every item for the custom baskets."
At a station on the second floor of Russo's warehouse Phil would set up all his supplies, a lazy Susan, with his radio tuned to WEEI, Anne remembered. He also had a pencil with eraser tip — which he used to gently push the tissue into the crevices between the fruit — and an industrial hair dryer used to shrink the plastic wrap in a tight seal around the baskets.
"Until about 5 years ago, when the popularity of fruit basket giving began to wane, my father would work seven days a week from the day after Thanksgiving until the week after Christmas in order to keep up with basket orders and his regular duties," Anne said.
Like the founder of Russo's, Antonio (Tony's grandfather), Phil immigrated from Italy. He grew up in Pettorano sul Gizio, a small town in the Abruzzo region of Italy. The closest city is Sulmona. He emigrated to the United States in 1954 on his 14th birthday, Anne said.
Phill became a U.S. citizen in 1964. He did not return to his homeland for many decades, Susan said.
"We finally got our dad to return to Italy in 2006, when he was 66 (52 years after immigrating!)," Susan said. "Our grandparents had a house in Pettorano for years and would go every summer, but our dad was too busy working and then raising a family."
He also returned to Italy in 2012 and 2018.
The Boston area has a large contingent of immigrants from the Sulmona area and Phil became the their connection to Russo's, Anne said.
"For example, Frank Susi who owned Abruzzese Meat Market on Salem Street (and whose son Anthony is a chef) would call our dad when he needed his plum tomatoes and cherries for jarring," Anne wrote. "Tony Russo recently told my husband (Bob Korte) that when he learned that my father was from Italy and spoke Italian, he 'had to have him' at Russo's … lol. Tony always made our dad the connection to any Italian/Italian-speaking vendors, as well as wholesale and retail customers."
In 2018, Phil began having some health concerns, which impacted his fruit basket making. He had an appointment with a cardiologist after having some shortness of breath and chest heaviness while visiting Susan and Anne's daughter Francesca, who spent time in Italy working as a Fulbright Scholar.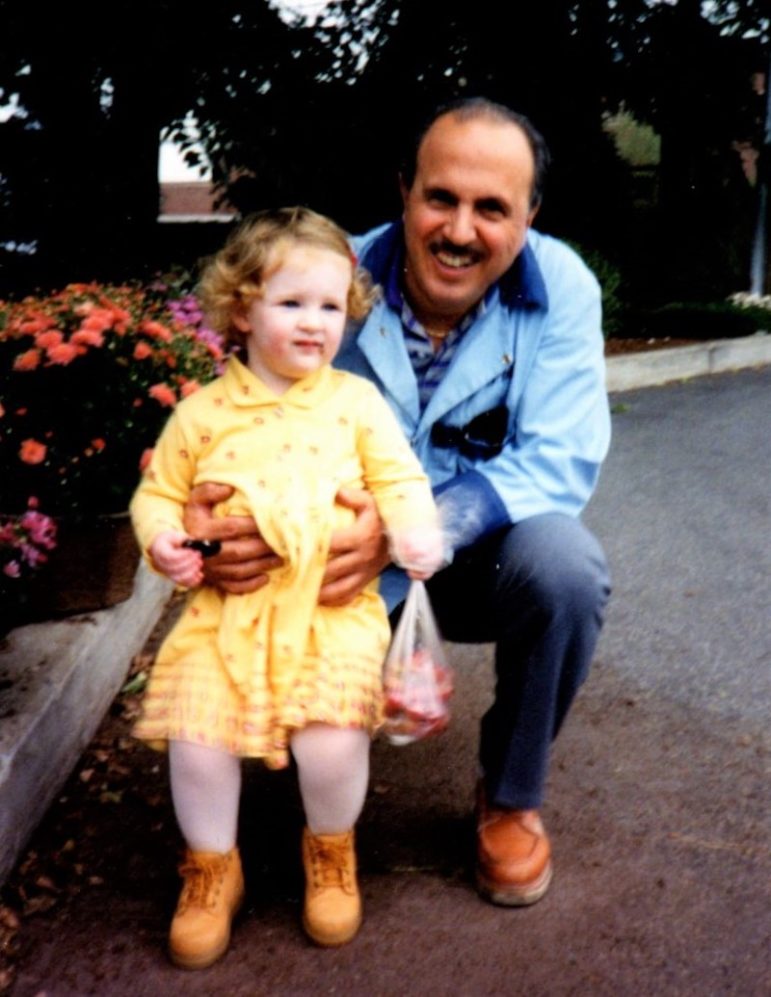 Phil was very reluctant to go to the appointment, because he was still able to climb the stairs at Russo's more than a dozen times a day, and because it was December — the heart of fruit basket season.
"As we left the office, he told me he thought he should postpone it because he would be too busy with the fruit baskets," Anne recalled "I convinced him that he could have the stress test at 8 a.m. and be at Russo's by 10 or 11, and that his girlfriend would be furious if he canceled."
Phil failed the stress test, was admitted to hospital and was scheduled for a triple bypass surgery. He ended up being there for two weeks.
"All he could think about was the baskets and he couldn't wait to get back to work (which didn't happen until March)," Anne said. "I was in Russo's one day after the holidays and Tony asked me how my dad was doing. I told him how upset he was about the fruit baskets and that I told him Russo's survived, to which Tony replied, 'No, it was a disaster.'"
Anne said, prior to the surgery, her father had never been in a hospital, not even when he was born.
Phil was close with other members of the Russo family, too, including Ida (Russo) Napolitano, who was Tony's aunt. She worked as bookkeeper for Russo's from the time that Phil arrived until shortly before her death in 2012 at the age 100, Anne said.
"One of my father's many duties was to bring the daily deposit to the bank, so he would visit with Ida in her office as she prepared the deposit. Over the years, he and Ida became very close," Anne said. "For Susan and me, Ida was like a favorite aunt and we enjoyed visiting with her in her office and, later, she loved it when we brought our children in to visit her."
When Ida could no longer go into the office to work, Phil was given the task to bring groceries to her house and pick up work.
"My Dad would call Ida, she would give him a shopping list, which he would pack up and bring to her home. He would visit with her, sometimes her son Arthur, and her caretaker Betty," Anne said. "For 7-10 years, this was his daily routine, after his work day, on his own time, and he was happy to do it. Even after Ida's death, my father stayed in touch with Arthur and Betty."
As an immigrant himself, Phil had something in common with many of the employees at Russo's, Susan said.
"He even learned some Spanish so he could communicate better with some of them," said Susan, who has his little dictionary with the notes he wrote inside. "One of the words he wanted to remember was 'grandsons.' He was friendly with co-workers from Vietnam and many other countries, as well."
The sisters remember hearing about an employee who would sing for Phil during lunch breaks. The singer, of course, was Gilly Assuncao, who went on to gain fame for serenading customers at Christmas time.
"The funny thing about Gilly is that long before he did the sound check at Christmas, he had been eating lunch with Dad in the 'lunchroom,' and he would ask him if he could sing for him/try out new songs," Anne said. "After the Christmas that Gilly sang in the store, he did a little concert at the Mosesian Theater. Dad, Diane, and I went (I think it was New Year's Day) and it was wonderful. Dad was so happy for him!"
Susan reflected on her father, and Russo's, saying, "My father was a loyal worker who truly loved his job and his Russo's family, including his many co-workers (too many to name), with whom he shared life's joys and sorrows. Whenever we visited him at work, he would walk us around to introduce or reacquaint us (and, later, his grandchildren) to his friends, bursting with pride."
Shortly before he left Russo's, Phil put together one more fruit basket, Korte said.
"A friend at work lost her mother and I decided to send her a fruit basket from our teaching team. My father was feeling poorly and had scheduled an appointment with his doctor, but he wanted to make the basket for me," Anne said. "When Francesca (my co-worker) received the basket, she was overjoyed and sent me a picture. Little did any of us know that it would be the last fruit basket he would make."
On Aug. 15, Russo's announced it will be closing in the fall, and since then it has been announced that the final day will be in mid-October.