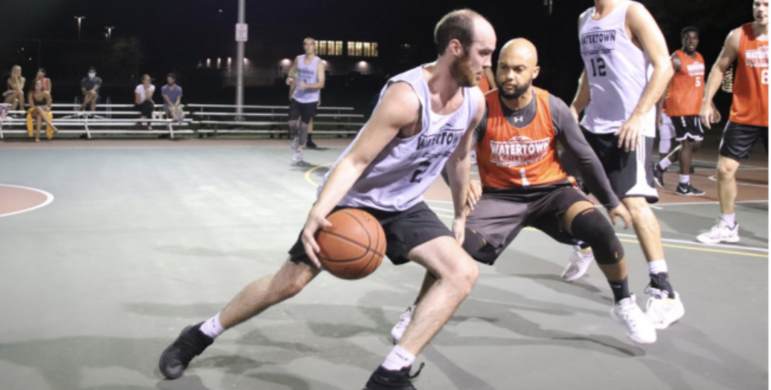 Game 1 of Watertown's summer basketball league finals was an overtime thriller, with Team New Day prevailing over HBC. The finals continue Tuesday night at Saltonstall Park beginning at 7 p.m.
The Watertown Recreation Department provided the following report on the first game of the final.
GAME 1: NEW DAY 62, HBC 55
The first game of the 2021 Papas Elite League best of three championship lived up to to its billing with an overtime thriller. Team New Day fended off a 28-point night from Ivy League grad, HBC big Greg Kelley to take the 1-0 series advantage with a 62-55 point overtime victory. It's hard to beat a team three straight times and even harder when those first two games were close. HBC came into the championship series after beating New Day twice in the regular season – July 20 (59-56) and Aug. 10 (61-56). The pressure was there.
It didn't appear to faze HBC all that much in the early going. Kelley carried much of the load in the first half, putting up 13 points, while teammate and captain, Chris Hurley added nine. But New Day was not going to go away quietly.
New Day's Johnny Ortiz had the tall task of guarding Hurley all game was up the challenge. He did his best Darrelle Revis impression, when Revis was faced with covering former Patriot Randy Moss in 2007, and mirrored every move Hurley made throughout the game. Ortiz matched Hurley's nine points, while fellow point guard Zak Ray putted up 13.
Ryan Romich led the way for New Day tallying 19 points, while former Stonehill Skyhawk Andre
Tongo rounded out the team with 11 points.
Game two of the championship series tips off Tuesday evening at 7 p.m.
community fridge