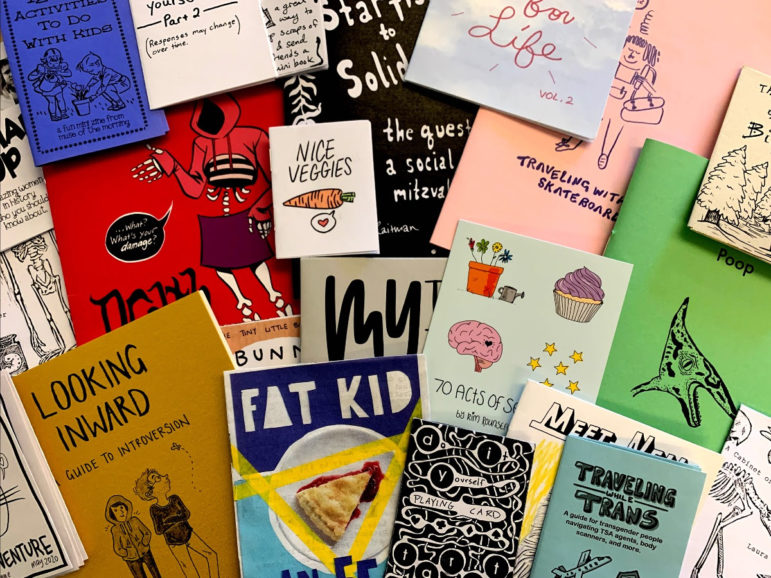 Find out what's going on at the Watertown Free Public Library in September in the announcement from the Library below:
On Saturday, 10/2, the Watertown Free Public Library is hosting WFPL Zine Fest — a day-long celebration of zine culture and DIY publishing. Whether you are a prolific zinester, or just want to learn what zines are and why they matter, we invite you to explore the marketplace, attend talks, and browse the Library's brand-new circulating zine collection. Check out the festival schedule and RSVP on our Zine Fest page.
Coming up this month, join a Bollywood dance class, explore Catholic Mount Auburn, and get an intro to coding with JavaScript. Missing movies on the WFPL big screen? Good news! Movie Mondays returns on 9/13 with Nomadland.
Keep scrolling for a full list of programs…
For Children
Take the Children's Services Survey
Parents and caregivers, take our quick survey to help us better understand what services and materials children ages 0-12 are using and interested in. Click the link above or pick up a paper copy at the Children's Desk. Thank you!
Outdoor Story Time
Beginning 9/7, Mondays, 12 PM | Tuesdays, 10:30 AM | Thursdays, 11 AM | October dates TBD | Library Front Lawn | Join us under the big tree in front of the library for stories and songs. Our October schedule will be posted to watertownlib.org/events soon. For families with children of all ages.
Watercolor Wednesdays
Wednesdays 9/8 – 9/29 | 4 PM | Library Patio | Join us on the front patio for a drop-in art program. For families with school-age children.
Take and Make
Starting in September, craft bags will be available in limited quantities on Fridays. 
For Teens
Magic the Gathering
Monday, 9/20 | 6 PM | Teen Room | Bring your MtG decks and battle to win booster pack prizes. Arrive early if you'd like to trade cards!
Tile Coasters
Thursday, 9/30 | 4 PM | Teen Room | Create a set of collage tile coasters. If you'd prefer, this craft is also available as a take and make! Registration is required.
For Adults
Wednesday Book Group
Wednesday, 9/1 | 7 PM | Lucia Mastrangelo Room | Discuss Circe by Madeline Miller with WFPL's monthly book discussion group for adults. Newcomers welcome!
Senior Center Book Club
Wednesday, 9/8 | 9 AM | via Zoom or Trustees Room | Discuss Maisie Dobbs by Jacqueline Winspear with our book group co-hosted by the Senior Center! To join via Zoom, email mkirsanova@watertown-ma.gov or call (617) 972-6490. 
Drop-In Tech Help
Thursdays, 9/9 & 9/23 | 2–4 pm | Lucia Mastrangelo Room | Computer, internet, mobile device, or e-reader problems? Bring your device and your questions! 
Social Services Resource Sessions
9/9 and 9/22 | 5–7 PM | Study Room 3 | Need food, fuel, housing, or counseling services? We can help. Sign up for a free 30-minute session. Registration is required.
Library Insiders
Friday, 9/10 | 10 AM | Watertown Savings Bank Room | Library Insiders is designed to give adults with developmental and cognitive disabilities an engaging library experience. On 9/10, we'll be making CD Suncatchers and bookmarks. 
Urban Foraging
Saturday, 9/11 | 11 AM | Outside, Meet at The Library | Add some local flavor to your culinary repertoire! Join urban forager David Craft to learn how to identify dozens of edible wild plants that can be found here in Watertown. Registration is required.
Introduction to Web Applications with JavaScript
6 Mondays, 9/13–10/25 | 6:30 PM | Lucia Mastrangelo Room | Get a taste of what coding is all about! We'll cover web browsers and technologies, basic HTML CSS, and JavaScript, and build interactive web interfaces with jQuery. Registration is required.
The Return of Movie Mondays!
Mondays | 6:30 PM | Watertown Savings Bank Room | Come watch movies on our big screen! Popcorn will not be available.
9/13    Nomadland [R]
9/20    Queen & Slim [R]
9/27    In the Heights [PG-13]
BollyX: Bollywood Workout with Purnima Thakre
Saturday, 9/18 | 10:30 AM | Watertown Savings Bank Room | BollyX is a joyous Bollywood-inspired dance-fitness program that combines dynamic choreography with the hottest music from around the world. All fitness levels welcome, no dance experience necessary. Masks are required. Registration is required.
WFPL Zine Fest
Wait—what's a zine? Well, zines are easier to describe than define. They're DIY handmade magazines that come in all different shapes and sizes. A favorite medium of punks, the Riot Grrrl movement, and superfan sub-cultures, zines have flourished in various forms for decades. Today, they continue to provide a powerful platform for underrepresented perspectives and voices.
Zine Marketplace
Saturday, 10/2 | 10 AM – 2 PM | Browse work by 30 zinesters from near and far. This is a great place to meet fellow artists or learn what zines are all about.
Zine Talks
Saturday, 10/2 | 10:30 AM – 3 PM | RSVP is required.
10:30 AM | Mary Barba: Healing in the Zine Community
11:45 AM | Celene Chen: My Identity, My Zines
2 PM | Qadir Shabazz: Contemporary Arts & Literature & Zines
2 PM | Seth Deitch and Friends: Independent Publishing in Boston
Zine-Making Hive
Saturday, 10/2 | 10 AM – 4 PM | We'll give you supplies and prompts to get you started making your own zine. All ages are welcome, no experience necessary!
New: Circulating Zine Collection
2nd Floor, Near Fiction | In mid-September, WFPL will be unveiling our new Zine Collection with over 700 titles. We're so excited! Browse the collection on the second floor next to the new books area.
We Want Your Zines
WFPL is collecting zines from local residents to add to the collection. To donate zines you created or zines that you own, email cconkey@watertown-ma.gov.