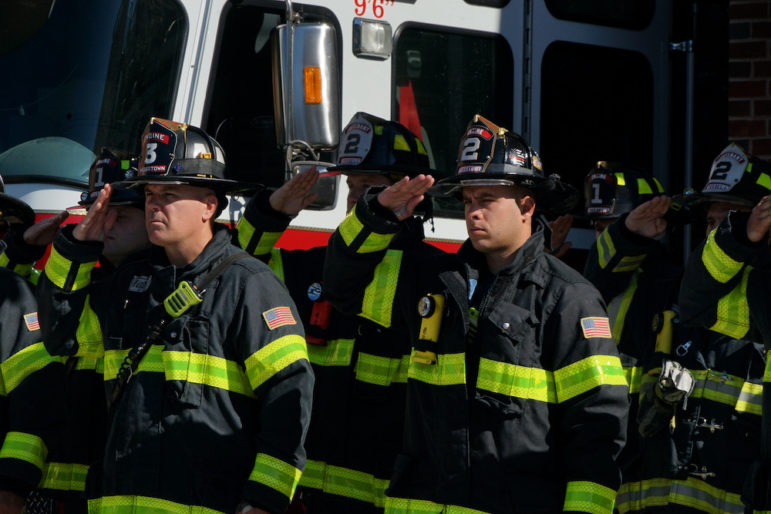 Each year since the attacks on the World Trade Center took the lives of hundreds of firefighters, the Watertown Fire Department has honored the sacrifices made on Sept. 11, 2001. This year, which marked the 20th anniversary, the ceremony drew dozens of people, who lined the sidewalk in front of the Watertown Fire Headquarters on Main Street.
Saturday morning, Watertown Firefighters lined up and saluted the memory of the firefighters killed 20 years ago to the day at the World Trade Center in New York. They were joined by about a dozen Watertown Police officers and dozens of members of the public.
The skies above Watertown were clear and blue Saturday morning, much as they were the day 20 years ago when the tragic events of Sept. 11, 2001 unfolded in New York, Washington and in Pennsylvania. After the ceremony, Fire Chief Bob Quinn recalled watching the images from New York, and knowing that there were firefighters responding to the burning towers.
"As the day wore on and the buildings collapsed, it was like, 'Oh my God!' We knew there were going to be deaths, but we never expected numbers to be like that," Quinn said. "You hear the stories of guys that came in off-duty and grabbed their gear and went to the scene, unfortunately some of them died."
The Watertown Fire Department pays tribute to the firefighters lost at the World Trade Center everyday.
"Everyone of our fire vehicles have a sticker on them in remembrance of the 343 firefighters, as well as (Watertown Firefighter) Joe Toscano, (Boston Firefighter and town resident) Ed Walsh and (Watertown Fire Chief) Mario Orangio," Quinn said. "We try to remember those people who died."

The sacrifices of the New York Firefighters continue to inspire people to go into the profession, even if they were too young to really remember that day. Watertown Firefighter Christopher Fidler, who has been on the Watertown Fire Department about a year, was born in 1997 so he mostly heard later about what the first responders did that day.
"The sacrifices they made, definitely puts a special place in your heart and since you look up to them at such a young age you look at this job and what comes with this jobs and what took place (on 9/11) and you try to live up to those expectations and live up to what they did," Fidler said.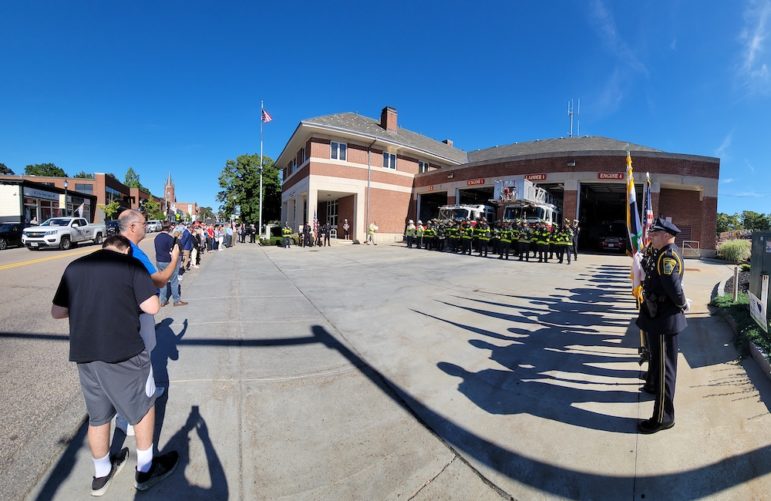 He was happy to see the people lining the sidewalk in front of the Fire Headquarters on Main Street Saturday morning.
"It's amazing, every year it should be like this, and more," Fidler said. "Those guys made the highest sacrifice a lot of people were affected by that tragic day, so it's good to see people out here."
Watertown Police Officer Rick Munger was inspired by 9/11, too. He had been in the Army Reserve and was a police officer at the time of the attacks.
"I went into the military after that. I was in the military before and after that I looked into getting in somewhere, and I ended up going into the Coast Guard," Munger said. "I served in Guantanamo Bay for a year. They were looking for police officers with military experience"
On Sept. 11, 2001, Munger had just finished an overnight shift when his wife told him that something had happened in New York.
"As I'm watching the second one hit it was crazy, and then my power went out and it was like, 'Oh my God, we're under attack!" Munger said. " But it was just a coincidence, thank goodness."
In 2001, Fire Lt. Rob Mannix was on duty on Sept. 11, and he recalled having coffee when he first heard reports of the attacks. The day was a strange one, he said, with no planes flying overhead and also how the general public reacted.
"I was driving (a fire vehicle) and I didn't want to hit the siren much because of what had happened," Mannix said. "When people saw us coming, they got out of the way so quickly, they were practically up on the sidewalks. It was amazing."
About a week after the attacks, Munger joined a group of police officers from Watertown and Newton who went down to lend a hand at Ground Zero.
"The pictures just don't do it justice. There was a giant pile of debris, probably the size of Watertown — smoking, the flames," Munger said. "And the people there. Everyone thinks of the police and firefighters, but some of the people there, civilians — how horrible it was. I remember one of the wives, her husband was there and she just wouldn't go home. She said 'there were 10 people from our building, 100 people from our street."
Looking back on the 20th anniversary of 9/11, Quinn said it reminds him of the strong bonds that form among firefighters. It also brought back memories of the day that Watertown Firefighter Joe Toscano died.
Not only did off-duty firefighters come into the Fire Station to be there in a time of grief, but also retired firefighters.
"I was taken aback at the number," Quinn said. "Of course the guys who worked with Joe, but also the guys who didn't know Joe or worked with Joe and were retired. They came here to be with us, to talk with us and be here to support us as we came back. As well as the other towns were here to take care of our call so we could deal with our loss."
That close knit relationship that firefighters develop comes from not just working together but literally living together.
"We're family, that's the thing. We live here as a family, we sit down and eat together. We are here for 24 hours. We share all kinds of things, like you would with your siblings and your parents," Quinn said. "You share stories. You share experiences you really know the people you work with like they are a brother or sister. It's a hard feeling to describe."
Out of the tragedy of 9/11, Quinn remembered the silver lining was how it brought Americans together.
"The biggest thing is how the country came together as one after that. There was just such unity," Quinn said. "Hopefully, this 20 year anniversary can reinvigorate that feeling. The country is kind of in a mixed bag right now, and hopefully this will tell people we are better off when we are united."