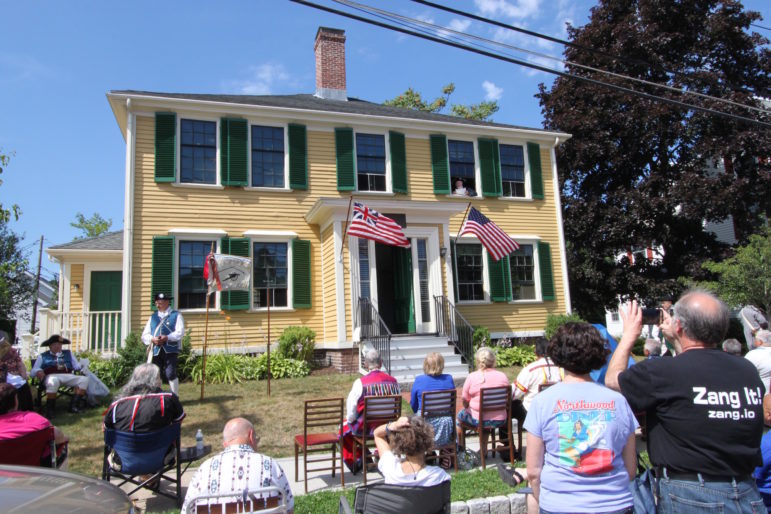 The Historical Society of Watertown will reopen the Edmund Fowle House for the first time since the pandemic shutdown. To celebrate the group is hosting an open house where the house's new features can be seen.
The Fowle House dates back to 1772, it served as the headquarters of the executive branch of the Massachusetts government from July, 1775 to September, 1776. The Treaty of Watertown was signed at the house on July 19, 1776, the first to be signed between the new United States (and a foreign power — the Mikmaq and St. John's Indian Nations.
The house is the second oldest remaining in Watertown, and is now a museum and home to the Historical Society of Watertown. Some additions have been made to the house recently and will be debuted at the open house.
The Historical Society sent out the following information:
You are invited to an OPEN HOUSE
WHEN: Sunday, October 17, 2021 from 1 p.m. to 4 p.m.
WHERE: Edmund Fowle House and Museum, 28 Marshall St, Watertown, MA 02472. Parking in the lot across the street.
COST: Free and open to the public.
Unveiling of Our House Museum Sign
The Historical Society has had a sign installed in front of our headquarters. The sign identifies our location as the Edmund Fowle House & Museum and states that we are the Historical Society of Watertown, founded in 1888. It also has our website address and phone number.

The painted wooden sign contains similar colors, green, cream and yellow, as those used on the Edmund Fowle House itself.
The sign will be unveiled at 1 p.m.
Labels for Artifacts on Display
In late 2019, the Historical Society received a grant from the Watertown Community Foundation to create wall labels for the historical artifacts that are on display in the Edmund Fowle House & Museum. These labels will help our visitors understand the significance of each artifact and will tell a story about some of them.
After the unveiling of the sign, our guests will be welcomed into the house to take a self-guided tour of the artifacts on display and their new labels.
NOTE: Masks are required when entering the Edmund Fowle House
For more information, please contact Joyce at joycekel@aol.com
The Historical Society of Watertown, Organized 1888 Incorporated 1891, 28 Marshall Street, Watertown, MA 02472-3408, 617-923-6067 www.HistoricalSocietyOfWatertownMA.org