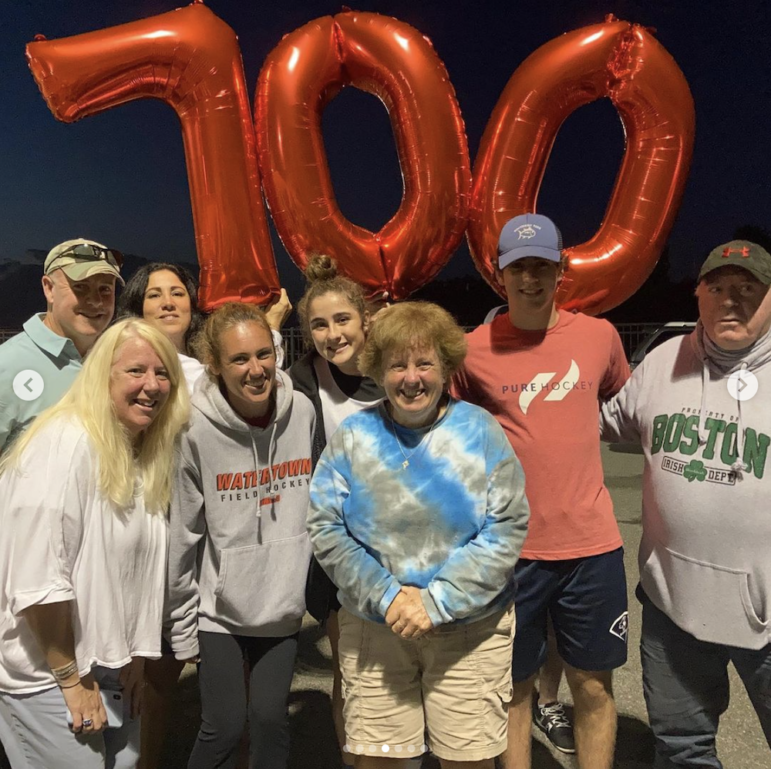 The Watertown High School hockey team's 12th win of the season on Thursday at Wakefield was milestone for head coach Eileen Donahue. The Hall of Fame coach now has 700 victories.
The Raiders defeated Wakefield 6-0 on Thursday. Afterward, the team presented the game ball to Donahue.
"We are extremely proud to congratulate our coach Eileen Donahue on 700 wins, summing to a record of 700 wins 34 loses and 36 ties over 36 seasons. She is only 1 of 7 coaches who have gotten 700 wins in the U.S. and is the only coach in Massachusetts to hold that record," the team wrote on the Watertown Field Hockey Instagram account.
Many of her wins came during the national record 184 game undefeated streak that ran from 2008 to 2017. The streak included 124 straight wins, also a national record. Her teams have also won 18 state titles, 26 North Section titles, and 31 Middlesex League titles.

"Thank you to all of the previous players, coaches, families and supporters who have contributed to this accomplishment. Most of all thank you to Ms.Donahue! She has put so much into this program and we are endlessly grateful for all she does. Congratulations again on 700 wins!" the Instagram post reads.
Donahue's 600th win came in September 2016 at Reading, and her 500th victory was tallied in 2011 at Melrose.
Watertown remains undefeated in 2021, at 12-0. Most of the victories, like Thursday's against Wakefield, have been by several goals. The team played a couple of nail biters before Donahue's milestone victory. On Oct. 9, Watertown won at Winchester 2-1. The goal was the first scored against the Raiders this season. On Oct. 11, Watertown needed a last second goal to secure the 1-0 win against Reading.