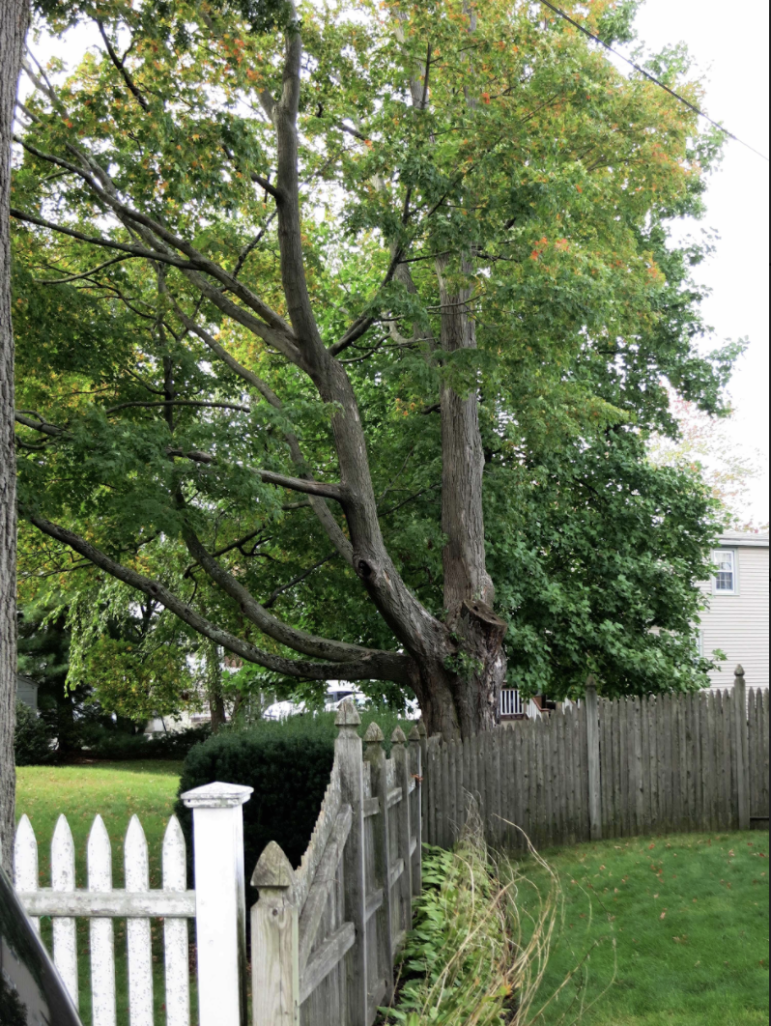 By James Briand, Trees for Watertown
Watertown residents already feel the impact of climate change in warmer average temperature and stronger storms. Managing such change in the midst of rapid development requires an up to date and flexible regulatory framework. Three pending pieces of Massachusetts state legislation aim to address that need, by preserving mature trees that mitigate the impact of climate change today and by adding to the tree canopy to prepare Massachusetts for the future.
The first bill, An Act To Update the Shade Tree Law (House Bill 2195), will update a 19th century law designed to protect trees bordering public roadways. Progressive in its day, the legislation became less effective as fines and obligations failed to keep pace with inflation and changing lifestyles. Financial penalties for damaging public shade trees were set in law decades ago and updating them currently requires an act of the State legislature. Passage of this bill will allow the Department of Conservation Resources (DCR) to easily update these fines to reflect the true cost to the community of damage to a cherished, mature tree.
The Shade Tree Law Update will also ensure that Massachusetts municipalities are better prepared to protect their urban forests in the face of climate change and development, by updating minimum educational standards for Tree Wardens throughout the state.
The second bill, An Act Relative to the Protection of Trees by Abutting Property Owners (House Bill 1849), will help save existing mature trees by clarifying rules for private dispute resolution. For many years, Massachusetts homeowners had a right to reasonably prune overhanging branches or root systems of trees that stood in a neighbor's yard, when such trees were deemed to be a nuisance. A recent Appeals Court decision expanded that rule, now allowing abutters to cut back roots and branches — even in the absence of a nuisance — and without a standard for acting reasonably. This issue has arisen most frequently when excavations for major developments have bumped up against property lines, damaging the root systems of trees in neighboring yards beyond repair.

House Bill 1849 will reestablish balance by setting a "reasonableness standard" for such disputes. For the protection of trees that abut or straddle property boundaries, the bill requires that owners shall act reasonably with one another when pruning a tree. It will help resolve situations by reducing ambiguity: If pruning or excavation is so severe that it is likely to cause death to a tree, it is, by definition, "unreasonable." Making the law work will require dialogue between parties and, in some cases, expert evaluation regarding tree health. Land use attorney Elizabeth Ellis observed, "With a balanced, commonsense approach we can provide housing and preserve shade, both important goals for the Commonwealth."
The third bill aimed at preserving the tree canopy in Watertown and elsewhere is An Act Establishing the Municipal Reforestation Program, (House Bill 905). This act advances several important goals: 1) Categorizing tree cover as infrastructure; 2) Establishing systematic data collection regarding the state's tree inventory; and 3) Funding tree-based climate mitigation efforts with an emphasis on equity for areas historically lacking in tree cover.
Trees have often been a cosmetic afterthought when major infrastructure such as roads and highways have been built, and as a consequence little to no provision has been made during the design phase to ensure their long term health. This bill recognizes trees as "a key state-wide investment in transportation infrastructure." It acknowledges the impact of trees in "removing carbon dioxide emissions associated with transportation;" the "carbon sequestration provided by trees" against climate change; and the positive impact of trees on public health in mitigating excessive heat and cold and reducing particulate pollution. With this bill, good roads and livable neighborhoods will go together.
Successful urban reforestation demands careful planning and measurement. This bill will require that every Massachusetts town develop a comprehensive municipal reforestation plan within three years. Such plans will include a scientific inventory of existing tree cover, an assessment of the current condition of the tree canopy, and identification of optimal sites for tree planting. This analysis will be the basis for multi-year reforestation efforts. Municipalities will be assisted by a newly established Urban Forest Advisory with broad-based expertise.
Success in these reforestation efforts will depend upon proper funding. Under the bill, all costs incurred by municipalities for developing and implementing their reforestation plans will be funded by the State subject to approval and oversight of the Secretary of Energy and Environmental Affairs. Plans will be appropriate to the size and density of each community and will assign special priority to neighborhoods historically deprived of green space, those having less than 20 percent tree canopy, and those with heat islands or unhealthy levels of particulate pollution.
Watertown faces a series of new challenges, from global threats such as climate change to the local need to balance the benefits of rapid growth with sustained quality of life. Meeting these challenges requires informed decisions about how we build, what is lost, and what is preserved. These three bills will provide the information, enforcement tools, and funding required to keep the best of today's urban forests while building for a greener, healthier tomorrow.