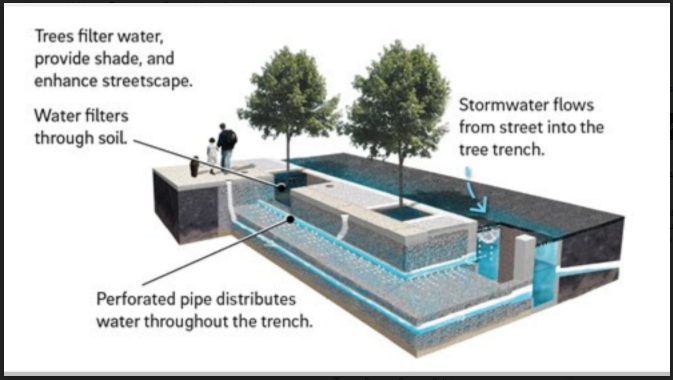 By James Briand, Trees for Watertown
A drive around Watertown quickly reveals that green assets — shade, permeable surfaces, and advanced drainage systems — are unevenly distributed. While some areas have abundant, mature shade trees and street-side planting strips overflowing with flowers, other neighborhoods are treeless, and non-permeable asphalt surfaces define the streets.
This is not just a matter of beauty. Climate change means that unprotected areas can be subject to heat islands that are injurious to health, high levels of adverse particulate matter in the air, and an increased likelihood of severe flooding. These tendencies can raise costs for homeowners in increased healthcare and home repair expenditures. 
The Watertown Community Greening Program has been developed by the town's Department of Community Development and Planning (DCDP) to address these inequities. It is part of the Town's overarching initiative dedicated to climate change mitigation and preparedness called Resilient Watertown. DCDP was awarded a one-year Municipal Vulnerability Preparedness (MVP) Grant by the State Office of Energy and Environmental Affairs to fund this program. 
The Community Greening Program will initially consist of two major phases. Phase I, to be completed by June 2022, will be devoted to fact-gathering, education, and design. It will ensure that the program rests on a solid foundation of analysis and community input. Phase II will implement the plans developed in Phase I and may depend upon securing additional funding. 
Focusing resources to achieve community equity in green resources will be a top priority. Previous research demonstrated that negative climate impacts such as excess heat and storm exposure tend to be greatest in areas of moderate income, areas with older populations, and in neighborhoods with more transient populations. Outreach to climate vulnerable populations that don't get their share of shade will be a key aspect of the program.
Going well beyond web postings and press releases, the Community Greening Program will employ "feet on the street" to engage with residents in their neighborhoods. This will be achieved with two kinds of grass-roots outreach specialists; all will either have expertise in climate change issues or be members of climate-vulnerable populations in town, or both. First, a team of three Watertown residents will be recruited to join the Core Team directing the program for the town. They will help to steer the overall effort.
Second will be Community Ambassadors. These Watertown residents will be trained to inform the public about the objectives and benefits of the Community Greening Program by speaking to local groups and at pop-up events. They will also serve as the eyes and ears of the program, reporting back to the Core Team with questions, concerns, and objections about the expansion of Green infrastructure. Both types of positions will be paid part-time positions. Interested residents can apply at lschwab@watertown.ma-gov.
In addition to education and outreach, between now and June 2022, the Community Greening Program will lay the groundwork for implementation of green infrastructure in our climate-vulnerable neighborhoods. They will identify 15 locations in targeted neighborhoods for stormwater tree trenches. Such trenches, using underground basins, magnify the already significant water-collecting and filtration impact of street trees, thus redirecting flood waters during a major storm.
A second major initiative will create three model "green street" designs. These models will demonstrate how environmental considerations and anti-climate-change initiatives can coexist with practical transportation and road design needs. Using such elements as street trees and sidewalk bump-outs, the model streets will aim at being aesthetically pleasing while fully meeting the needs of local businesses, residents, and public works considerations.
Laurel Schwab, Watertown's Senior Environmental Planner and Conservation Agent, summed up the program observing, "Green infrastructure and trees have many benefits, not just direct climate benefits such as reduced heat from shade and better water quality, but also overall quality of life. We've heard loud and clear from Watertown residents that they want 'more green.' We also feel a special obligation to address historical inequities in underserved areas. The Community Greening Program will be an important step toward achieving that goal."