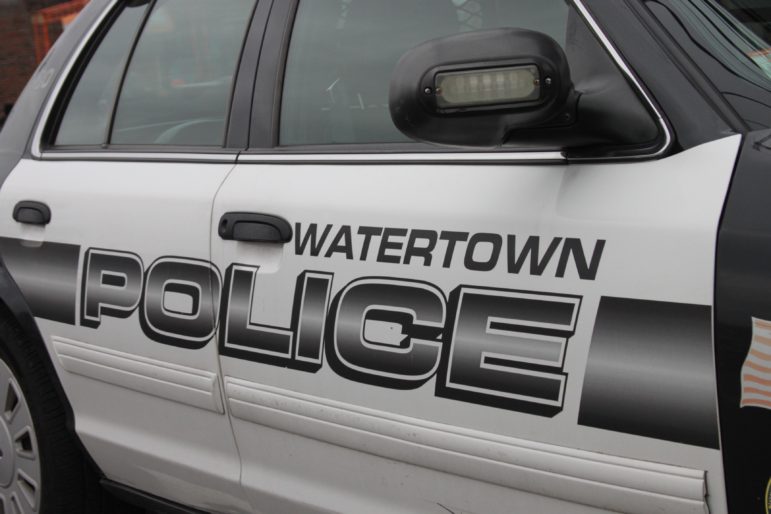 The following information was provided by the Watertown Police Department.
Arrest
Nov. 7, 12:31 a.m.: Watertown Police received a call about a disturbance at a home on Lyons Court, and when they arrived they found a man who appeared to be intoxicated who was causing the disturbance. The man was upset that someone had called police and barricaded himself in a room in the basement. Police learned that the man was wanted on four arrest warrants. When they spoke to the man he was yelling that he was not going to jail and told the officers to kill him. From inside the room, he said "If you opened this door you will have to shoot me." The shift supervisor responded to help out and was able to get to a safe distance where he could communicate with the man. After an-hour-and-10-minutes, he was able to calm the man down to a point that the man came out and surrendered to officers. The man was taken into custody without injuring himself or anyone else. The 24-year-old Watertown man was arrested on four warrants from Boston District Court: the first for motor vehicle violations; the second for disorderly conduct, trespassing, assault and battery on a police officer, assault and battery with a dangerous weapon, threats to commit a crime, and resisting arrest; the third for assault and battery; and the fourth for disorderly conduct and assault and battery.
Incidents
Nov. 1, 7:52 a.m.: A Hillside Road resident discovered someone had broken into his vehicle overnight while it was parked in the driveway. He has a home security camera and the video showed the suspect entering the vehicle at 4:45 a.m. The suspect was a thin man wearing a gray hooded sweatshirt over his head, dark pants, dark shoes and a backpack. He took an Apple iPhone charger, a blanket and $5 in cash. The vehicle had been left unlocked.
Nov. 1, 12:42 p.m.: Employees at Ulta Beauty at Arsenal Mall called police to report a shoplifting that took place on Oct. 27. Around 5 p.m., two women came in and appeared to be working together, with one acting as lookout and the other putting items into a back. The women had been acting suspicious and giving employees a hard time. They took several bottles of perfume: a bottle of Burberry worth $128, a bottle of Gucci worth $138, two bottles of Mark Jacobs that cost $99 each, and two larger bottles of Mark Jacobs that cost $133 each. The suspects were described as two black females in their mid-20s, one wearing a New York Yankees baseball hat, a black coat and gray sweats, and had a brown shoulder bag; and the second wearing a black zip-up sweat shirt, with ripped bluejeans, and neon yellow Croc slippers. Both wore COVID masks.
Nov. 2, 12:46 p.m.: An officer on Mt. Auburn Street at Arlington Street was flagged down by a man in the 7-Eleven parking lot. The man had shopped there at 9:30 a.m. and put his wallet on the counter. He walked out and forgot the wallet there. When he went back at 12:30 p.m. it was gone. It contained $800 in cash, an ATM card and a driver's license. Police are investigating.
Nov. 2, 2:46 p.m.: An employee at United Electric Controls on Dexter Avenue reported that someone broke into a vehicle parked in the lot. A purse was taken which contained $1,200 in cash, and credit cards. The vehicle had been left unlocked. The incident was captured on surveillance, and police were able to identify the suspect. The 43-year-old Watertown man was summoned to Waltham District Court for larceny over $1,200. Police located the man and got $900 in cash back, but the other items were missing.
Nov. 3, 10:46 a.m.: A Watertown resident reported being scammed. The man received an email from someone he believed was his boss. The person said that he was indisposed and needed the employee to purchase a gift card for him. The man went and purchased a total of $2,500 in eBay gift cards. He provided the numbers on the cards to the suspect. Later he spoke to his boss and realized he had been scammed.
Nov. 4, 11:24 a.m.: The owner of the West End Landromat was monitoring live video when he saw a customer punch a washing machine and then punch the screen of a card reader. Both were damaged. Police were able to identify the man. The 28-year-old man from Lowell was summoned to Waltham District Court for destruction of property under $1,200.
Nov. 7, 7:37 p.m.: A Watertown resident tried to purchase a puppy from someone in a Facebook group, but later found out it was a scam. The group was called Boston Terrier Puppies for Sale, and the woman got in touch with someone saying two puppies were for sale. The resident sent $300 via CashApp as a deposit. When she tried to contact the seller no one answered. The number was for a Text Now subscriber.