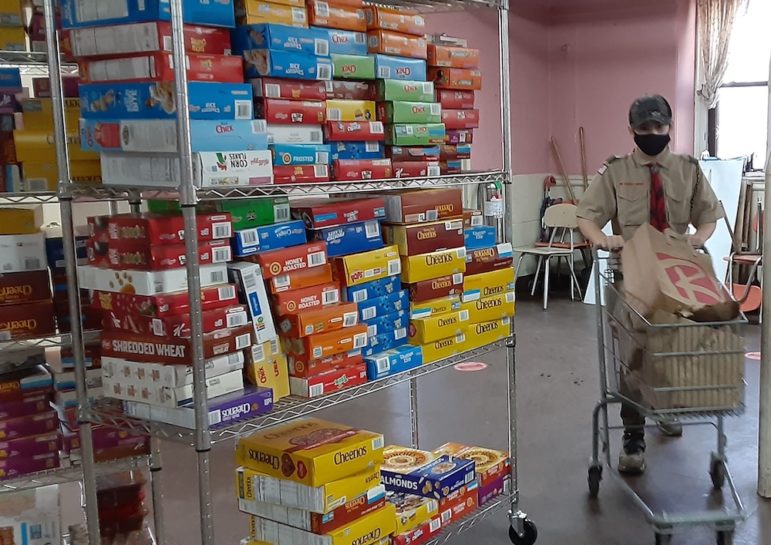 The following announcement was provided by Troop 30:
Shopping for Thanksgiving? Put a few cans aside for the scouts, who are again running Watertown Food Pantry's biggest food drive. 
On November 20 BSA scouts are collecting food for the Watertown food pantry. You can help by dropping off shelf-stable toiletries and food, noon-3 p.m., at 80 Mt. Auburn St.
Scouting for Food has been an annual drive for Troop 30 and Pack 30. Scouts generally measure their success in tons, filling up the Troop 30 gear trailer with canned goods and boxes of cereal, pasta, crackers, bread mixes and tea. 
At the Scouting for Food event for Thanksgiving 2020, Food Pantry Director Kathleen Cunningham asked if the scouts could create a second food drive in spring 2021, as the need was so great. 
The answer to Cunningham's question was yes, and March 20, scouts from Troop 30 (age 10-17) and Pack 30 (age 5-10) responded, collecting 5,186 pounds of groceries, cleaning supplies and personal items from Watertown neighbors. Of particular note was the Bear Den of Pack 30, a group of third graders who together collected 1,500 pounds of food that had to be delivered to the Food Pantry in several cars and one pickup truck. 
Scouts will be filling the shelves again Nov. 20, and here's out you can help:
Collect any of the following shelf stable items, and if you can, include personal care items.
Drop off items at 80 Mt. Auburn Street, Watertown, 12-3. If you use the circular drive in front of the building, scouts can unload your items quickly and send you off with a thank you.
The Watertown Food Pantry serves all families in Watertown from 80 Mt. Auburn Street on Tuesdays. For more information call (617) 972-6490.
Most popular items:
Old Fashioned Oatmeal/Cereal
Canned Fruit
Peanut Butter/Jam or Jelly
Canned Corn
Cooking Oil
Mayonnaise/Mustard/Ketchup/Pickles
Tuna
SpaghettiOs, Hash, Spam
Ensure Nutrition Drinks
Coffee/Tea
Tomato Sauce/Paste/Whole Tomatoes
Baked Beans
Snacks for children for school
Juice packs