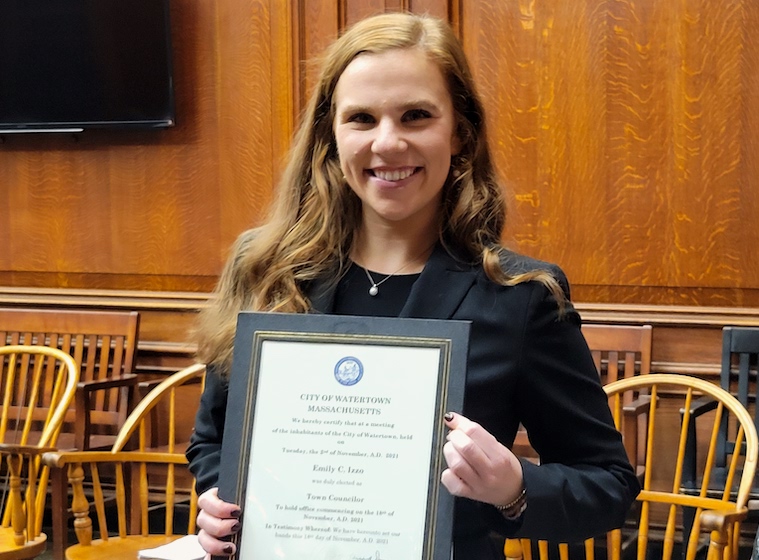 Westsiders have a Councilor again with newly elected District D Councilor Emily Izzo's swearing in on Thursday evening.
Unlike the other new City Councilors, Izzo will start serving before the start of the new term in January because she is filling a vacant seat. Her predecessor, Ken Woodland, stepped down from the Council in April to take a position with the state that prohibits him from serving on the council.
Izzo was joined by her family for the swearing-in by City Clerk Janet Murphy in the Council Chamber on Thursday. Council President Mark Sideris and City Manager Michael Driscoll were also on hand for the brief ceremony.
The new District D Councilor will take part in two regular Council meetings and a special meeting, Sideris said. Izzo said she is ready to get to work.
"It's only a few meetings but it is exciting," Izzo said. "I get a little bit more experience before I get sworn in in January again."
In the two weeks since the election Izzo has resigned from the Watertown Board of Library Trustees, and now has been sworn in. She also received the informational packet for new councilors and is in the process of getting the email list of District D residents from Woodland.
"I am working to get that list and getting that going, and meeting everyone I didn't get to meet during the campaign," she said.
She looks forward to getting to work on one initiative in her campaign platform — a tree protection ordinance —  and finding out more about how the Watertown government operates. Also, she wants to hear from constituents.
"I'm really interested in hearing from residents about what they care a lot about," Izzo said.