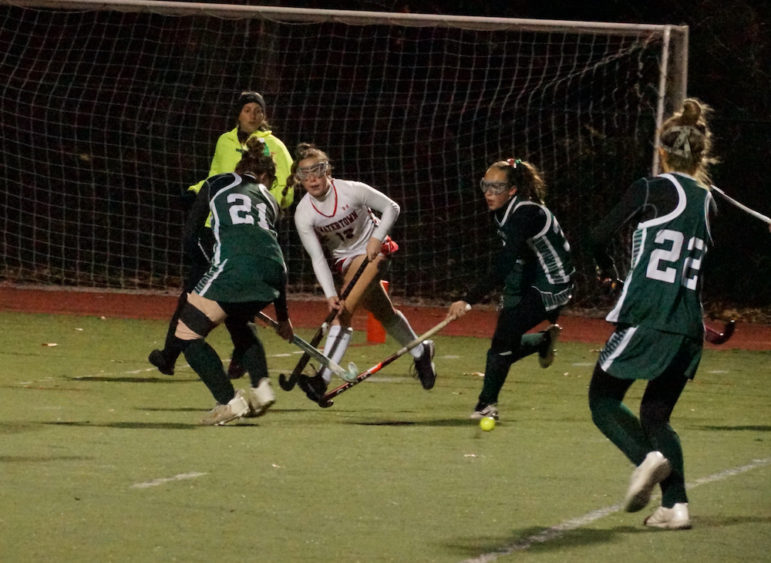 For the first time in four years, the Watertown High School field hockey team will have a shot at claiming the State Championship. They will face top seeded Sandwich on Saturday, Nov. 20, at 11 a.m. Follow Watertown News for live updates from the game.
Live Updates
(Latest update at the top)
2nd Overtime
2:50 left. Goal by Elizabeth Loftus wins it for Watertown! 1-0 final
7 mins. Good shot on a Watertown corner turned away
9 mins. Watertown shot goes wide
1st Overtime
Still scoreless after first OT. Molly Driscoll almost had a goal with 2 mins left after flipping the ball ahead but the goalie cleared
4 mins left. Sandwich goalie saves a shot by Maggie Driscoll after a breakaway
6 mins left Watertown had a corner but could bot get a shot off
Will have Sudden Victory OT for 10 minutes., 7 on 7 including goalies. If necessary a second 10 minute OT will be held. After that, if still tied it would go to penalty strokes.
4th Quarter
Watertown 0, Sandwich 0, going to overtime
1:16 left. Sandwich Ayer goes to sin bin after green card
3:30 left Watertown stops 2 good chances
4:30 left. 3 more Raiders' corners shot wide on 1
7 mins. 3 more corners by Watertown still no score
9 mins Sandwich survives 3 corners, including a blast that was saved
14 mins. Watertown pressures, no shot off corner. Brief break for a Sandwich injury. She walked off looking ok
3rd Quarter
Watertown 0, Sandwich 0
0 left Raiders got a corner after Molly Driscoll rushed the bet and got off a shot from. A few feet out. No shot on the corner
2 mins. Raiders' corner but no shot on net
4 mins. Shot on net blocked by Sandwich goalie
7 mins. Sandwich shot goes just wide left of Watertown goal
8 mins. Raiders block Sandwich shot and defend corner
11:30 left Watertown got the ball deep but Sandwich cleared the ball
2nd Quarter
Watertown 0, Sandwich 0
0 left Watertown pressed the Sandwich net the last 2 minutes of the half, even had 2 untimed corners after the buzzer but the Blue Knights cleared the ball to end the half 0-0
3 mins. 2 good scoring chances by Sandwich cleared by the Raiders
5 mins. 3 more corners for Watertown. Still scoreless
9 mins. 2 more corners, no goal for Watertown
11:30 left Watertown has good chance on corner but not shot on goal
1st Quarter
Watertown 0, Sandwich 0 after 1st quarter
2:30 Watertown has 2 corners, no shot on net
4 mins. Teams playing mostly in the midfield
9 mins. Raiders have been controlling play but no shots yet
13 min Watertown defends Sandwich corner
11:05 am Just finished the National Anthem. Getting ready to start first quarter.
10:51 am Teams warming up before the final. Nice sunny day on the Sout Shore.
Preview
The final will be played at Hanover High School. Watertown seeks its 19th State Championship Saturday. The Raiders are 18-2 in State Final games, and won nine straight between 2009 and 2017.
Despite being undefeated at 22-0 in 2021, the Raiders are the second seed in the MIAA Div. 3 Field Hockey Tournament. A new seeding system which takes into account a team's margin of victory, as well as the margin of victory of opponents, made Sandwich (18-1-2) the number one seed.
Watertown's roster features just two seniors — Taylor Lambo and Ellie Monahan. The team's co-captains are both juniors — Maggie Driscoll and Elizabeth Loftus.
The team has received big contributions from sophomores and freshmen. Sophomore Molly Driscoll (Maggie's sister) has scored many of the Raiders goals this season and freshman Adrianna Williams has three in the tournament, including the lone one in Watertown's 1-0 semifinal victory over Pentucket on Wednesday.
Junior goalie Brianna Cooper has rarely been called into action this year, but has only allowed one goal the whole season.
Sandwich has been led by Paige Hawkins in the tournament, who has scored six goals including the winner in the 2-0 defeat of Swampscott in the semifinal. Lily Tobin has scored four goals in the State Tourney, and Haley McLaughlin has a pair of goals. Goalie Sarah Currey has not allowed a goal in the Tournament and has let in only three during the regular season.
Tickets to the State Final must be purchased online, and no tickets will be sold at the gate. Click here to get tickets.
To see a digital program, click here.
WATERTOWN FIELD HOCKEY TITLES
State Championships: 1986, 1988, 1989, 1990, 1992, 1994, 1997, 2001, 2002, 2009, 2010, 2011, 2012, 2013, 2014, 2015, 2016, 2017.
North Section Titles: 1986, 1987, 1988, 1989, 1990, 1992, 1993, 1994, 1996, 1997, 1999, 2001, 2002, 2004, 2006, 2008, 2009, 2010, 2011, 2012, 2013, 2014, 2015, 2016, 2017, 2018, 2021 (Final Four berth).
WATERTOWN FIELD HOCKEY STATE FINAL HISTORY
2021 Watertown 1, Sandwich 0 (2OT)
2017 Watertown 5, Oakmont 1
2016 Watertown 4, Oakmont 3
2015 Watertown 6, Auburn 0
2014 Watertown 5, Auburn 0
2013 Watertown 1, Auburn 0
2012 Watertown 1, Oakmont 0
2011 Watertown 3, Oakmont 1
2010 Watertown 1, Auburn 0
2009 Watertown 1, Auburn 0
2002 Watertown 2, Greenfield 1
2001 Watertown 3, Nipmuc 2 (OT)
1999 Greenfield 2, Watertown 1 (OT)
1997 Watertown 2, Greenfield 1 (2OT)
1996 Bellingham 4, Watertown 3
1994 Watertown 5, Quaboag 0
1992 Watertown 3, Nauset 1
1990 Watertown 2, Bellingham 1 (OT)
1989 Watertown 5, Sandwich 0
1988 Watertown 1, Quaboag 0
1986 Watertown 2, Milton 1