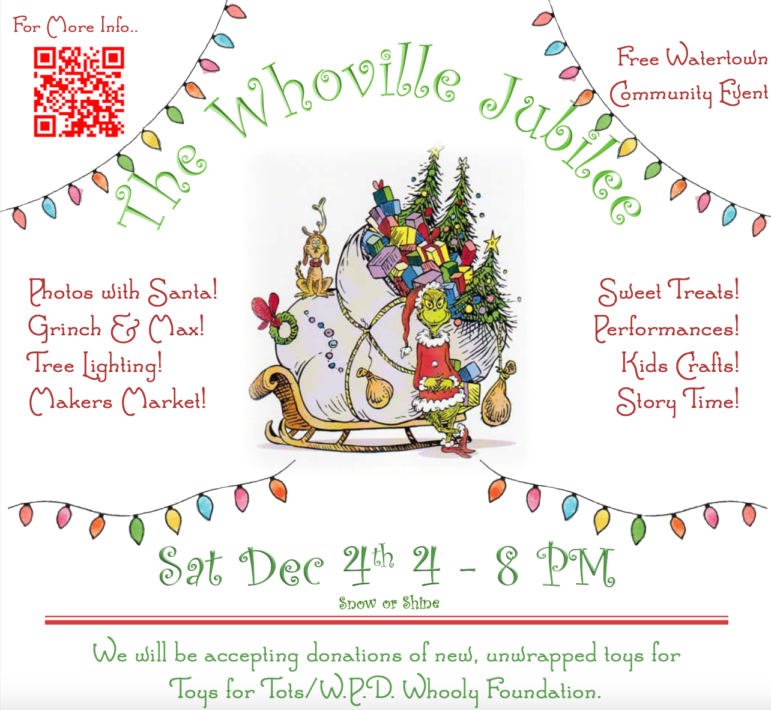 The City of Watertown and its sponsors presents The Whoville Jubilee and Official Watertown Tree Lighting!
Come visit the grounds of the Commander's Mansion for a jolly night of holiday fun on Saturday, Dec. 4 from 4 p.m. to 8 p.m.! This will be an indoor and outdoor walking experience. Your Whoville Passport will make sure you don't miss a moment of merrymaking!
This event will be held snow or shine.
Parking: Free garage parking located in the Arsenal on the Charles office complex (across from Branch Line/Panera). Handicap parking will be made available closer to the Whoville entrance; be on the lookout for Santa's security! Please note there will be NO parking at the Commander's Mansion.
Donations: The Watertown Veteran's Office/Pvt. Shutt Detachment/VFW Post 1105 will be collecting new, unwrapped toys for Toys for Tots/WPD Whooley Foundation. For each toy donated, you will receive a raffle ticket to be entered to become the Cheermeister Family and light the Official Watertown Tree! If you would like to make a monetary donation, checks may be made payable to The Whooley Foundation – we will not be able to accept cash.
Free Photos with Santa: This experience is completely full.
Makers Market: Inside the Mansion you will find local Watertown artisans selling handmade gifts!
Charlotte Kennedy | Dan Lawrence | Julie Johnson & Susan Barnette | Sarah Tahang | Sotto
Chocolates
Tree Lighting: The Official Watertown Tree Lighting will take place at 6 PM, following the Cheermeister Family drawing!
Thank you to our sponsors & partners!Alexandria Real Estate Equities
Arlene Smith
Arsenal Financial
Assured Fire
Branch Line
Commonwealth Construction
Home Depot
Miss Maria's School of Dance
Natalie Nigito Photography
Pvt Shutt Detachment
Roche Brothers- Watertown
Taylor Rental of Haverhill
Toys for Tots in partnership with the Whooley Foundation
VFW Post 1105
Volunteers
Watertown Arts Market
Watertown Business Coalition
Watertown City Council and City Manager's Office
Watertown Department of Public Buildings
Watertown Department of Public Works
Watertown Fire Department
Watertown Free Public Library
Watertown Police Department
Watertown Recreation Department
Watertown Savings Bank
Watertown Veteran's Services
Your Love in Lights