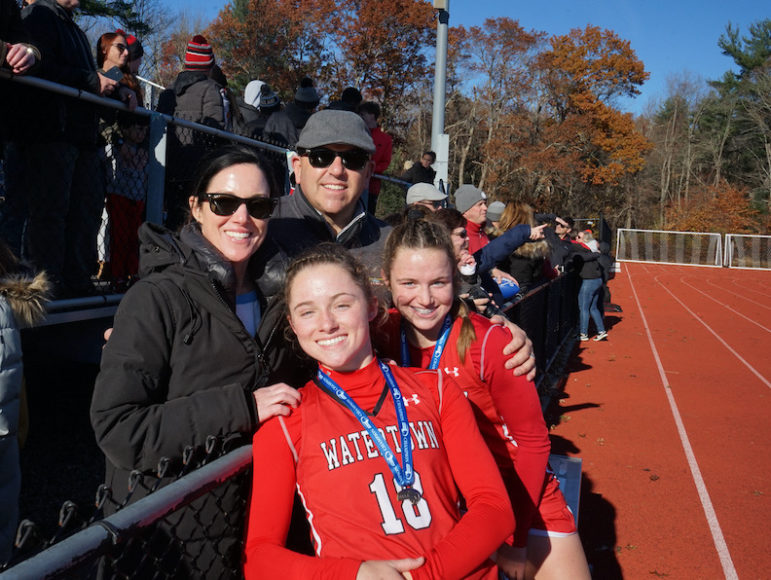 When the Watertown field hockey team won the State Championship for the 19th time in school history one family had not just one, but two members of the team plus another who was part of previous titles.
Sophomore Molly Driscoll provided the assist on the winning goal scored by Elizabeth Loftus in double overtime. Her sister Maggie, a junior, was a co-captain for the 2021 Raiders. Molly said it was special to have family on the field with her, as well as support in the stands.
"It's great to share that bond with my sister, and my mom actually went through the program with Coach (Eileen) Donahue," Molly said. "It is great to see it carry on through and it is great to play with her."
The Driscoll sisters' mother, Patty Grady, played on two Watertown State Championship teams, in 1990 and 1992. Her senior year she was All-Scholastic for the Boston Globe and Boston Herald and was the Middlesex League MVP. In 2010, Grady was inducted into the Watertown High School Hall of Fame.
Her mother provides some words of advice, Molly said.
"She always tells us to visualize the night before. Close your eyes, visualize certain plays, and I think that worked out here today at points," Molly said after the State Final.
Cross Country
Sophomore Anna Lonergan was the lone competitor for the Raiders in the MIAA Div. 2 State Cross Country Championships, but she ran a career best time and finished 25th overall.
Lonergan ran the 5K course at the Wrentham Developmental Center in a time of 19:39.5. The previous week, she finished ninth at the MIAA Div. 2 Meet.
Thanksgiving Football Game
Watertown will renew its rivalry with Belmont on Thanksgiving at Victory Field at 10 a.m.
Tickets can be purchased at the Watertown High School Athletic office this week during the lunch break. The price is $5 for students and $7 for adults. On the day of the game tickets will be $10.