HANOVER — Patience and hard work paid off for the Watertown High School field hockey team, Saturday. It took more than 77 minutes of play, but the Raiders prevailed 1-0 over Sandwich in the State Final.
After a deadlocked hour of regulation play, Watertown and Sandwich went to overtime to decide who was the best team in MIAA Div. 3. The Raiders had dozens of opportunities during the game on corners, but it was not until the 2:50 left in the second 10-minute overtime that junior Elizabeth Loftus banged in the goal that clinched Watertown's first championship in four years.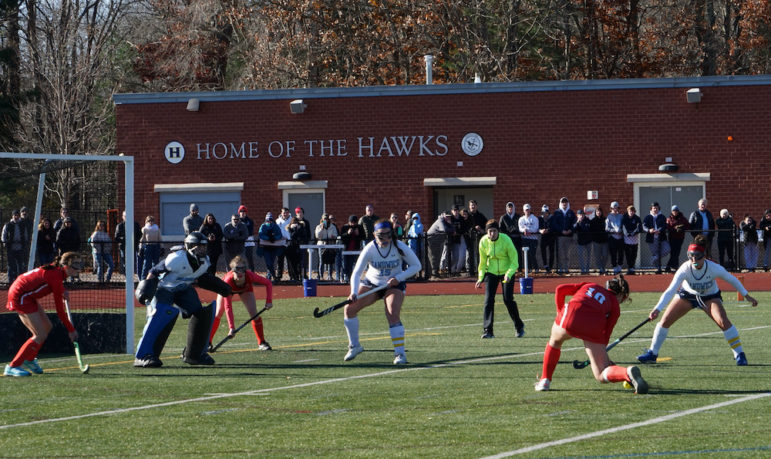 The initial pass went to sophomore Molly Driscoll, who dribbled, drew a defender and dished it over to Loftus, who shot the ball into the Sandwich net.
"It's so good to be able to put it home for the team, but everybody has been working so hard this year, so it's just so good that we got what we were working for," Loftus said.
Watertown Head Coach Eileen Donahue said she had hoped that her team would score in open play, because the Raiders had struggled to score on corners during Wednesday's semifinal against Pentucket and Saturday's final. Corners also gave the Raiders trouble the last time they lost in the tournament, a 1-0 loss to Lynnfield in 2019 (there was no tournament in 2020 due to the Pandemic).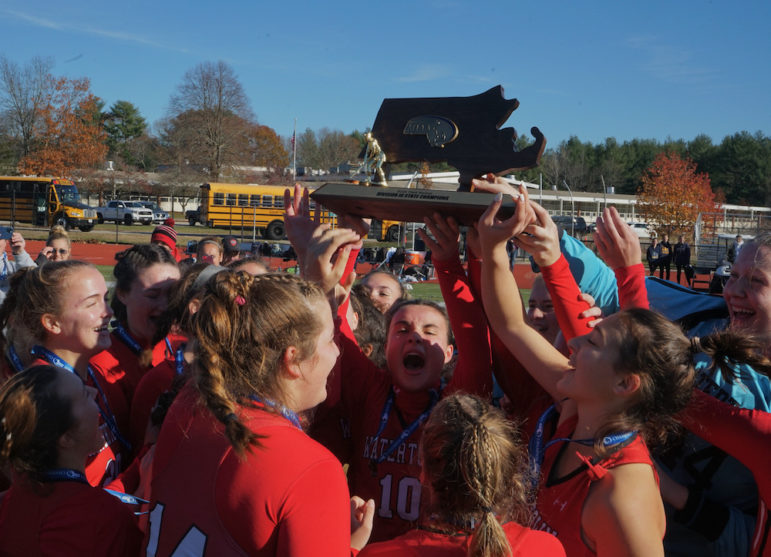 Sandwich made it more difficult in the 2021 final with a good defensive effort on the corners, Donahue said. She gave her players a piece of advice to get the ball into the goal.
"I kept telling them stop wrist-ing it, you've got to slam that thing and she got a slam," Donahue said.
Sandwich gave undefeated Watertown one of its toughest games of the year. Unlike most games, the Raiders did not dictate play, and the Blue Knights had some offensive chances of their own, but Watertown goalie Brianna Cooper stepped up to make the saves when necessary.
The teams played almost an extra third of a game in overtime, and had no one scored it would have gone to a penalty shootout. The Raiders' stamina helped make the difference, Donahue said.
"They lasted (there was) not one substitute because they can do it," Donahue said. "And they proved it in that overtime as well. That is why they have to do that sprinting and running."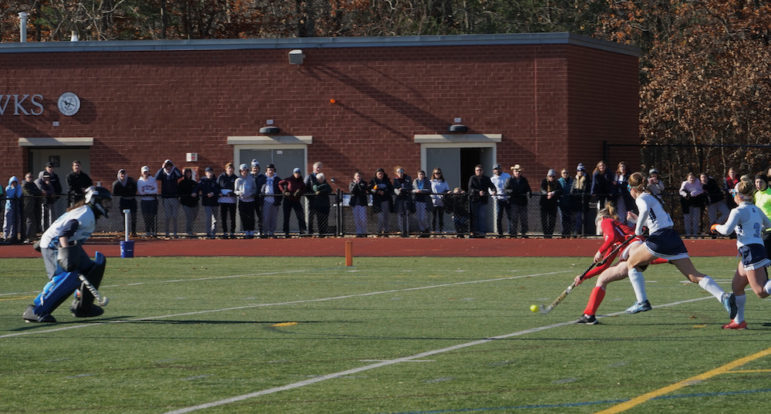 Watertown had several opportunities in open play, including a pair of breakaways by Driscoll in overtime which Sandwich goalie Sarah Currey made saves on.
"I got some fast breaks, it was very exciting and, obviously, it is very frustrating when they don't work out and then we have to hustle back," Driscoll said. "Getting that last goal felt so good and it was so worth those 80, 70  minutes out there. I am so proud of all of us because we worked so hard for this since the beginning of preseason."
Donahue said the 2021 title was extra sweet.
"I'm so proud of them," Donahue said. "It their first state championship. I am so happy for them."
Loftus said the championship was not just for the current Raiders.
"We were doing it for all the past player and for Miss Donahue and the program that she has built," Loftus said. "We are just so proud to bring this back to Watertown."