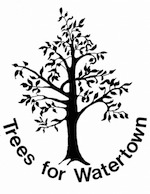 Dear fellow Watertown citizens:
The recent removal of multiple mature trees on Olcott Street raises significant issues about the proper balance of public and private interests here in Watertown. While a private landowner has a right to dispose of trees as they see fit, Watertown must recognize that the benefits of mature trees extend beyond the lot they sit on and are an asset to the community as a whole.
Watertown is expending considerable resources to combat climate change and improve the community's quality of life. Major investments have been made in street trees and in enhanced storm drainage systems designed to protect the city from climate-related extreme storms. Yet these efforts cannot succeed if they are at odds with actions on private land where 80 percent of the city's tree canopy sits.
The rights of private landowners are fundamental to our system. However, we also recognize through our zoning codes and other provisions that those rights are not absolute; we use setback requirements to preserve equity between neighbors and health codes to ensure that decisions of individual homeowners do not threaten the well being of the community as a whole. When a landowner can remove multiple mature trees without any process or debate, it changes the character of a neighborhood just as much or more than building a home in violation of setback
provisions. Our neighboring communities address these situations with solutions ranging from provisions encouraging public dialogue on proposed tree removals to ordinances. These
approaches are worthy of study as we seek a solution that fits Watertown's unique needs.
In the meanwhile we ask that you join us in urging our city government to fully consider the loss of mature trees and the climate and quality of life benefits they bring as proposed development is reviewed. With such an approach our city's decisions will benefit not just the landowner, but the community as a whole.
Happy Holidays to all from Trees for Watertown!
Submitted by Libby Shaw, President of Trees for Watertown