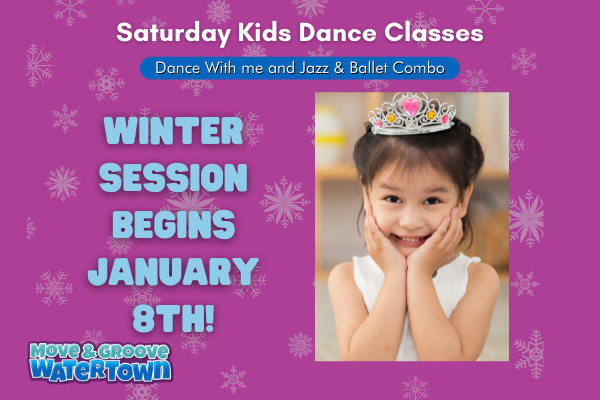 The following information was provided by Move & Groove Watertown:
Move & Groove Watertown and Ballroom in Boston are so excited to be offering kids dance classes this winter!
Thanks to a generous grant from the Watertown Cultural Council and in conjunction with our nonprofit, Dancing Feet, we are able to offer two free dance classes for kiddos: Dance With Me and Jazz & Ballet! These classes are a great way for kids to give dance a try in a safe and positive environment! If your kid loves to twirl around the house, these classes are perfect for them!
Jazz & Ballet Combo: January 8th, 15th OR 22nd, 11:00 a.m. – 11:45 a.m., ages 4-6 years, 45 minutes
Our Ballet/Jazz Combo class teaches children the basics of ballet and jazz in a fun and creative way. This class is great for first time dancers! We also work on motor skills, cognitive skills, and following directions. It's also a great way for your child to connect with new friends and have a blast! The ballet portion of the class will focus on basic ballet moves and the jazz portion will include movements across the floor. If your child wants to jazz walk their way across the floor, twirl, and leap, this is the class for them!
Dance With Me: January 8th, 15th OR 22nd, 12:00 p.m. – 12:30 p.m., ages 2-3 years & a caregiver, 30 minutes
Our Dance with Me class is an introductory creative movement toddler dance class where a parent or guardian joins them during their dance class. Dance with Me classes introduce toddlers to our studio and makes sure they feel comfortable learning to dance with us before transitioning into a dance class on their own. Dancers will work on using different parts of their body in a creative and fun way! Parents and guardians are encouraged to dance along with their toddlers during Dance with Me classes.
To sign up for a free trial class or a full 6 week session, check out our website: www.movegroovewatertown.com. Spots are limited so make sure you sign up today!