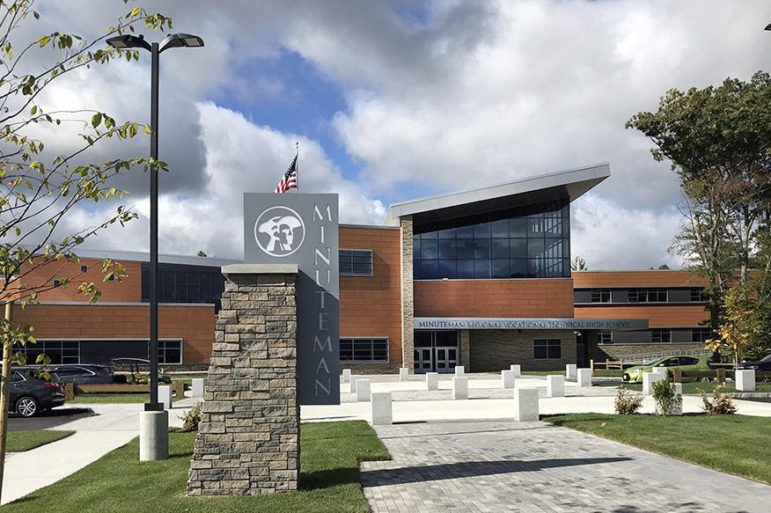 The following announcement was provided by Minuteman High School:
Dear Minuteman Staff and Families, 
As many of you know, our current Superintendent-Director, Ed Bouquillon, plans to retire at the end of June following a successful 15-year tenure leading the District. The Minuteman School Committee launched a formal Superintendent Search Process in October.
A Screening Committee of faculty, staff, parents, and School Committee members has recommended three finalists to the Minuteman School Committee. The finalists are scheduled to visit Minuteman on three consecutive Wednesdays – January 5, 12, and 19 – to meet with and answer questions from students, parents, faculty and staff, and advisory committee members.
The three finalists are Dr. Amy Perreault, Assistant Superintendent for Minuteman; Dr. Kathleen Dawson, Deputy Superintendent of Orange County Schools in North Carolina; and Kevin McCaskill, Assistant Superintendent for the Office of Secondary Schools in the Boston Public Schools.
The finalists were first announced at the December 14 School Committee meeting. Read the candidate's resumes at minuteman.org/suptsearch Each of the three candidates will spend the day at Minuteman on three Wednesdays in January. During their time at Minuteman, the candidates will meet with stakeholders for questions and take tours. On Wednesday, January 26, at 6:00 PM, the School Committee will hold a public meeting to discuss and vote on the candidates. Here are the dates the candidates will be at Minuteman:
Wednesday, January 5, 2022: Dr. Amy Perreault
Wednesday, January 12, 2022: Kevin McCaskill
Wednesday, January 19, 2022: Dr. Kathleen Dawson
Wednesday, January 26, 2022, 6:00 PM: Minuteman School Committee Discussion and Vote
Here is the schedule for the candidates on the days they will be at Minuteman:
11:15 AM: Candidate arrives at Minuteman
12:00-12:25 PM: Lunch with Student Ambassadors
12:30-1:30 PM: Student Ambassador Tour of the Building
1:35-2:15 PM: Tour of the Campus with Assistant Superintendent of Operations and Facilities, Rich Ikonen
2:45-3:15 PM: Questions from Minuteman Faculty and Staff (In-Person)
5:00-6:00 PM: Questions from Parents, Advisory Committee members, and Town officials (Virtual Meeting Over Zoom)
7:00-9:00 PM: School Committee Interview (In-Person)
We will share additional details soon on how to log into the virtual meetings. We encourage all stakeholders to share thoughtful questions for this important role.
Sincerely,
Ford Spalding
Superintendent Search Committee Chair
Minuteman School Committee Member, Dover