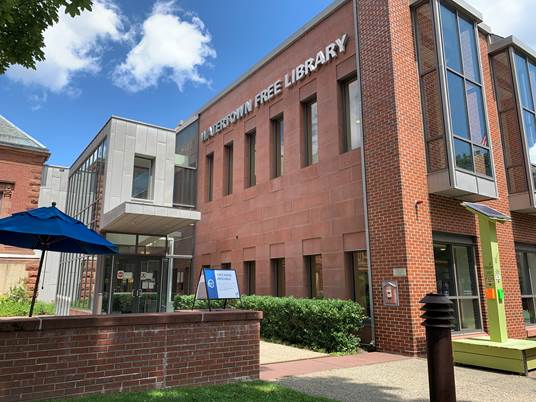 The Watertown Free Public Library provided the following announcement:
Due to the recent increase in Covid cases, all in-person Library programs will be canceled or moved online for the month of January. Here's what this means:
January programs that were scheduled to take place in person will be canceled or held virtually. This eNewsletter includes updated information.
January programs that were scheduled to take place virtually will continue.
Front Lawn Story Time will move to Facebook Live beginning 1/6/22.
Outside groups that have booked meeting rooms can continue to meet.
Library services and in-library browsing will continue.
We hope to resume in-person programming in February, 2022, but will adjust as necessary. Check watertownlib.org/reopening for the latest information. Thank you for adapting as we work together to keep our community safe!
January Newsletter
Where would we be without letters? This month, WFPL is kicking off our Love Letter to Letters triple bill. We hope you can join us, virtually, for Typography: Its History & Future with Charles Gibbons, Modern Calligraphy with Debby Reelitz, and a Linotype demonstration (!) with Michael Babcock of Interrobang Letterpress.
Also coming up in January: tune up your resume, attend a free Home Buying 101 seminar, and learn all about Yard Art 2022 with Hatch Makerspace!
For Children
Family Story Time on Facebook Live
Tuesdays & Thursdays | 11 AM | via Facebook Live | Join us for Story Time from the comfort of your own home! A librarian will lead songs and share favorite stories at facebook.com/watertownfpl. No registration required.
For Teens
For Adults
Author Talk: Michael Arceneaux
Wednesday, 1/12 | 7:30 PM | via Zoom |Arceneaux's latest collection of insightful essays, I Don't Want to Die Poor, explores the financial and emotional cost of chasing your dreams. Registration required.
Typography: It's History and Future with Charles Gibbons
Tuesday, 1/18 | 7:30 PM | via Zoom | Chuck Gibbons, type designer and lecturer at Tufts University's School of the Museum of Fine Arts, will discuss typography from Gutenberg to digital publishing. Registration required.
Modern Calligraphy with Debby Reelitz 
Sunday, 1/23 | 12  PM | via Zoom | Learn where Modern Calligraphy comes from and try your "hand" at the craft! Free take and make kits available to registered patrons. Registration required.
Mad About the Movies
Wednesday, 1/19 | 7 PM |  via Zoom  |  Watch Miss Juneteenth on Kanopy, then join us for a guided discussion with movie buff Kevin Carson.
At Hatch
YardArt Watertown 2022 Info Session 
Monday, 1/24 | 5 PM | via Zoom | Homegrown creativity is back to combat the pandemic blues! Join this info session to learn about YardArt 2022. Open to Watertown residents. Registration required.
Digital Library
Spotlight On: Live, Online Tutoring with Brainfuse
Brainfuse is an on demand, anytime, anywhere eLearning platform available free to Watertown residents. Students can take advantage of free, online tutoring or the writing lab. Adults can find resume assistance or prepare for GED and U.S.
What else is in the WFPL digital library? Your library card gives you access to thousands of ebooks, audiobooks, movies, and more. Best of all, it's open 24/7!