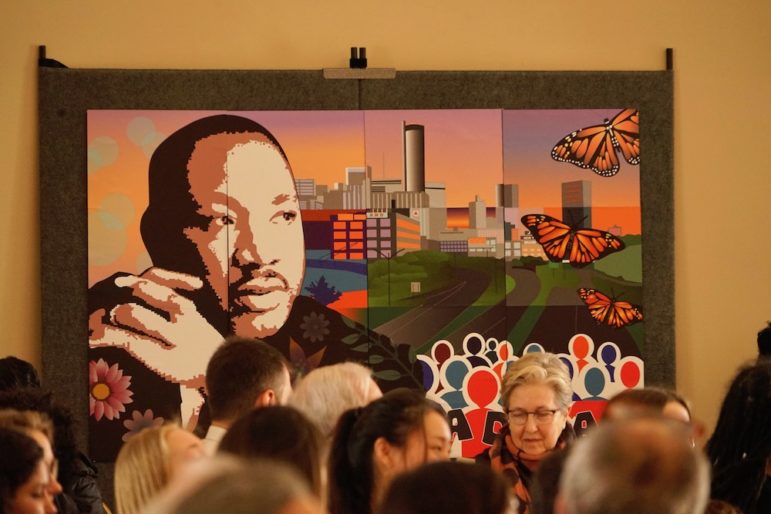 The following announcement was provided by the Watertown Unity Breakfast organizers:
The annual Watertown Unity Breakfast will be hosted on January 17th – the anniversary of the birth of Martin Luther King Jr – at 10 a.m.
Since 2000, Watertown residents have come together to honor civil rights leaders, past and present, and to recommit to the principles of racial, social and economic justice. Due to the COVID-19 pandemic, this year's event will be virtual. Event registration is now open at www.unitybreakfast.org. The Unity Breakfast is sponsored by World In Watertown, a civic organization that was founded by concerned Watertown residents in 1999 to protect and promote non-discriminatory practices in the city. 
At this year's event, organizers will announce the creation of a scholarship fund, to be awarded in 2023, designed to support extraordinary young people in the Watertown community who show immense promise as agents of change. Two Visionary Awards will be given to high school or middle school students who present their compelling vision for a more just and equal future in the spirit of Martin Luther King Jr and other civil rights leaders. Their vision can be demonstrated through practical action or expressed in prose, poetry, visual or performing art, film etc.
Keynote Speaker:
Dr. Sherrilynn J. Bevel. Dr. Bevel is a civil rights champion who has engaged in human and community development for more than 30 years. she has directed civic participation and democratization projects, provided technical support and taught courses in politics, human rights, and nonviolence. She is a contributor to The Chicago Freedom Movement: Martin Luther King Jr. and Civil Rights Activism in the North and is a Curriculum Associate and Trainer at Addie Wyatt Center for Nonviolence Training.
Unity Award Recipient:
Additional Honoree:
Beverly Smith, Civil Rights and feminist activist. An interview with Ms. Smith will be aired during the event.
Attendance at the event is free of charge but World In Watertown asks that attendees consider making a donation to support its work and the establishment of the Unity Breakfast Scholarship Funds.
To RSVP for the event, visit unitybreakfast.org
About the organizers
World in Watertown is a civic organization founded by concerned Watertown residents in 1999 to protect and promote non-discriminatory practices in Watertown.  In addition to organizing programs and initiatives honoring Watertown's diversity, World in Watertown organized the first Unity Breakfast in 2000 as a community gathering to honor the life and legacy of Dr. Martin Luther King.