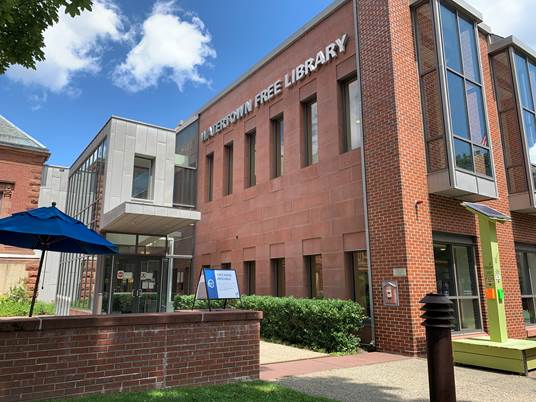 A Fitting Tribute To A Local Superstar
After 27 years, Leone Cole, Our Library Director is Retiring, Here's An Idea to Thank Her for Her Service to Watertown
Dear Watertown,
Under Leone's innovative and forward-thinking leadership, our library has become the heart of our community – welcoming, serving, and educating people of all ages and from all walks of life, through even the most challenging of times.
Our library has had such a positive influence − in ways we can only begin to imagine − on the lives of so many who have entered that building on 123 Main Street. Book groups, films, music, our History Room, research assistance, the Hatch Makerspace, storytelling, community talks/events, Project Literacy, the Library of Things, courses in finance, exercise, citizenship, and more have brought our community together. As many residents of Newton, Belmont, and Waltham will tell you, our library is their library of choice.
These days, change happens with lightning-fast speed. While so many other community libraries have struggled to catch-up with the latest user demands, WFPL continues to set the standard for other libraries to follow.
Leone's final visionary project is a bookmobile. Not a bookmobile of the past − but a state-of-the-art "outreach-mobile" that brings, not just books, but a vast array of valuable resources and services, including the internet, into every corner of the Watertown community!
So, here's the thing. This project could use some help from us − the community that owes her so much.
So here is my ask. If you feel the same way that Bruce and I do, please make a donation in Leone's honor to the bookmobile. Any donation amount is appreciated as a thank you for Leone's dedication and caring. Leone will positively LOVE this parting retirement gift.
Here's how you can make a donation by credit card online, check, or cash. All donations are tax deductible. Please be sure to make note that your donation is for the bookmobile.
• WFPL Donation Online: Credit Card Online
• Check or Cash: Checks should be made out to Watertown Free Public Library. Note that it is for the bookmobile. Donations can be mailed to Natasha Ruggeri-Koret, Administrative Assistant, WFPL, 123 Main Street Watertown, MA 02472 or dropped off at Circulation Desk addressed to Natasha.
If you have any questions, give me a call at 617-926-3952 or shoot me an email at elodia.h2otown@gmail.com. Please share this announcement with your contact circle.
A Belated Happy New Year and Warm Regards to You All,
Elodia Thomas