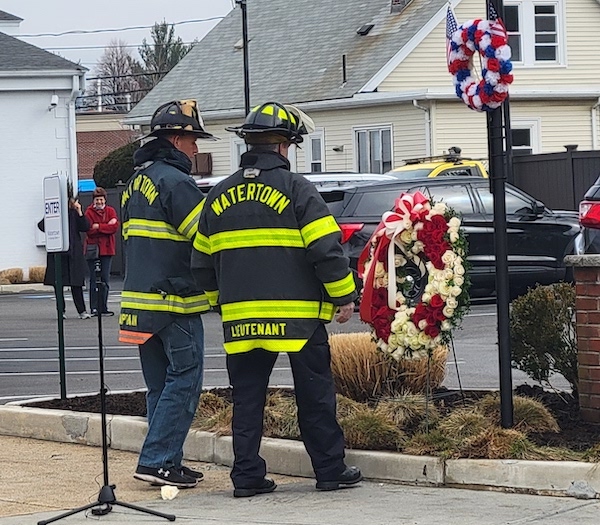 March 17, 2017 was one of the darkest days for the Watertown Fire Department. They lost a beloved colleague, Joseph Toscano, during the aftermath of a fire on Merrifield Avenue. On Thursday, Watertown Firefighters showed up in large numbers to remember Joe on the fifth anniversary of his death.
Current and former WFD personnel, on-duty and off, lined up several rows deep at the corner of Merrifield and Bigelow avenues at the time of his passing to salute Toscano. The intersection was dedicated in his name in 2018.
Watertown Fire Chief Bob Quinn said it is hard to believe it has been five years since he lost his close friend. When Quinn was a deputy chief Toscano worked as aid, so they worked every shift together for 13 years.
"It has flown by in so many ways. It's been a tough five years," Quinn said. "It is still hard to believe that Joe is gone."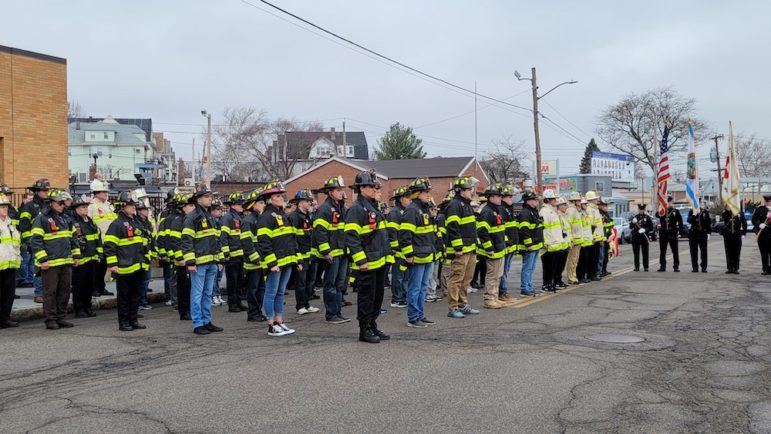 Each year, as the anniversary approaches, members of the Fire Department share their memories of Toscano.
"There are a lot of remembrances at the stations. When you drive by here you see the plaque (for Toscano's memorial)," Quinn said. "I was here that day at the fire with him and then I had to leave to be at the hospital when his family got there. I remember that day so vividly every year."
Along with the members of the Watertown Fire Department, firefighters from nearby communities also join the remembrance, including Belmont Assistant Fire Chief Wayne Haley, who attended the Massachusetts Fire Academy with Toscano.
"You always have a bond with the people you go to the academy with. He didn't work opposite my shift so I didn't see him a whole lot, but every time we saw each other it was like we never left the academy," Haley said. "He was a great guy. He will be really missed. I was here that day five years ago, I'll never forget it. I think about it all the time. He was one of the good ones."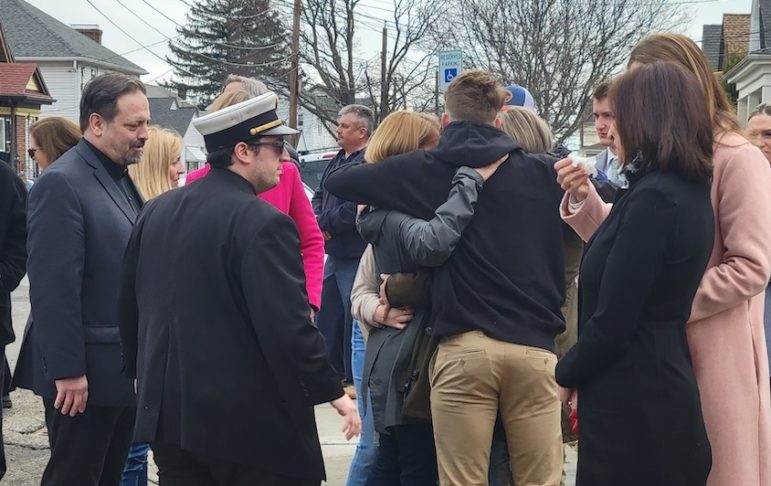 The service also provides a way for Toscano's family to stay close to the Fire Department, Quinn said. He left behind his wife Maureen, and five children — Alyssa, Patrick, Mary Cate, William, and Michael.
"We've kept in touch with his family in many ways. Many guys, many of the members keep in touch, reach out, and just keep checking on them to make sure that everything is OK," Quinn said. "A group of us has been to all their kids' graduation since Joe died, because Joe couldn't be there. We just try to make sure that they are always taken care of. Joe got taken away from them, we will always be here as their other family."
(See the entire ceremony below, courtesy of Watertown Cable Access)
Quinn, like many firefighters, will attend the funerals of fallen firefighters from other communities. He said recently they have been even more personal.
"I've been to many funerals over time, out to Worcester, Stoughton, different places throughout my career," Quinn said. "Certainly you respect it, but any one that I have gone to since Joe died, it's a little bit more meaningful for me because I have a little more of a feeling of what they are going through now that I've been going through it and will always be going through it."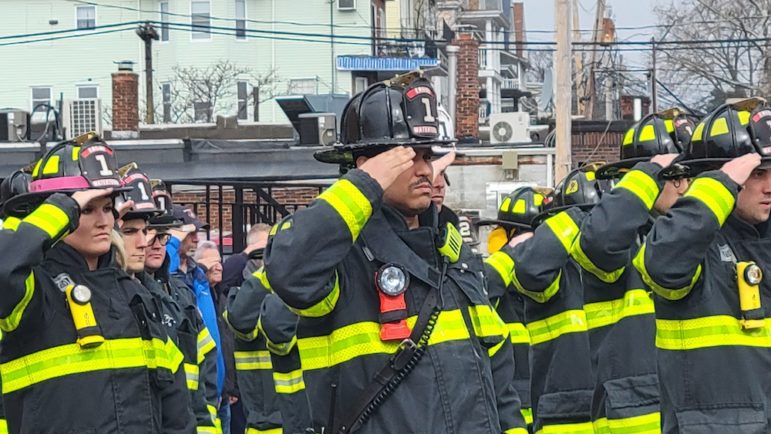 After the ceremony, the Fire Department held a reception. Quinn likened that and the ceremony to a wake.
"Everybody likes a wake. Everybody can talk and share stories about Joe. you can get together and still talk about the funny things he did, the good things he did, and the good guy he was," Quinn said. "And the family — it means a lot to the family. People come over to say hello and still remain close."