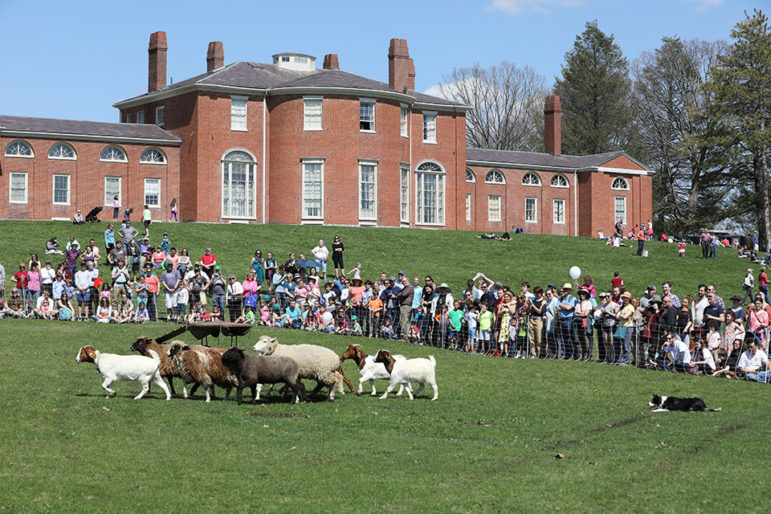 The following information came from Gore Place:
Forced to move online by the COVID-19 pandemic, the Sheepshearing Festival at Gore Place will return in-person on Saturday, April 23, 2022. Since 1987, this annual event has entertained guests with music, 100 craft and fiber artists, demonstrations of traditional shearing and herding dogs, and historic re-enactors, on the beautiful grounds of this historic, 50-acre estate.
According to Executive Director and festival organizer Susan Robertson, "We're proud that the Sheepshearing Festival has become a New England spring tradition for so many. People often tell us that spring doesn't begin until the Sheepshearing Festival. It's been three years since our last Festival, and we're thrilled to welcome everyone back!"
According to Director of Farm and Landscape Operations, Scott Clarke, "We're bringing back our visitors' Festival favorites, like seeing traditional shearing techniques and dog herding demonstrations, and simply enjoying a great time outdoors with family and friends. This year, to celebrate the Festival's 35th year, we're adding some new features and we can't wait to share them with you!"
Admission
$20 per adult
Free for children ages 12 and under
Free for Gore Place members – Not a member? Sign up online here!
Free for Festival volunteers – Want to be a volunteer? Fill out the form here to learn more!
Interested in having a booth as a vendor? Applications are open now through April 1. Find the links to the applications below.
Handmade craft vendors: Please complete the application at this link.
Fiber artists: Please complete the application at this link.
Commercial vendors: Please complete the application at this link.
Nonprofit vendors: Please complete the application at this link.
Interested in participating as a performer?
Please fill out the inquiry form at this link.
See the vendors and performers scheduled to attend the Festival by clicking here.
Gore Place will have a COVID-19 safety plan in place for this Festival. In addition to complying with all state and local regulations about COVID-19, Gore Place will hold all Festival activities outdoors. As the Festival date approaches, Gore Place will continue to monitor and update our safety plan. To view our updated COVID-19 safety plan, please visit our website at https://goreplace.org/covid-safety.