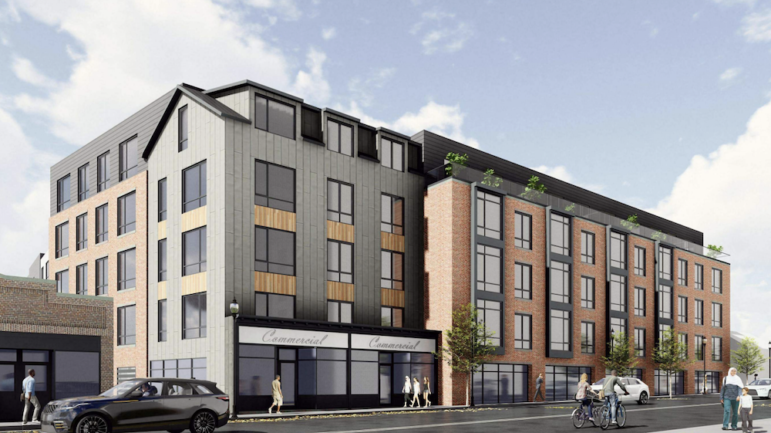 A five-story mixed use project with housing units on top of retail and commercial space may be coming to Main Street. The development would include properties that currently include the Post Office, a restaurant, a boutique and other properties.
The pre-application plans were sent to the to the Watertown Planning Department for review on March 31 show 146 residential units in four stories. They would be built above 5,450 sq. ft. of retail/office space on the ground floor. The development would have 148 parking spaces in two stories of parking (one at ground level and one below). The plan also calls for 21,788 sq. ft. of open space.
The project submitted to the City is described as 104-126 Main Street, but would include properties with addresses on three streets: 104-106 Main St., 120 Main St., 126 Main St., 2-10 Cross St., and 53 Pleasant St.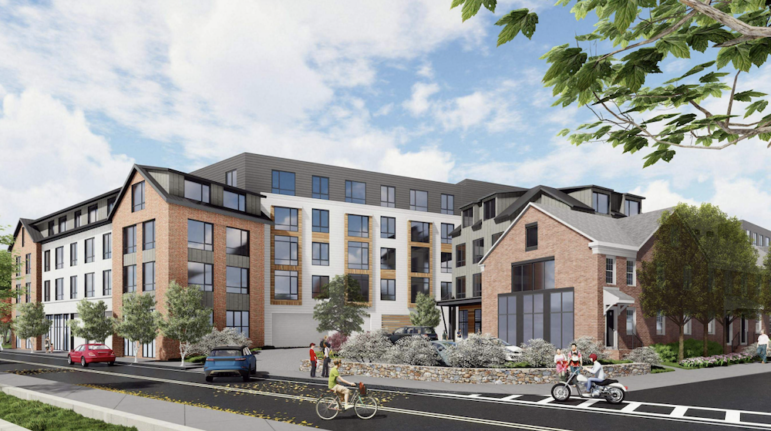 Currently occupants of those addresses include the U.S. Post Office at 126 Main St., the former Talk Restaurant was located at 120 Main St., Bling Boutique is located at 104 Main St., and Crown Cafe is located at 106 Main St.
Two current buildings will be incorporated into the new development, 104-106 Main Street (Bling and Crown Cafe) and the residential building at 2-5 Cross St., according to the project narrative. The Cross Street building, called the Morse Rowhouse Building, will be transformed into amenity space for residents of the building.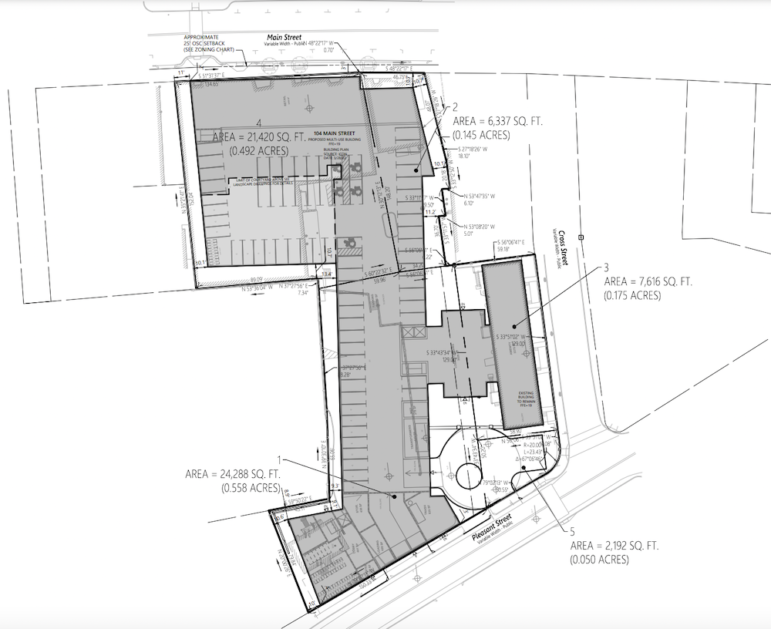 The main entrance to the residential portion of the development will be off Pleasant Street, for both pedestrians and auto traffic.
A parking lot currently located on Pleasant Street will be turned into an entry courtyard for the residential portion.
The project has not been scheduled to appear before the Zoning or Planning boards. The  submitted document are under initial review by city departments and have been shared with the public at the same time. There will be a community meeting before it goes to those boards.
See the submitted plans by clicking here (see the documents by clicking "Click Here for Applications, Reports, Plans, and other project documents" near the bottom.