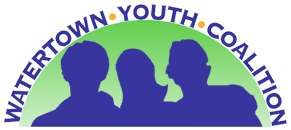 The following information was provided by the Watertown Youth Coalition and Wayside Multi-Service Center:
Watertown Youth Coalition and Wayside Youth & Family Support Network's Multi-Service Center invite nominations for our 2022 Community Spirit Awards and welcome the community to our annual awards event to appreciate and honor the individuals in the community committed to the health and well-being of Watertown's youth and families.
This event is free and open to the public. Light dinner will be provided.
To nominate someone, please fill out the form by May 23, 2022 (Click here for the Form: Nomination form Community Spirit Awards 2022)
*Individuals eligible for nomination are those who have:
● Served as a positive influence or mentor to a Watertown Youth Coalition member
or to others in the community
● Had the courage to address challenging issues that affect youth and the
community
● Actively taken steps to improve the Watertown community for youth and families
(in big and small ways)
● Not received an award in the past 5 years
When: Wednesday, June 8, 2022 from 6:00 – 7:30 pm
Where: Arsenal Community Park, 458 Arsenal St., Watertown
Register here to confirm your attendance:
Click here for the Eventbrite Tickets for Community Service Awards Ceremony
About Watertown Youth Coalition
Watertown Youth Coalition's mission is to support the wellness and empowerment of Watertown youth by engaging young people, families, and the community.
About Wayside Multi-Service Center
Since 1968, Wayside Multi-Service Center has provided community-wide health promotion initiatives and counseling services to youth and families in Watertown and surrounding areas. The Multi's programs reflect its core values to advocate for and promote inclusivity, racial and gender equity, social justice, and support a vibrant culture of mental health and wellness, free from substance use.