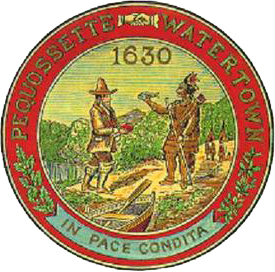 During Monday's City Manager Finalist community forum the three candidates shared their thoughts on a number of items, including hiring the next Police Chief, libraries, and the Senior Center and senior services.
The three City Manager finalists are: George Proakis (Executive Director of Somerville's Office of Strategic Planning & Community Development), Norman Khumalo (Hopkinton Town Manager), and John Curran (Billerica Town Manager). Read more about the Finalists here.
Police
One of the first duties of the next Watertown City Manager will be to hire a new Police Chief, with Michael Lawn announcing his retirement effective June 3.
Curran hired a new police chief in Billerica in December, and said the qualities he would like to see in the next chief are: "They need to know what Police Reform is, they need to know the (Massachusetts) POST (Peace Officer Standards & Training) Commission, they need to be someone who is of the guardian philosophy, and they need to be also someone up to speed in being able to do community policing and getting out into the community."
Curran said he believes in the "guardian philosophy" of policing where police are "here to help you, work with you, and get to know you." Developing relationships with different groups in town is key, he added.
"You can't serve the public if you are not serving every group," Curran said.
He was asked about a story from the Lowell Sun about a complaint filed against the candidate made chief. Curran said that when he heard the complaint he hired a private investigator to look into the incident and found there was no malicious intent.
In his experience, Khumalo has hired three police chiefs, and has hired both internal and external candidates. In both cases the Select Board (the elected officials) participated and he said finding out the values of the community is another key.
"When hiring externally we had citizen participation in the process from the time we defined the profile of the position and the expectation of the community," Khumalo said. "Through a committee appointed by the Select Board we began the internal screening process. Citizens were involved from the beginning."
Khumalo said that the benefits of community policing "are very well documented." He said to be able to do that it is key for the senior leadership in town to support the police department's efforts.
Having residents feel safe in the community is also important, Khumalo said.
"My belief is families come to live in a community because it is safe. In Hopkinton, yes we have great schools, we have great companies where people can work, and great open space. One thing we heard from residents and visitors is they come to Hopkinton because it is safe," Khumalo said. "We have been the number 1, 2, (or) 3 safest small community in the U.S. for a long time. That cannot happen if there is not a strong, effective, good relationship between the police chief and the town manager. I am always taking a very intentional approach to build good relations with the police chief."
Proakis noted that Watertown's Police Department falls under Civil Service rules, which limits some parts of how a chief can be hired.
He said he wants to get input from a variety of places when looking for the next chief.
"I want to understand from the Council and the community what their priorities are and what they are looking for in the next police chief," Proakis said. "I also want to hear from the Police Department as well about what they want their next leader to prioritize."
Proakis noted that being a Police Chief is more challenging now than it has been in the past. He added that he has qualities he would like to see in the next Police Chief.
"I want someone who is willing to move the Department forward and who has good ideas. Someone not afraid to suggest ideas," Proakis said. "One of key things I learned is the most successful local governments are ones that let their department heads come up with solutions, propose them to the manager. Maybe it works, maybe it doesn't, but at least you have to dive in and understand what it is and what the possibilities are out there. And, someone who will both be a great leader to the staff and the city, while at the same time understand the national best practices and trends and can bring them together." 
Library
All three candidates were asked about what libraries mean to them, and to a community.
Khumalo said libraries hold a special place in his life.
"If it was not for the libraries I would not be sitting here with you. Growing up in Zimbabwe, my school did not have the resources you would find in America," Khumalo said. "They didn't have textbooks. We shared one textbook. I have always been a member of libraries. I am a proud member of three libraries: Uxbridge, Hopkinton, and Boston."
In his career, Khumalo has been part of library expansions in Walpole and Westford, and while in Hopkinton he was part of the effort to transition the library from a private to a public one, and acquired two properties for the library.
While Proakis was in Somerville, the city considered building a new library, and had a grant to do so, but instead they decided to restore the historic library building. He said that while working on that process he realized how the library has become a center for so many people in the community.
"Libraries are a place to meet, for people who do not have access to the internet, they are a great community gathering location," Proakis said. "They are such an important part of the community. I know how successful and important the library is in this community." 
He added that he heard that Watertown recently appointed a new library director, Caitlin Browne, and he said he would work to help her be successful and be successful moving the library forward. Proakis added that he has gotten some insight from his mother-in-law, who is a library trustee in Yarmouth.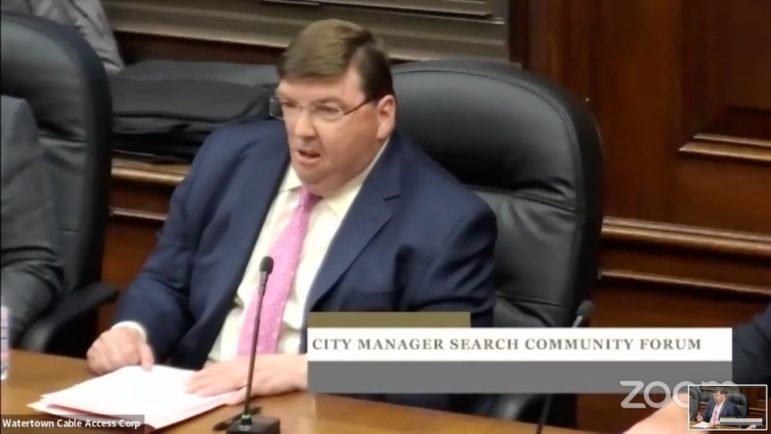 While mayor of Woburn, Curran had proposed incorporating the library into five school buildings. That did not go ahead, in part because he lost his election. Instead the city built a new library.
He said libraries have become more popular than ever.
"I bristle when people say libraries are past their time, and people don't use libraries," Curran said. "They clearly haven't been in a library because if you go in a library you see that they are used more today than they have been used at any time in the past. The demographics of people who use the library is widely varied. People need to be there if there is no other way to get access to the internet, people looking for jobs, people studying."
In Billerica, Curran said he has seen issues facing the greater society impacting the library.
"All the mental health issues spill into the library. Substance use and abuse spills into the library. We had to deal with that all the time," Curran said. "Free speech issues: I had to discipline employees about what they are posting as library employees on the library book site. So, there is a lot going on in the public library."
Senior Center
Watertown's next City Manager will be hiring a new Director of Senior Services, and at the same time working on the renovation or redevelopment of the Senior Center site, which also includes the Phillips Building used as the Watertown Public Schools administrative offices.
Proakis said he has hired a variety of positions and department heads, but never a Senior Services Director.
He believes it is important to do "the best, most robust search you can do to find someone who really is the best fit for the community is key to a position like that."
When the new director is hired, Proakis said he would take a similar approach to how he works with other department heads.
"I will be focused on creating the best team I can, not mircomanaging them, but getting them to bring the best ideas they can and having them move their department and the city as a whole forward," Proakis said.
While in Somerville, Proakis said when working on projects similar to the Senior Center redevelopment he looked at what the community's priorities are, and what properties the City has.
"I have never been involved in selling prop to the highest bidder," Proakis said. "I have been involved in using city land in the same way we use other city resources: to try to use it in a way that best fits community values."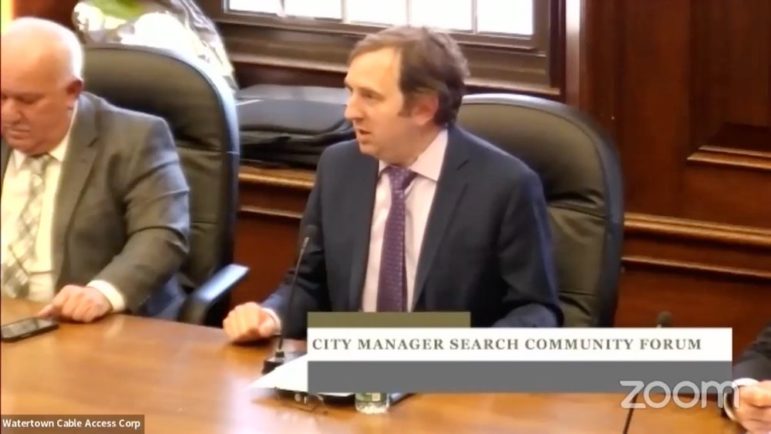 Billerica is in the midst of building a new Senior Center, Curran said. They decided to not just limit it to a facility for older residents.
"We are looking at a community center solution: a senior center and recreation in the same facility — an intergenerational center," Curran said. "The idea is to get the groups to coexist. They are not together all the time, because seniors like their space, but for them to share spaces like program space, like a gym, and other things."
One reason Billerica went in that direction, he said, is to remove the perception that the Senior Center is for old people, and hopefully will attract a broader range of ages coming to the center. Curran said that could result in younger seniors helping older ones.
Khumalo said he finds the Senior Center an interesting place to be, and said it contains "the history of the community," because many of the people who use it have been in the community for years.
He added that he likes that Watertown has a Senior Services Director, not just someone to run the Senior Center. Hopkinton separated the responsibilities of the Director. Another person, the Director of Facilities, works on the needs of the facility itself, so that the director of the Senior Center can focus on providing services to seniors.
Khumalo said it is important for a manager to work with groups representing seniors.
"In Hopkinton we have both a town appointed committee, the Council on Aging, as well as the Friends of the Seniors, a non-profit clearly working for the best interests of the seniors in the community," Khumalo said.
When deciding which direction to go with the Senior Center, said he would "design and develop" the facility and "prioritize the needs of the seniors."