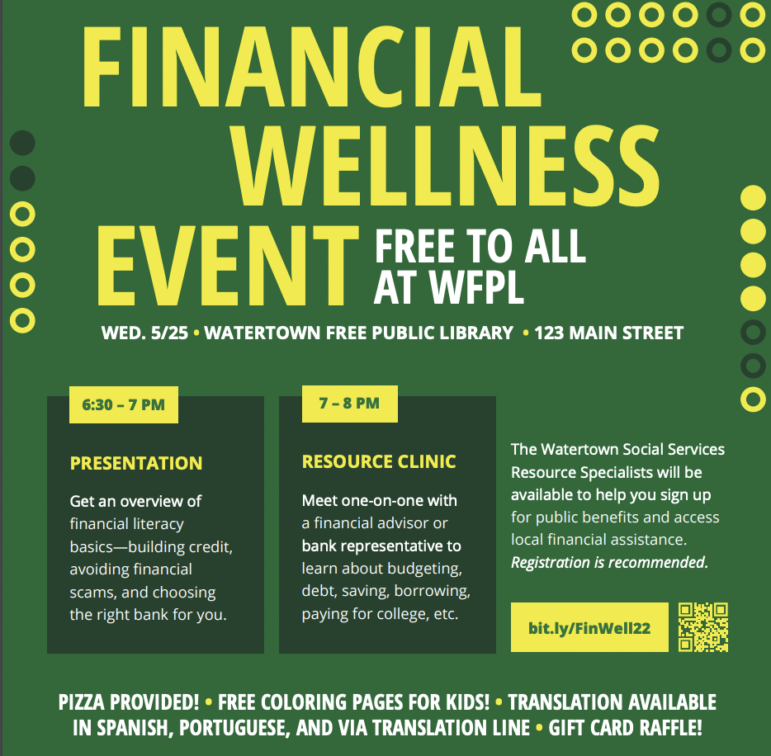 The following announcement was provided by the Watertown Social Services Resources Specialist:
The Watertown Free Public Library and Watertown Social Services Resources Specialist (SSRS) Program invite you to a financial literacy presentation and resource clinic.
The event is Wednesday, May 25th, 6:30 pm to 8 pm in the Watertown Savings Bank Meeting Room of the Library, 123 Main St.
Financial Literacy Presentation (6:30-7 pm):
Representatives from the East Savings Bank and Arsenal Financial will share financial literacy basics, such as building credit and avoiding financial scams.

Financial Resource Clinic (7-8 pm):
Following the presentation, representatives from local banks and financial advisors will be available to meet one-on-one with attendees to advise on financial needs such as budgeting, dealing with debt, taking out loans and paying for college, etc.
There will be pizza for all, translation services, a gift card raffle, and coloring pages for kids. Registration is recommended.