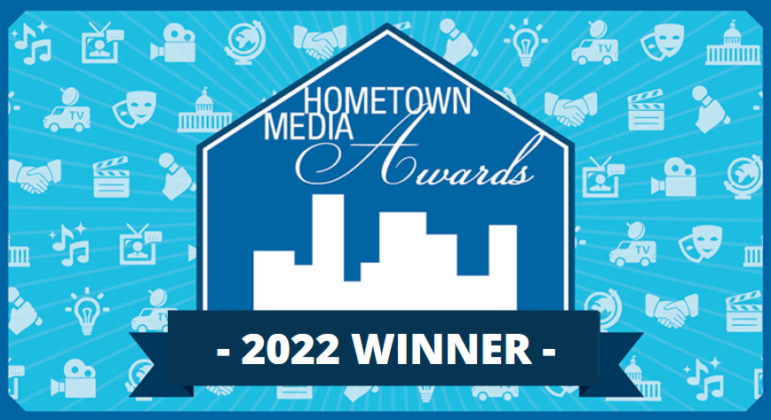 WCA-TV is excited to announce that we have received two Hometown Media Awards from the Alliance for Community Media Foundation.
The awards program was established to honor and promote community media, community radio, and local cable programs that are distributed on Public, Educational and Governmental (PEG) access cable television channels. Proceeds go to the ACM Foundation which is exclusively used for facilitating, preserving and promoting education in community media.
WCA-TV news producer, Dan Hogan, has won the Community Event Activism/Rallies award for his coverage of the 2021 Unity Breakfast. This award recognizes excellence in coverage of community events such as rallies or other events that are intended to bring about social or political change. Here is a quote from Dan about his accomplishment:
"It means so much to me that the efforts of myself and the entire Unity Breakfast Planning Committee is being recognized on a national level. I'm so honored that Chuck Dickinson and the UB Planning Committee chose me to film and edit the event into a television program so the tradition of the Watertown Unity Breakfast could continue. I'd like to thank every single person involved with the 2021 Unity Breakfast. It was an honor to work with all of you, and I'm humbled that you trusted me to stitch together your message of equality and social justice the Unity Breakfast represents. And thank you to the Alliance for Community Media for recognizing the hard work of so many in the Watertown Community." 
WCA-TV intern, Brian Manning, has also won the Radio DJ of the Year Student award for his radio show "The Beatles with Brian." This is Brian's second year in a row winning for this category, which recognizes excellence in programming produced by DJs of community radio stations. Brian says "to be honored for something that I am so passionate about is incredibly gratifying and I am so thankful for being able to do what I love to do. I also want to thank the Alliance for Community Media and the Watertown Cable station for this recognition. It is an affirmation that people like and appreciate what I do."
Each year, nearly 1,000 entries are submitted. These entries, or programs, are submitted and evaluated on several factors resulting in over 100 award winners. A panel of judges from the industry evaluate the entries. Awards are presented to the most creative programs that address community needs, develop diverse community involvement, challenge conventional commercial television formats and move viewers to experience television in a different way.
"The Hometown Media Awards celebrate both the excellence of work and the diversity of media that appears on community channels being produced around the country. The ACM Foundation is proud of their achievement and of how they represent their communities in their work," said Mike Wassenaar, president & CEO, Alliance for Community Media.
We are so proud of Dan and Brian and applaud them for their hard work and dedication to community media. You can watch and listen to the award winning programs below.
Unity Breakfast 2021: http://vodwcatv.org/CablecastPublicSite/show/203?channel=1
The Beatles with Brian Episode 65: https://soundcloud.com/wcacradio/the-beatles-with-brian-episode-65
About WCA-TV
Since 2005, Watertown Cable Access Corp (WCA-TV) has been Watertown's Public, Education, & Government Access (PEG) station. Our mission is to provide local coverage of city wide meetings, events, and educational activities to the residents of Watertown, while providing a space for community members to learn and grow their knowledge of video production.