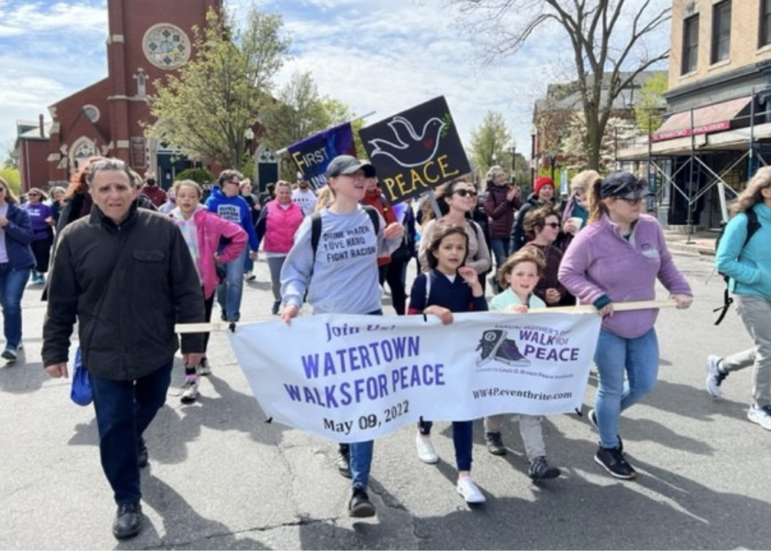 The following piece was provided by Watertown Walks for Peace:
For the eighth year in a row, Watertown Walks for Peace (WW4P) joined other teams from Dorchester, Boston, and surrounding Boston communities to participate in the Mother's Day Walk for Peace. This annual fundraising event supports the Louis D. Brown Peace Institute in its critical advocacy and support work for individuals and communities that are victims of gun violence.      
This year's Mother's Day Walk for Peace was the first in-person walk since 2019. And for the WW4P team it was the most successful effort to date.
Donations. The WW4P organizers set a 2022 fundraising goal of $3,000, but 62 donors generously gave $6,582 – more than double the target amount and significantly more than we've ever raised before. Almost half of this donor group (29) also walked with the WW4P team in Dorchester.
Walking in Dorchester. WW4P had a bus-full of 44 walkers (29 adults, 15 kids), an important in-person presence and statement of Watertown's solidarity with survivor communities and families and the healing work of the Peace Institute.
Sponsors. WW4P was grateful for the financial support from several organizations that paid bus expenses or made donations to WW4P. These sponsors included First Parish of Watertown; Survival Education Fund; Watertown Citizens for Peace, Justice and the Environment; and World in Watertown.
WW4P walkers were enthusiastic about the opportunity to walk with others in the walk from Town Fields, Dorchester, to Madison Park High School in Lower Roxbury. Sen. Will Brownsberger was once again a WW4P participant and said: "I always try to participate in the Mother's Day walk. It about reducing violence through reconciliation and forgiveness. It sends an important message."

Nicole Gardner, a newly elected Town Councilor in Watertown, spoke from a mother's perspective: "This event makes me feel in solidarity with mothers and the raisers of children across the city, and around the world, as we strive for peace and strive to end violence."
Will Twombly eloquently described the walking experience: "The Walk for Peace is an extraordinarily unifying event, literally bringing together people of all backgrounds and cultures shoulder to shoulder, united by one common purpose. Often, the walker beside you has lost a son, daughter, parent, cousin, or friend to gun violence, and has been left only with memories of the person they have loved, and the photo they wear on their T-shirt, or carry on their banner. Yet, in spite of the profound grief borne by so many, the mood of the day is joyfully positive and upbeat, with hope running high for a better tomorrow."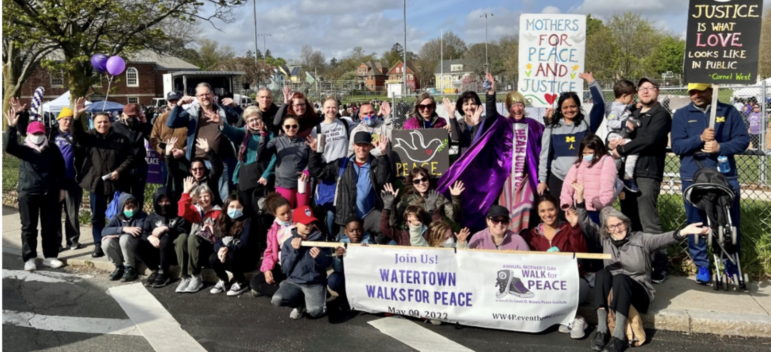 Watertown Walks for Peace is a collaborative effort of local organizations. The organizing team this year included: Eileen Ryan (First Parish of Watertown); Deborah Peterson and Jacqui Gross (Watertown Citizen's for Peace, Justice, and the Environment); Caroline Bays (Progressive Watertown); Lynn Penzcar and Holly Cachimuel (Kingian Response Team); and Chuck Dickinson (World in Watertown).