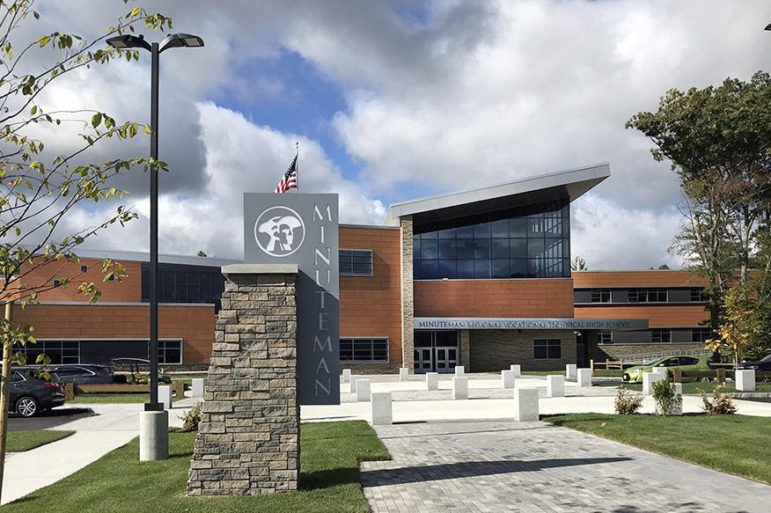 The following announcement was provided by Minuteman High School:
Seven Minuteman High School students recently received gold medals at the 2022 SkillsUSA Massachusetts Awards Ceremony and will head to the national competition in Atlanta this fall. In total, 16 students from Minuteman received medals at the state competition.
SkillsUSA is a national organization that strives to teach workplace, personal, and technical skills to high school and post-secondary students. Minuteman and numerous other career technical education high schools participate in the statewide competition each year. Students often present projects they have completed that demonstrate the core SkillsUSA framework, which includes workplace skills, personal skills, and technical skills that are grounded in academics.
Arlington brothers Dean O'Brien, Gavin O'Brien, and John O'Brien, who are juniors, won gold for their project, which was a two-year water quality study they conducted on bodies of water in Arlington and surrounding towns. Dean and Gavin are Environmental Science majors and John is a Biotechnology major.
The O'Brien's water quality tests yielded a water quality index that indicated the overall health of bodies of water. They created a QR code to explain the results and posted flyers around the ponds with that code. They also contacted town officials to inform them of the project and shared their findings.
Another team of three got gold medals: sophomores Abigail Bayer of Acton, Cameron French of Arlington, and Kevin Mukherjee of Arlington, who are all Environmental Science majors, for their work certifying a vernal pool in Bolton. This work was done at the request of the Bolton Conservation Commission. It required the students to collect data from the pool at a specific time of year for submission into a statewide database. Vernal pools are protected habitats in Massachusetts.
Felix Nelson of Arlington, a freshman Environmental Science major, received a gold medal for his presentation. He engineered a plastics extractor, a mechanism for removing microplastics from the ocean.
The remaining Minuteman student SkillsUSA medal recipients are:
SILVER
Nicholas Abreau of Lexington, Pedro Barbosa of Watertown, and Samir Kris of Acton, grade 12, Engineering
Zachary Forrest of Arlington, grade 10, Environmental Science
BRONZE
Kaytaki Pathak of Arlington, grade 9, Environmental Science
Mila Leybovich of Lexington, grade 9, Biotechnology, and Nicholas Mandola of Arlington, grade 9, Environmental Science (same project).
Elizabeth Blumberg of Acton, grade 10, Engineering