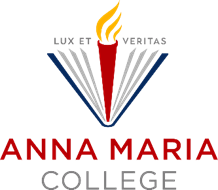 The following information was provided by Anna Maria College:
May 2022 marked a new chapter for Anna Maria College as the institution celebrated its 2022 Commencement Ceremony at the DCU Center in Worcester. The new and larger venue held nearly 300 graduates and 3,500 guests while still retaining Anna Maria's sense of a tight-knit community.
Watertown's Michael C. MacNeil received his Master of Public Administration degree at the commencement on May 9, 2022.
About Anna Maria College
Located just outside of Worcester in Paxton, Massachusetts, Anna Maria College is a 76-year-old private, co-educational institution inspired by the ideals of the Sisters of Saint Anne. We prepare our students to become ethical leaders by combining a values-based, service focused education with strong functional knowledge and the skills necessary to address the rapidly changing needs of their world. Anna Maria delivers undergraduate and graduate degrees along with certificate programs on campus and online. For more information, visit  www.annamaria.edu