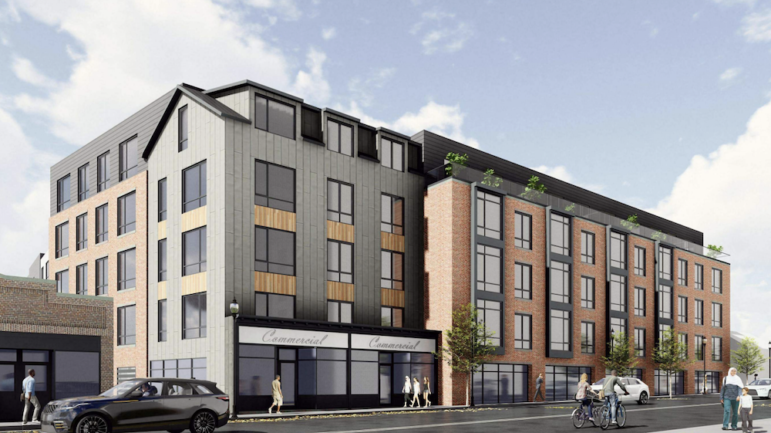 The developers of the project proposed on Main Street in Watertown want to create a place where residents can live steps away from restaurants, stores, and public transportation available in Watertown Square.
John O'Connor, senior vice president for acquisitions and development for O'Connor Capital Partners recently spoke with Watertown News about the proposal for the 104-126 Main St.
The development would have 146 residential units in four stories above 5,450 sq. ft. of retail/office space on the ground floor.
O'Connor Capital Partners has properties around the United States and Mexico, including around 12,000 apartment units and 20 million square feet of commercial space. The New York City-based firm focuses heavily on New England, New York and South Florida, and O'Connor said Watertown is an appealing area.
"We think with the growth of the employment base in Watertown — there has been so much new life science development — and we think it is the kind of housing option that would be interesting for a lot of the new and existing residents of Watertown," O'Connor said.
Constructing a building in the middle of an existing downtown will be challenging, but O'Connor said "it is such a great location."
"We think the project we will be delivering is going to be a lot more authentic and more walkable for tenants — they can walk to the bus station or walk to the restaurants in town, or walk to the various employers in town," O'Connor said.
The existing retailers in the property will have a chance to stay in the new development, O'Connor said.
"We have also offered all of the existing tenants space," O'Connor said. "Our vision is to hopefully — we are not done with the Post Office — to have the Post Office in one part of the retail and then have some restaurant or cafe or coffee shop in another part of the retail."
News of the project has sparked opposition from some residents, and there has been an effort to make that stretch of Main Street a Historic District. A petition was presented to the City Council in May, and City Council President Mark Sideris said he expects it to appear on the Council agenda in June.
The current proposal would have 148 parking spaces in two levels of parking (one at ground level and one below), but O'Connor said the residents could also take advantage of nearby public transportation options.
"We are hopeful that more people will be using public transportation given how close we are to public transportation, but we are going to be offering sufficient parking for our tenants," O'Connor said.
The project includes parcels on Main Street, Cross Street and Pleasant Street. The majority of the traffic will come and go from Pleasant Street, rather than Main Street, O'Connor said.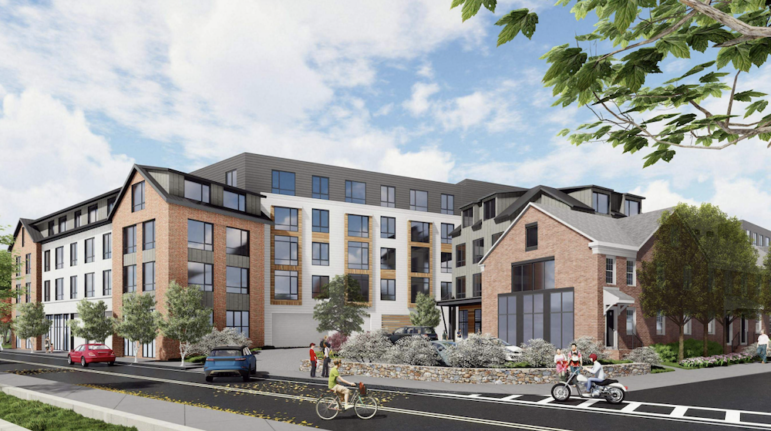 Developers had a couple of informal meetings with City of Watertown officials, and last month they had a Developers Conference.
"The town gave us some comments and based on our Developers Conference we are going to be coming back with a response and then meet with the town again," O'Connor said.
The project has already gone through a few iterations, he said, and some changes include keeping the exterior of the existing row houses on Cross Street (which will be where the building's amenities will go), and having more retail space.
O'Connor said that the scale of the project will not likely change.
"It's really hard for it to be a viable project with less density," O'Connor said. "Just given the complexity of building, and keeping some of the historic structures, and the infill location, and the way construction costs are heading we really need as much density as the local zoning allows."
While the firm is based in New York, it has local ties.
"Our whole entire family grew up not too far away, we are from Newton and some still live in the area," O'Connor said. "We are very respectful of what the community thinks of us."
A local connection led to the proposed project on Main Street.
"We've been working on this deal with the Salusti family for probably five years now," O'Connor said. "They have a long-term family friend who has worked at our company for a long time and we initially came in to help them envision what could be done here. And then we were going to partner with them, and for various reasons it is easier to just buy the parcel ourselves."