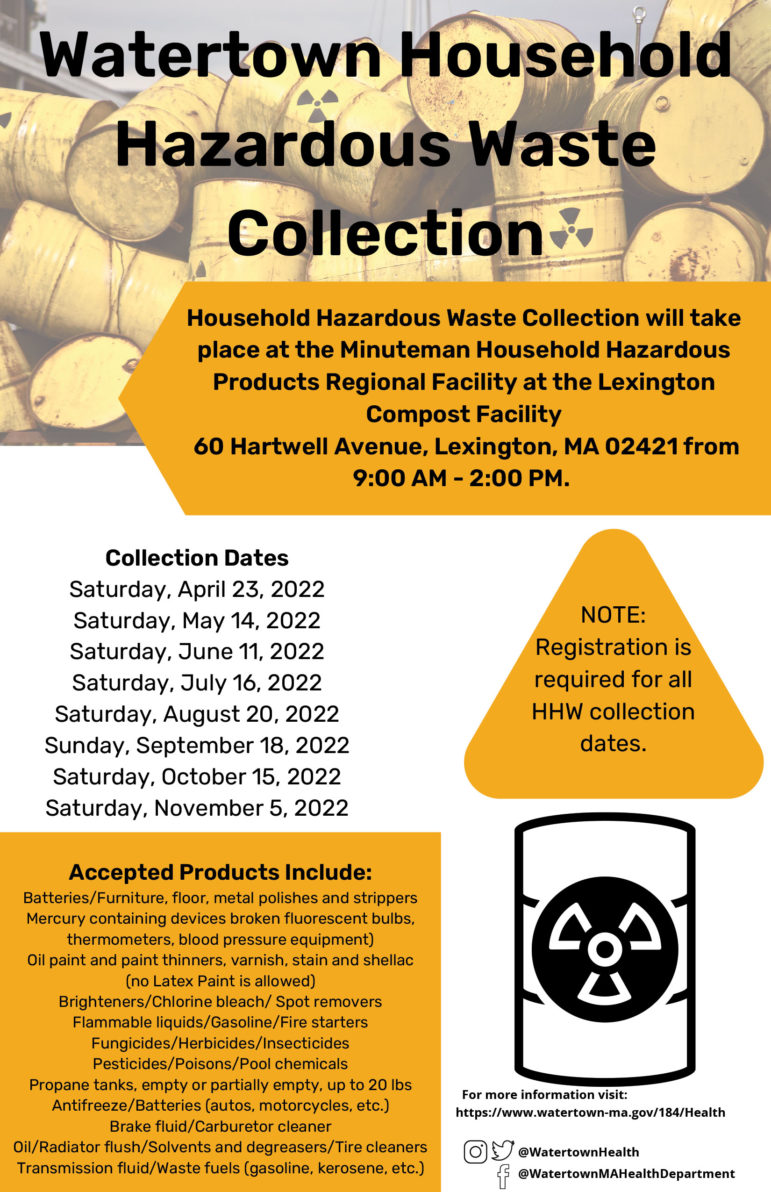 Watertown residents can dispose of household hazardous waste, such as garden chemicals, batteries, and motor oil over on June 11.
The Watertown Department of Public Works provided the following information:
The next Household Hazardous Waste Collection will be on Saturday, June 11, 2022 at the Minuteman Household Hazardous Products Regional Facility at the Lexington Compost Facility, 60 Hartwell Avenue, Lexington, MA 02421 from 9:00 AM – 2:00 PM. 
Hazardous Waste Collection requires online pre-registration.
Proposed 2022 Hazardous Waste Collection dates are below. The Collection will be between 9:00 AM – 2:00 PM.
Saturday, April 23, 2022
Saturday, May 14, 2022
Saturday, June 11, 2022
Saturday, July 16, 2022
Saturday, August 20, 2022
Sunday, September 18, 2022
Saturday, October 15, 2022
Saturday, November 5, 2022
NOTE: Registration is required for all HHW collection dates.
Event Guidelines
Hazardous materials will ONLY be accepted from trunks, the backs of SUV's and pick-up truck beds. Do not bring items in your back seat or other areas of your car/truck.
Please DO NOT exit your vehicle for any reason.
Face coverings are MANDATORY.
Please DO NOT roll down your vehicle windows.
Your Driver's license MUST be available and held up to your window for registration on site.
Please DO NOT bring containers that you want back. NO containers will be returned.
See additional information and guidelines (PDF)
Directions to the facility:
From Rte 128 take exit 31 (Rte 4/225 heading towards Bedford).
At the first light take a right, via jug handle, onto Hartwell Ave.
The composting facility site is ¼ mile on the left just after the bike path .
Description of Services:
Residents of Lexington and participating communities may help protect the environment by taking common household hazardous products (see the full list) to the Minuteman Facility on Hartwell Avenue in Lexington.
Please bring identification and proof of residency with you to the center.
Please do not make multiple trips per event. This slows down the event and it increases the cost to your town, as each town is assessed a fee based on the quantity of material per car brought to the site.
The Minuteman Hazardous Products Facility reserves the right to refuse unidentified materials or unacceptable amounts of hazardous waste.
A separate program for small businesses and very small quantity generators (VSQG's) is also available by pre-registration.
What Hazardous Products Can I Bring?
General Household Materials
Acids (corrosives)
Aerosol cans (excluding empty cans)
Art supplies
Batteries – Alkaline batteries manufactured before 1994 and all NiCad, button, zinc and lithium batteries
Chemistry set chemicals
Fiberglass resins
Furniture, floor, metal polishes and strippers
Hobby supplies (rubber cement, airplane glue etc.)
Mercury containing devices (switches, thermostats, fluorescent lamps, compact fluorescent bulbs (energy efficient bulbs), broken fluorescent bulbs, thermometers, blood pressure equipment)
Moth balls/crystals
Oil paint and paint thinners, varnish, stain and shellac (no Latex Paint is allowed)
Paint Strippers
Photography chemicals
Rug and upholstery cleaners
Solvent adhesives
Turpentine and other paint solvents
Wood preservatives
Bathroom Products
Hair dye
Nail polish remover
Toilet cleaners
Laundry Materials
Brighteners
Chlorine bleach
Spot removers
Spray starch
Whiteners
Kitchen Materials
Drain cleaners
Lighter fluids
Oven cleaners
Lawn and Garden Materials
Cesspool cleaners (corrosives)
Flammable liquids/Gasoline
Flea and tick powders
Fire starters
Fungicides
Herbicides
Insecticides
No-pest strips
Pesticides
Poisons
Pool chemicals
Propane tanks, empty or partially empty, up to 20 lbs
Automotive Products
Antifreeze
Batteries (autos, motorcycles, etc.)
Brake fluid
Carburetor cleaner
Oil – used
Radiator flush
Solvents and degreasers
Tire cleaners
Transmission fluid
Waste fuels (gasoline, kerosene, etc.)
Do Not Bring:
Ammunition, Fireworks, Explosives
Asbestos
Commercial hazardous waste
Construction waste/building materials
CRT's, CPU's, computer monitors, television sets etc.
Empty aerosol cans
Fire extinguishers
Gas cylinders (other than propane)
Infectious or biological wastes – medical waste can be dropped off on scheduled collection days
Latex Paint – dried out latex paint can be disposed of with your regular trash curbside
Medicines or syringes – medical waste can be dropped off on scheduled collection days
PCB's
Radioactive materials
Smoke Detectors
Tires
Transportation Tips
Tighten caps and lids
Leave materials in original containers
Pad boxes with newspaper to minimize spills
Never mix chemicals
Drive directly to the Center
Do not smoke
Who Can Participate
Residents from Arlington, Bedford, Belmont, Lexington, Lincoln, Waltham and Watertown are the only communities allowed and must pre-registration online.
The household hazardous waste collections at the Minuteman Facility is for member towns only. Anyone who is not from a member town will be turned away. All non member residents should check with their local Public Works or Health Department on where to bring your harardous waste.
Watertown residents may bring hazardous household products to the Minuteman Facility. Proof of residency is required at the time of collection.
Watertown Board of Health
149 Main St.
Watertown, MA 02472
617-972-6446