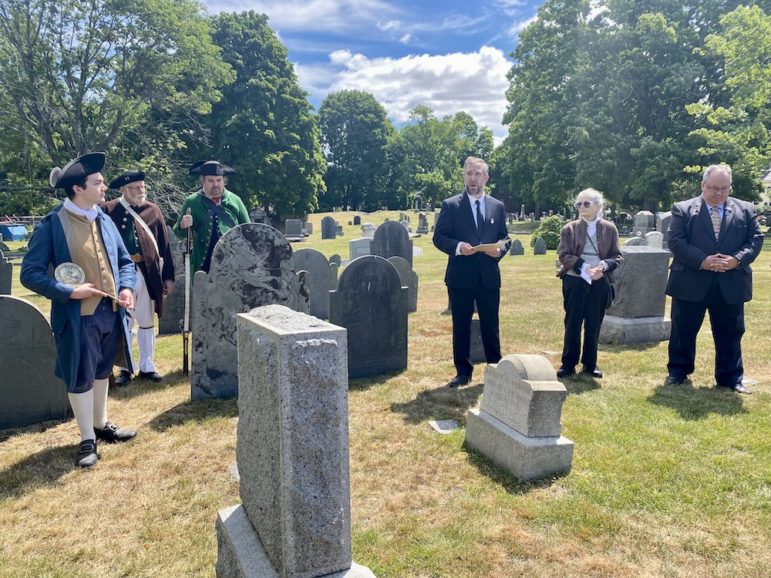 The following information was provided by the Boston Tea Party Ships & Museum:
The Boston Tea Party Ships & Museum, in partnership with the Historical Society of Watertown; the City of Watertown, MA, and Revolution 250, a consortium of organizations working together to commemorate the 250th anniversaries of the events that led to American Revolution, will place a commemorative marker at the gravesite of known Boston Tea Party participant, Samuel Barnard, in the Common Street Cemetery (founded in 1754) in Watertown for the first time on June 18, 2022.
Massachusetts Patriot Samuel Barnard was born in Watertown, MA on June 19, 1737 and lived in Watertown his entire life. He was a blacksmith and a farmer and married Elizabeth (née Bond) in Watertown, on March 4, 1773 with whom he had five children. After his involvement in the infamous Boston Tea Party, Barnard went on to serve in the American Revolutionary War. As Captain of a company in Col. Thomas Gardner's regiment, he marched to Concord, MA on April 19, 1775 and fought in the Battles of Lexington and Concord, the first military engagements of the war. He was also part of the militia fortifying Dorchester Heights in March of 1776, an event that precipitated the end of the siege of Boston and the withdrawal of British troops. Barnard lived in Watertown until his death in 1782.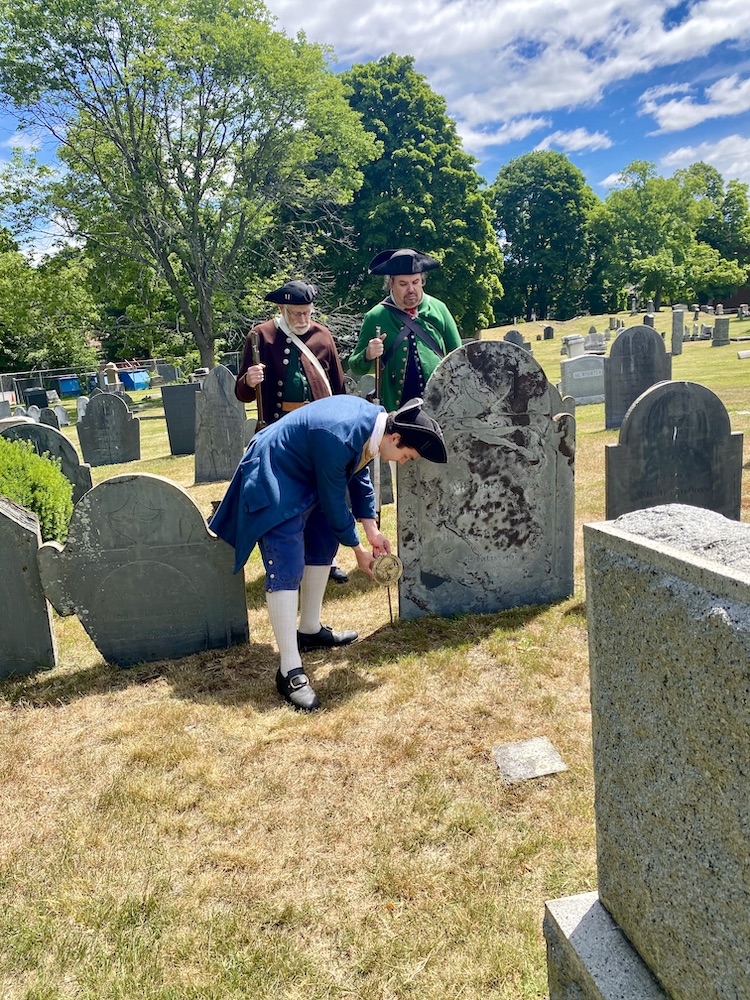 The commemorative plaques mark the final resting places of many of the brave people, including tradesmen and young adults, involved in the "single most important event leading up to the American Revolution." The image depicted on the commemorative marker is inspired by Nathaniel Currier's The Destruction of the Tea at Boston Harbor lithograph created in 1846, a popular and often used artistic representation of The Boston Tea Party. The marker will be on display indefinitely.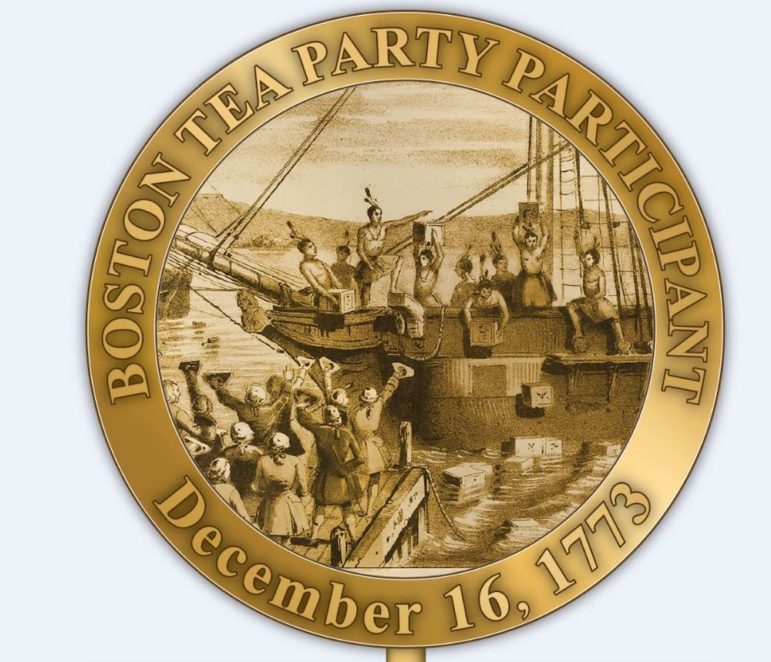 A total of 89 commemorative markers have been placed at graves of known Boston Tea Party participants buried within some of Massachusetts' oldest burying grounds in Boston, on the North and South Shores of Boston, and throughout Massachusetts (to date). Plaques have been placed in the Center Cemetery (Harvard, MA), Central Burying Ground (Boston Common, Boston, MA), Chandler Hill Cemetery (Colrain, MA), Cohasset Central Cemetery (Cohasset, MA), Copp's Hill Burying Ground (Boston, MA), Granary Burying Ground (Boston, MA), Hope Cemetery (Worcester, MA), King's Chapel Burying Ground (Boston, MA), Old Burying Ground (Gardner, MA) and Pine Grove Cemetery (Lynn, MA).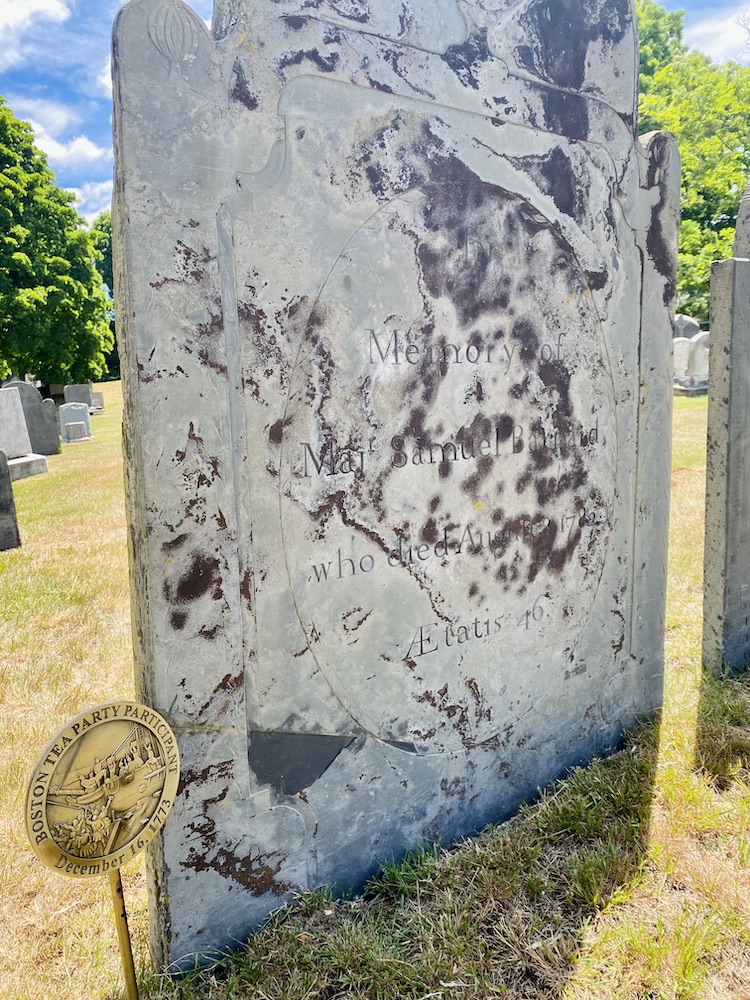 In the time leading up to the 250th Anniversary of the Boston Tea Party, which will be taking place on Sat., December 16, 2023, additional commemorative markers will be placed at the graves of ALL 125 known Boston Tea Party participants buried throughout New England and the United States.