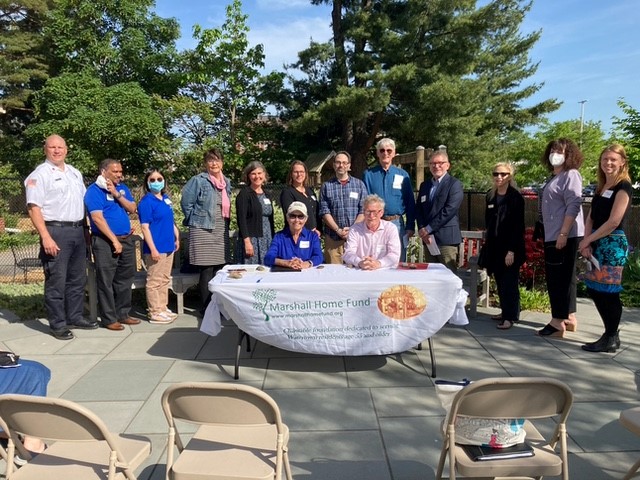 The following information was provided by the Marshall Home Fund:
The Board of Directors of the Marshall Home Fund is pleased to announce the recipients of its 2022 round of program grant awards.
This spring, the Board of Directors pledged $75,600 to local organizations that benefit residents of Watertown who are aged 55 and older through programs that provide group services or emergency individual assistance. In awarding its 2022 grants, the MHF exceeds a total of $1 million awarded over a 17-year period for the benefit of older adults in Watertown.
The 2022 grant recipients include:
Carroll Center for the Blind: Services for Seniors with Low Vision or Blindness provides evaluation, recommendations, and training on independent living to older adults in Watertown with vision loss.
Mass. Assoc. for the Blind and Visually Impaired: Wraparound Vision and Rehabilitation Services will assist residents of Watertown 55+ with low vision or blindness in their access and use of technology.
MetroWest Collaborative Development: Funding will support residents of St. Joseph's of Watertown 55+ during disruption caused by a construction project to replace an elevator.
Mosesian Center for the Arts: The Aging Creatively Project will provide a number of opportunities for older adult residents of Watertown to participate in visual, performing, and literary arts programming.
Perkins School for the Blind: Thriving with Vision Loss ensures that seniors in Watertown who are visually impaired have access to literacy opportunities and can engage with Perkins staff and each other to reduce social isolation.
Project Literacy: English Language Instruction provides instruction in English, support and socialization for senior immigrant residents 55+.
Springwell: The Elder Independence and Safety Fund provides direct grants to Watertown seniors who need small items or assistance that can help them maintain their independence.
Watertown Council on Aging/Senior Center administers two grants: The Supplemental Transportation Program provides subsidized taxi rides for seniors 60+ to local medical appointments and in emergency situations in absence of other transportation options. The Emergency Assistance Block Grant provides immediate money to vendors for emergency issues that are affecting personal health, home, transit, or well-being of older Watertown residents.
Watertown Families Together/Church of the Good Shepherd: Generations Together offers activities that foster camaraderie, friendship, creativity and joy among the residents of two Assisted Living Homes.
Watertown Health Department: Compassionate Connections addresses problems of cluttering and hoarding through a supportive case management model.
Watertown Recreation Department: The Neighborhood Shoveling Assistance Program assists older adults and people with disabilities to safely leave their homes after a snowfall, by removing snow and ice from their sidewalks, driveways, and stairs.
Watertown Fire Department: Fire and Life Safety Educational Programs educate seniors on valuable life safety information and highlight Fire Department operations in a fun, safe and engaging manner.
Watertown Veterans' Services: The Veterans' Outreach Initiative creates and distributes materials for veterans providing information on benefits for which they may be eligible.
Established in 2005, the Marshall Home Fund is a nonprofit, community-based charitable foundation dedicated to serving Watertown's older adult population. Elderly individuals in urgent need must be referred to MHF by local agencies, town officials or organizations. 
For more information about MHF, please visit www.marshallhomefund.org or email
info@marshallhomefund.org.