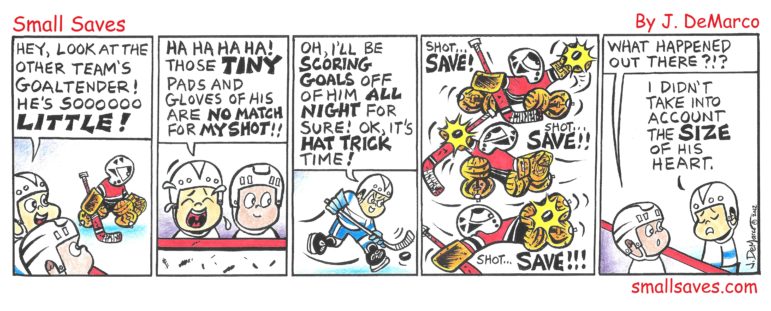 James DeMarco grew up in Watertown and became a goaltender at age 5. It's his life's passion to stand between the pipes and keep the puck out of the net.
Combining this with the love of cartooning Small Saves emerged in 1991 and took on a life of his own. "To play goal–then come home and draw Small Saves — is my ideal definition of a good day."
A note from James DeMarco:
I'd like to thank everyone who enjoys following Small Saves. I've listed one of Small Saves' storybooks, "The Day the Dinosaurs Played Hockey", as a FREE READ for five days starting July 2nd on Amazon. My way of saying thank you for reading my comic strip. During the Fourth of July holiday, if you have some downtime, feel free to read the book on Kindle. It's a fun Small Saves tale that takes place in the realm of twilight's dream. Enjoy.

Here's the link:
https://www.amazon.com/Day-Dinosaurs-Played-Hockey-Storybook-ebook/dp/B075SWSNGX/ref=tmm_kin_swatch_0?_encoding=UTF8&qid=1506025071&sr=1-1
Have a great 4th of July!
Jay …and Small Saves!