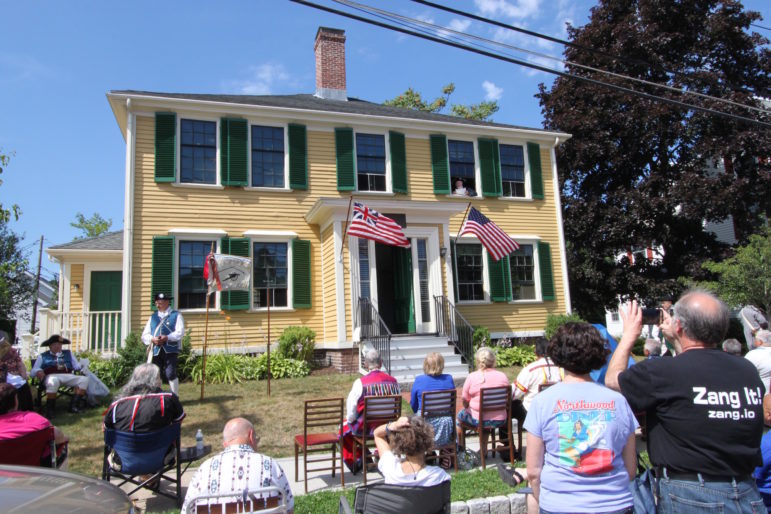 The Historical Society of Watertown announced that the 2022 Treaty Day celebrations will be held virtually. The event marks not just one, but two events of historic significance in the local, state, and the national history.
In the past, the event has been held at the Edmund Fowle House on Marshall Street where re-enactors read the Declaration of Independence and members of the modern groups that descended from those that took part in the signing of Treaty of Watertown attend the event.
This year, due to multiple reasons, the event will be held virtually.
The Historical Society provided the following information about Treaty Day 2022:
Please join the Historical Society of Watertown in celebrating virtually the commemoration of
two important Watertown historical events in 1776 by logging into our website any time after July 9, 2022. http://historicalsocietyofwatertownma.org/
The Treaty Day 2022 virtual event celebrates the following two important dates that occurred at the Edmund Fowle House.
July 18, 1776 – The first time the Declaration of Independence was read to the citizens of Watertown
July 19, 1776 – The signing of the first Treaty negotiated by our new nation with a foreign power, namely the St. John's (aka Maliseet) and Mi'kmaq Tribes of Nova Scotia.
Ideas for celebrating the two dates!
• Read out loud information about the two events on the Society's website to your family.
• Have a back yard barbeque and invite your friends to share in your reading about the two events.
• Relax, put your feet up, have a beverage, and read quietly about the two events.