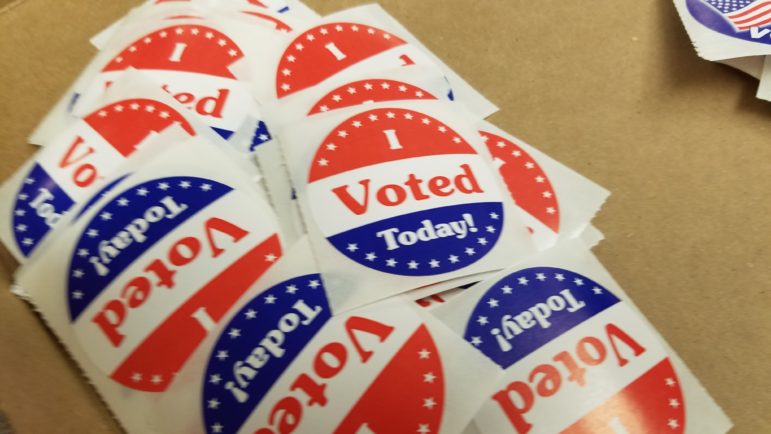 Watertown voters will see some new technology when they vote in 2022. The City Clerk's Office will use computer tablets which officials hope will streamline the check-in at the polls, and speed up the counting process.
Last week, City Clerk Janet Murphy told the City Council about the poll pads that will be used in Watertown. They replace the large paper voter list books that have been used at precincts in Watertown. She was asked if the poll pad comes on an Apple iPad tablet.
"It is indeed an iPad that comes on a stand, and loaded on the iPad is the whole voter list, not just the precinct list," Murphy said. "If (someone) shows up at the wrong precinct the voter is still on the list."
The list includes voters' name, address, political party, and information such as if they have requested an absentee or mail-in ballot.
"It will show whether we have already processed the ballot, whether they need to show us an ID, or if they are in the wrong location," Murphy said. "It is virtually impossible to check in an incorrect voter."
Murphy said it is not required to have a driver's license to vote, but it makes it easier to check a person's ID because poll workers can scan the license or state ID and it will bring up their address.
People may have to show an ID if they are voting in Massachusetts for the first time, or if they are an inactive voter — people who had been registered, but did not vote in recent elections or have not filled out the City Census.
The poll pads have been available since 2016, Murphy said, and have become very popular. They are used in many communities in the state.
Another benefit is fewer poll workers will be required for each precinct, Murphy said.
"I do not want to stress that we want less people, but it is harder and harder to find people," Murphy said. "They tend to be older people, and as you know COVID has not been kind to any of us. We even have times on election day when someone calls in sick."
Councilor Tony Palomba asked whether it will be difficult for poll workers to be trained to use the poll pads. Murphy said it is not difficult.
"It takes minutes: press this, press this, press this, then the voter is voted," Murphy said.
Councilor Lisa Feltner asked whether the Watertown voter list will be updated before it is put onto the poll pads.
"It will certainly be vetted before we load up. It shows every inactive voter, it shows on screen in different colors," Murphy said. "We have been working very hard on the voter list. The voter list is in good shape, better than it's been. And, I think especially with poll pads, when the entire voting list is present for the person checking, I think it will help us tremendously with bad addresses or not exact addresses."
Sometimes the address on the voter roll is not the same as on their ID, Murphy said, such as 110A Main St. and 110 Rear Main Street.
Murphy added that the voter registration list has been updated when the state changed the district borders for the Massachusetts House and Senate districts.
"The state deleted thousands of bad addresses after redistricting process," she said.
Councilor John Gannon asked if the poll pads would allow for same-day registration, if Massachusetts changes the rules to allow that. Murphy said she is not sure.
In the past, voters had to check into and check out of polls. This caused a delay in the tallying of voting if the there were differences in the books. After the polls closed, the poll workers had to reconcile the two books, and if they didn't match up they had to go through by hand and find the mistake.
The poll pads will eliminate this process, Murphy said, because there is not going to be an out book. Council Vice President said he thinks this will be a positive step.
"This will allow the election results to be done a whole lot more quickly," Piccirilli said. "This is great for the public who wants to know and have spent a long time waiting."
The next election will be the Massachusetts State Primary on Tuesday, Sept. 6, 2022. The voter registration deadline is Aug. 27, 2022, and mail-in ballots can be requested until Aug. 29, 2022. Early voting will take place from Aug. 27 to Sept. 2. See more information by clicking here.