The following announcement was provided by Watertown Cable Access:
Watertown Cable Access Corp. (WCA-TV) is very excited to announce that its Assistant Director, Andrea Santopietro, has received the 2022 Emerging Leader Award from the Alliance for Community Media (ACM). Andrea accepted her award during the national ACM conference in Chicago at the end of June.
The national ACM conference brings together representatives from public access television stations and media centers from all over the country for three days of networking, vendor presentations, workshops, and awards recognition.
"Ever since joining WCA-TV Andrea has brought fresh ideas, a spirit of collaboration, and a willingness not only to learn more, but to share her knowledge with volunteers, coworkers, and community organizations," said WCA-TV Executive Director Helen Chatel.
The Emerging Leader Award recognizes a professional who is under 40 years of age working in the field of community media who demonstrates the values of building community through media on a consistent basis.
"I am so honored to have received this award, and I will continue to work hard in making my community and organization the best that it can be," Andrea said.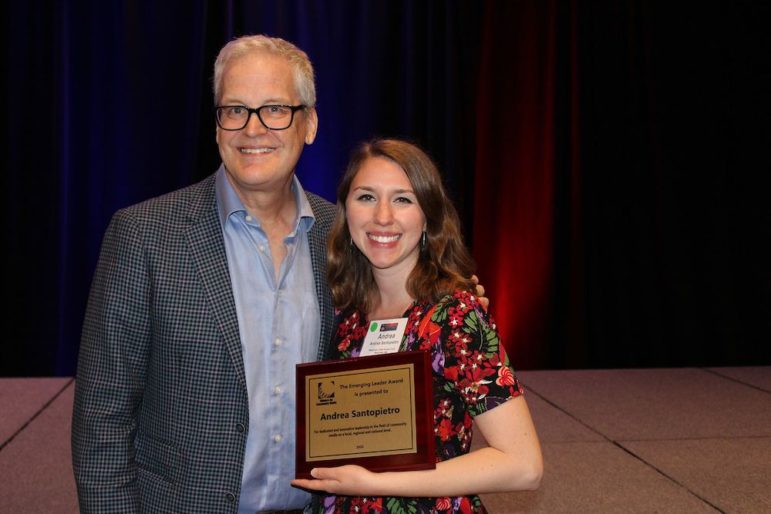 Addressing the audience during an awards ceremony in Chicago, Andrea reflected on her role with WCA-TV, which includes coordinating coverage and broadcast of Watertown's municipal meetings, organizing and teaching workshops, and working with volunteers to help them produce programming.
"Even with the administrative responsibility of an Assistant Director, I am still able to do what I love and incorporate it in my day to day life at the station," Andrea said. "I still have the opportunity to film, edit, and work with graphic design in the workshops I've created. I'm learning new skills and am able to teach others. I get to be hands-on with staff, interns, and volunteers as they go through training and learn the ins and outs of our community media center. I am proud to be a leader that gets to lead others in and around this industry. And that is all because of community media.
Andrea's colleagues and volunteers at WCA-TV are so proud of Andrea. The work she does for the Watertown community is amazing, and we're so grateful to the Alliance for Community Media for recognizing her.
Learn more about WCA-TV by visiting WCATV.org.
Learn more about the work of the Alliance for Community Media by visiting allcommunitymedia.org.