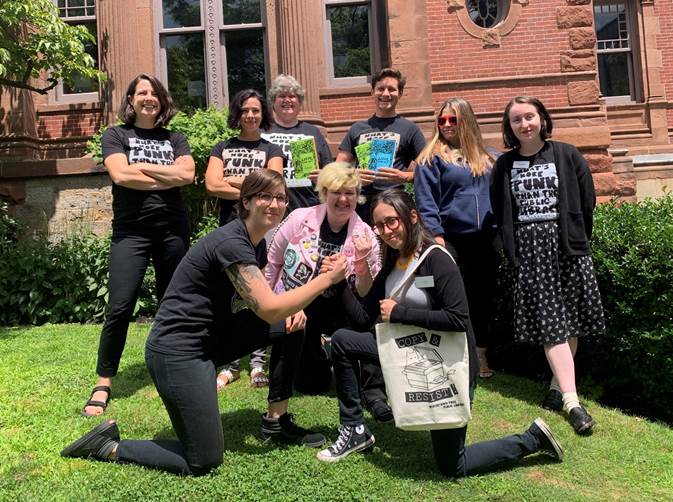 The following announcement was provided by the Watertown Library:
The American Library Association has named the Watertown Free Public Library (WFPL) as a winner of the 2022 John Cotton Dana Award for marketing and public relations excellence.
Called "the most prestigious award of the American Library Association" the honor comes with a prize of $10,000. WFPL won the award for the "Copy and Resist!" marketing campaign promoting the Library's first-ever Zine Fest, held on Oct. 2, 2021.
Not sure what a zine is? That's ok. Zines are DIY, handmade magazines that come in all different shapes, sizes, and formats. Many are handwritten, photocopied and stapled, while some are professionally printed. As a platform of resistance and an alternative to mainstream media, zines are experiencing a resurgence in popularity right now, especially among young people and marginalized communities.
"Zine Fest was the brainchild of our Teen Services Supervisor, Carey Conkey-Finn," says WFPL Print and Digital Promotion Specialist Jamie Kallestad. "She wanted to introduce young people to the Library and empower our community members to tell their own stories through zine making. It was a fantastic idea but presented an interesting marketing dilemma—how do we appeal both to young zinesters, who have never visited our library, and community members who may have no idea what a zine is?"
The WFPL "zine team" included Yi Bin Liang, Emily Levine, Liz Helfer, Kelly Deneen, Marissa Monteiro, Inés Gonzalez-Romero, Megan Ramette, Wesley Sueker, Jamie Kallestad, and Carey Conkey-Finn. Together, they embraced the low-cost, DIY zine aesthetic and executed a multi-medium marketing campaign organized around the slogan "Copy and Resist!" By sharing pins, flyers, ads, and social media content across the Boston area, they reached tens of thousands of people online, earned media coverage in indie publications and The Boston Globe, and attracted hundreds to Zine Fest. During the event, WFPL actually recouped all marketing expenses by selling popular pay-what-you-can tote bags. All in all, the campaign was a huge success.
Didn't make the first zine fest? Good news! The second-annual Watertown Zine Fest by WFPL is planned for Saturday Oct. 15, 2022. The Zine Team is already hard at work booking presenters, vendors, and, of course, designing fun swag.
The American Library Association's Core Division of the American Library Association (ALA) has chosen eight winners for this year's John Cotton Dana Library Public Relations Award. In addition to receiving $10,000 from the H.W. Wilson Foundation, winning libraries were honored at a reception held by EBSCO at the 2022 ALA Annual Conference in Washington, D.C.
"We love that the John Cotton Dana award committee recognized how special this campaign really was," says Kallestad, who accepted the award on behalf of the Zine Team in Washington, D.C. "We're also thrilled to reinvest our $10,000 in marketing library services to our community. Now, we'll be able to invite even more people to learn and grow at the Library. At its heart, that's what Zine Fest was all about."
About WFPL
The Watertown Free Public Library provides access to a wide variety of popular materials, resources, services, and programs that fulfill the informational, cultural, and recreational needs of Watertown and surrounding communities. Our Library works to create an environment that attracts and welcomes users of all ages and abilities. For more, visit watertownlib.org.