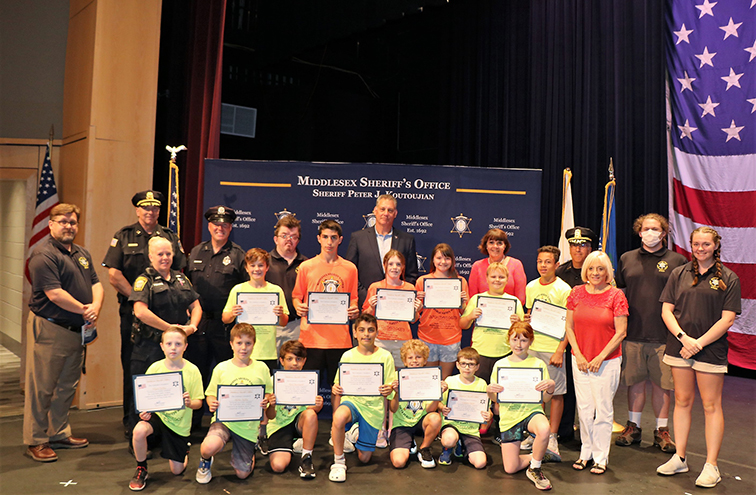 The following information was provided by the Middlesex Sheriff's Office:
Middlesex Sheriff Peter J. Koutoujian congratulated 72 graduates of the Youth Public Safety Academy's (YPSA) second session of 2022 during a ceremony at Chelmsford High School on Friday, July 22. The cadets were primarily from the communities of Belmont, Framingham, Hudson, Marlborough, Medford, Natick and Watertown.
YPSA was first established by the Middlesex Sheriff's Office in 1999, and focuses on sharing important public safety lessons on issues like internet safety, fire preparedness and prevention, water safety skills and more. The academy is open to youngsters ages 8-12 from across Middlesex County, as well as older cadets who may participate through the YPSA's Counselor-in-Training (CIT) Program.
"After two years of remote programming, we are proud to welcome cadets, their families and our community partners back to YPSA," said Sheriff Koutoujian. "Throughout its history, YPSA has provided valuable opportunities for the county's youngest residents to get to know some of the corrections officers, police officers and firefighters who serve their communities on a daily basis. It also teaches cadets crucial lessons about team building, friendship and public safety that they take back to their homes, schools and communities. That is why I truly believe this is one of the best, most comprehensive camps around and why we are so excited to be back this summer."
With week two's completion, more than 130 individuals have already graduated from this summer's program. Cadets primarily from Arlington, Bedford, Burlington, Cambridge, Tewksbury and Tyngsborough graduated during the program's first session July 11-15. Two additional one-week sessions will run through August 5.
To learn more about YPSA and some of the Middlesex Sheriff's Office other community-based programming, visit middlesexsheriff.org/community.