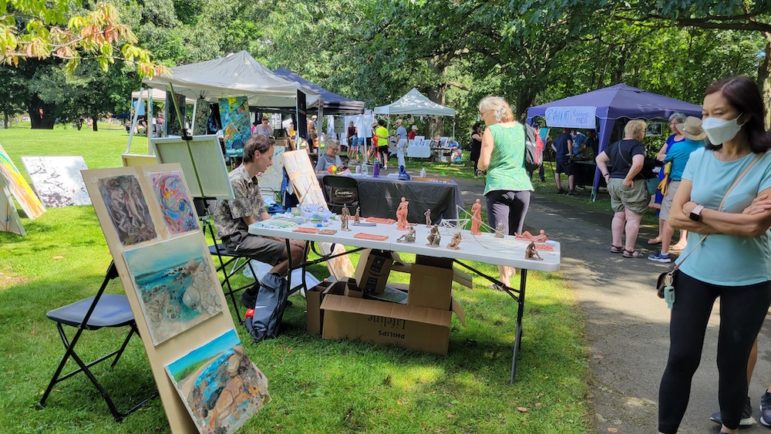 The following information was provided by the Watertown Arts Market:
The Watertown Arts Market returns to Arsenal Park on Saturday, Aug. 13th, noon-5 p.m. Rain date of Aug. 14. Over 120 artists and organizations who live or work in the area will be there – we hope you will be too! 
The Watertown Arts Market is an initiative of the Watertown Business Coalition, this year in partnership with the City of Watertown. We are proud to offer this event for free to everyone.
Enjoy live music by local bands, eat local food, and immerse yourself in local art. The many activities for you to enjoy include a visit from the library Bookmobile, readings by the illustrious Lit Squad, art installations by YardArt, and workshops by local artists.
See who's coming to the WAM 2022 by clicking here.
Schedule of Events
Music at the Basketball Court
12-12:45 p.m. Steven Tashjian Ensemble
1-1:45 p.m. Ezekiel's Wheels Klezmer Band
2-2:45 p.m. Truevines
3-3:45 p.m. School of Rock Watertown House Band
4-4:45 p.m. Beantown Buckaroos
The Lit Squad
1-2:30 p.m. Readings:
Eileen Pollack, Ricardo Calleja, Rebecca Falkoff, Jon Bockian, Jacky Lamenzo, Rosemary Schmitt, DeWitt Henry and Kathleen Spivack
3:10-3:45 p.m. Open Mic:
Elizabeth Rodgers, Steven Jackson, Pia Owens, Patrick Fairbairn, Eileen McCluskey, Marjorie Kutner-Greenberg, Sally Young, Shruti Peri, Uma Peri
Performances
New Rep Theatre: 15 Minute Performances – 12:30 p.m., 1:30 p.m., 2:30 p.m., 3:30 p.m., 4:30 p.m.
1 & 2:00 p.m. Vladislava Potz: Rainbow Loom Bracelet & Fruit Keychain Demonstration
3-3:30 p.m. Cherish Springer: Color Mixing Lesson Timed Events in the Park
4-4:30 p.m. Watertown Cultural Council: Q & A Funding Your Arts & Culture Projects in Watertown
All-Day Activities & Demonstrations
AANE Artist Collaborative: Artist Talks
Andrea Barbato: Collage Techniques
ARTrelief: Arts & Crafts
Artsy Way of Life: Folk Art of India
Atrius Health Pediatrics: Trace Yourself
Carole Katz: Painting Demonstration
Cat Bennett: Simply Drawing
Dawn Evans Scaltreto: Butterfly Clips
Elisandra Lopes: Make Your Own Canva Painting
Hatch Makerspace: Tie-Dye
Mosesian Center for the Arts: Surrealist Collages
Patrick Brennan: Sculpting Demonstration
Public Arts & Culture Committee: Scavenger Hunt
Saskia van Vactor: Linoleum Carving
Sally Young: Design a Postcard
Watertown Art Association: Chalk Art
Watertown Free Public Library: Bookmobile
YardArt: Community Art Display
Food
Chulo
Garbanzo
Campalongo Cookie Company
O'Some Cafe
Find out more at: https://www.watertownartsmarket.com
With so many moving parts, we are looking for a few more volunteers to help; let us know if you want to be a part of the WAM Team: https://www.watertownartsmarket.com/volunteer