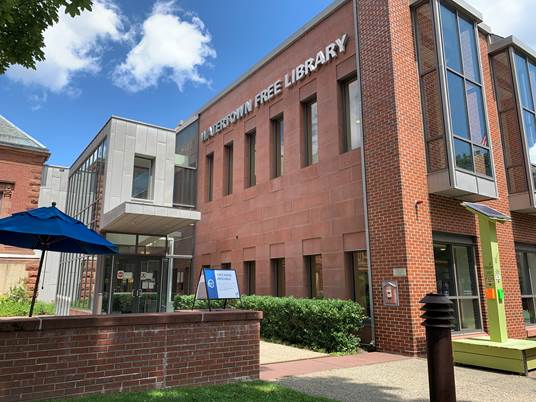 August will be busy at the Watertown Library, with the debut of the Bookmobile, music on Saturdays for kids, and an exhibition of photos from local farms.
The following information was provided by the Watertown Free Public Library:
And … we're ready to roll! The WFPL Bookmobile makes its public debut on Saturday, August 13, 12 – 5 PM, at the Watertown Arts Market in Arsenal Park. A mobile library is about reaching people where they are at, so we want to hear where you want us to go. You can learn more and suggest a stop at watertownlib.org/bookmobile.
Our "Speed Reader" was made possible by many generous individual donors and funding from the Library Building Committee. Thank you, donors and fundraisers, for helping us deliver library materials and services to more people than ever before. 
Watertown Zine Fest Returns on Saturday, October 15! 
We are now accepting applications from zinesters who wish to table at Zine Fest. Submit your application by August 15!
AUGUST IN THE GALLERY  Patricia Sampson-Weiler, Farm Photos
Sampson-Weiler's photo exhibit will run through August 31!
P.S. Have you noticed our new book drop at Filippello Park on Arlington Street? East enders, you can now return your materials here when you can't make it to the Library. Big thanks to the Watertown DPW for installing this!
FOR CHILDREN
Baby Story Time
Tuesdays & Thursdays | 11 AM | For babies who are not walking yet.
Patio Story Time
Wednesdays | 11 AM | Library Patio | Story Time will be canceled when there is precipitation. Check watertownlib.org/events for up-to-date info. All ages.
Rainbow Book Club
Thursday, 8/18 | 6 – 7 PM | Read Different Kinds of Fruit by Kyle Lukoff and join a Children's Librarian for a book discussion! Copies of the book can be picked up in the Children's Room or requested through the catalog. Grades 3 – 5.
Little Beats: Creative Movement
Friday, 8/19 | 11 AM | Join a teacher from Little Beats for 30 minutes of music, movement, and fun at the library! Best for ages 0 – 4 but all are welcome.
O'Shea Chaplin Academy of Irish Dance
Monday, 8/22 | 11 AM | Learn Irish dance! Ages 4 and up.
Saturday Music Series
Saturdays | 10 AM | Come sing along and dance every Saturday morning! In august we are hosting Matt Heaton, Sulinha Boucher, Rubber Biscuit, and Marcos Valles. Best for ages 5 and under but all ages welcome.
Children's Summer Reading Continues
Our Summer Program includes reading challenges, free craft kits, and fun prizes. Get up to speed at watertownlib.org/childrensummer
FOR TEENS
Summer in the Teen Room!
Pick up your free challenge card in the Teen Room and join us for Book Club, Crafternoons, Tabletop RPGs, and "Wild Wednesdays" all summer long.
The Bridge Home
The Teen Room has extra copies of the Watertown Middle School's One Book, One School summer reading pick, The Bridge Home by Padma Venkatraman. 
FOR ADULTS
Adult Summer Reading: Read Off the Beaten Path!
Through August 21 | Summer Reading Bingo for Adults challenges readers to explore beyond their typical reading and viewing. It's not too late to pick up your bingo board and start earning fun prizes!
Plant Parenthood Primer & Swap
Tuesday, 8/30 | 6:30 PM | Learn the basics and bring your plant care questions to Quontay "Q" Turner, Founder & CEO of Emerald City Plant Shop. Participants are welcome to swap cuttings. Please wrap cuttings in a wet paper towel and place in a plastic bag. Registration is encouraged.
Intro to Chromebooks
Tuesday, 8/16| 6:30 PM | Learn the basics of Chromebooks, including getting started, installing apps, and more. Registration required.
iPhone and iPad Basics
Thursday, 8/25 | 7 PM | Get familiar with your Apple devices and learn how to use the various applications that come with them. Registration required.
Drop-In Tech Help
Wednesdays | 8/17 & 8/31 from 7 – 8:45 PM | 8/10 & 8/24 from 11 AM – 12 PM
VIBRANT: Assistive Technology Training
for the Visually Impaired
Monday, 8/8| 1 – 5 PM | Free, one-hour sessions! Registration required.
Social Services Resource Sessions
Wednesday, 8/10 | 5 – 7 PM |Social Services Resource Specialists can help you find free services to support yourself and your family. Registration required.
Library Insiders
Friday, 8/12| 10 AM | A program designed for adults with developmental and cognitive disabilities. Email pstern@watertown-ma.gov to learn more.
See more at watertownlib.org