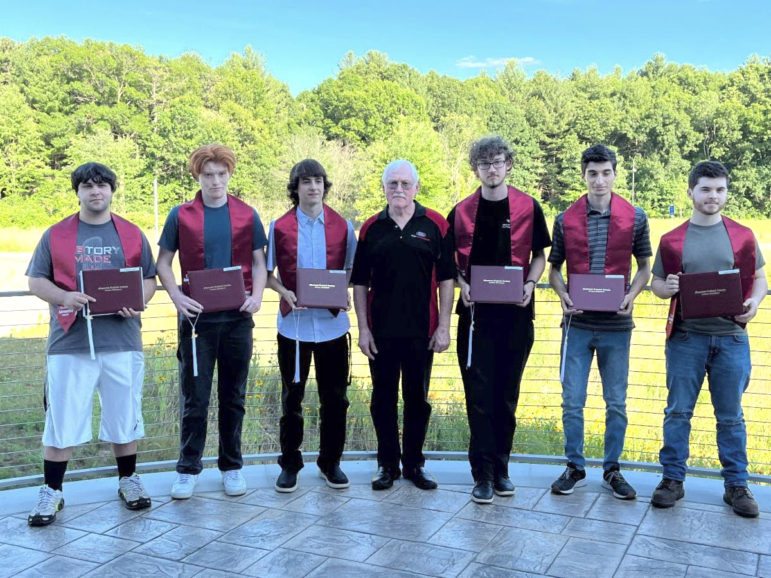 The following information was provided by Minuteman High School:
Twenty-three adult students from the Greater Boston area recently completed evening courses in automotive technology, carpentry, cosmetology, and electricity at Minuteman Technical Institute in Lexington.
These students have gained critical knowledge in trades with high demand for skilled workers and that provide long-lasting, economically sustainable careers. Minuteman Technical Institute (MTI) – the adult evening division of the Minuteman Regional Technical School District – offers 10-month and 15-week career technical education programs throughout the year.
The 15-week programs are tuition-free for most applicants due to support from the Massachusetts Workforce Skills Cabinet.MTI is accepting registration for tuition-free 15-week programs that begin in September: CNC Machine Operator, Carpentry Pre-Apprentice, Facilities Manager, Robotic Technician, and Welding.
On July 22, during a visit to Minuteman, Governor Charlie Baker announced an additional $32 million in grant funding would be allocated from the Workforce Skills Cabinet to support high school and adult career technical education programs statewide. As part of the latest grant allocations, MTI received $900,000 to support additional 15-week, tuition-free programs over the next year.
"Minuteman is tremendously grateful for the $2.6 million of support we have received since 2020 from Governor Baker's Workforce Skills Cabinet," said Dr. Kathleen A. Dawson, Superintendent-Director of Minuteman. "This funding is invaluable if we are to be leaders in the fourth industrial revolution. Our students are gaining the highly technical skills necessary to meet the demands of the labor market and setting them and their families on a trajectory for economic mobility."
Automotive Technology

In the 10-month MTI Automotive Technology program, students received various Automotive Service Excellence (ASE) industry-recognized credentials after completing 900 hours of hands-on and classroom training. The instructor was William O'Neill.

The following adult students completed the Automotive Technology program:
Andrew Caron of Bedford
Samuel Cluett of Acton
Declan Gallagher of Watertown
James Meehan of Watertown
Brandon Perry of Peabody
Armand Pishdochian of Waltham
Anthony Luca of Arlington

Carpentry
The 15-week MTI Carpentry Pre-Apprentice program is held in collaboration with the North Atlantic States Regional Council of Carpenters (NASRCC) and the North Atlantic States Carpenters Training Fund (NASCTF). It is designed to help students build the skills necessary prior to gaining an apprenticeship in areas such as proper use of hand tools and equipment, framing, concrete work, project management, and more. The instructors were Tom Ackers of NASCTF and Keith Wright of Component Drywall.

The following adult students completed the Carpentry Pre-Apprentice program:
Luca Cucciara of Allston
Christian Gentile of Melrose
Lucy Green of Lowell
Rebeca Saravia of East Boston
Andrew Vandenbossche of Waltham
Two students secured carpenter apprenticeships immediately upon completion of the program: Green will work for Sweeney Drywall of Boxborough and Saravia will work for Turner Construction of Boston. Currently, only 11 percent of construction workers are women in the United States, according to the U.S. Bureau of Labor Statistics.
Cosmetology
In the 10-month MTI Cosmetology program, students gain 1,000 hours of classroom and hands-on experience, which includes working on clients in The Salon @ Minuteman. Students gain the necessary hours of instruction to qualify for the state licensing exam and gain additional industry-recognized credentials. The instructor was Giovanna Sheehan.
The following adult students completed the Cosmetology program:
Jennifer Amsel of Lexington
Eleni Ioakimidis of Arlington
Nickie McNeil of Arlington
Samantha Mola of Waltham
Nyiesha Pope of Lexington
Jenny Romanowski of Arlington
Emmalee Sheehan of Nashua, N.H.
Serena Silva of Nashua, N.H.
Electricity
In the 10-month MTI Electricity program, students gain a thorough standing of the Massachusetts Electrical Code and gain 700 hours of experience toward obtaining a Journeyman Electrician License. The instructors were Al St. George and Kevin McDermott.
The following adult students completed the Electricity program:
Joseph Alfeo of Waltham
Allan Bamaca of Lynn
Andrew Gmelich of Concord
Six additional students will complete the Electricity program this month.