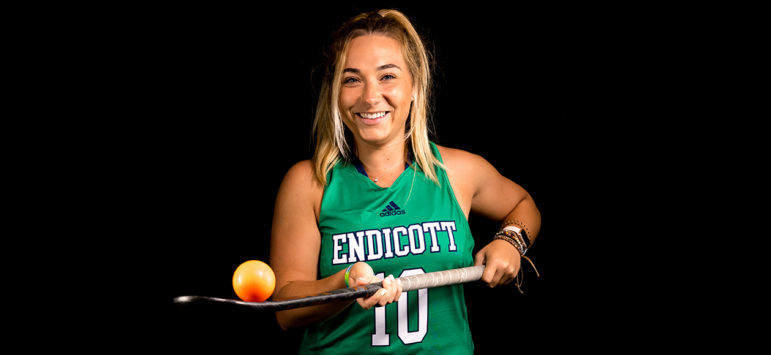 The following information came from Endicott College Athletics:
Endicott field hockey student-athlete Sydney Poulin '22, of Watertown, has been chosen as Endicott College's NCAA Woman of the Year Nominee.
The NCAA Woman of the Year program was established in 1991 and honors the academic achievements, athletics excellence, community service, and leadership of graduating female college student-athletes from all three divisions. To be eligible, a nominee must have competed and earned a varsity letter in an NCAA-sponsored sport and must have earned her undergraduate degree by Summer 2022.
Poulin, Eliza Timms from Salve Regina, and Erica Dimmick from the University of New England were eligible to be selected as the Commonwealth Coast Conference's (CCC) nominee by the league's Senior Woman Administrators. The CCC announced that Dimmick will be the conference's nominee. The CCC institutional nominees were three of 577 total nominees, including 202 who compete in Division III.
From there, Conference nominations are forwarded to the NCAA Woman of the Year Selection Committee, which identifies the top 10 honorees in each of the three NCAA divisions. Of those 30 honorees, the selection committee then determines the three finalists in each division for a total of nine finalists.
The Committee on Women's Athletics will then select the 2022 NCAA Woman of the Year from those nine finalists.

For the first time in the award's history, the NCAA Woman of the Year award ceremony will take place during the NCAA Convention in January, giving the Top 30 honorees a chance to celebrate their achievements alongside their families, coaches, and administrators attending the 2023 NCAA Convention.
Off the Field
Poulin recently graduated from Endicott with a Bachelor of Science degree in nursing alongside a 3.68 cumulative grade point average (GPA). She currently works as a labor and delivery nurse at Beverly Hospital.
During her undergraduate career, Poulin earned Dean's List honors six times and was inducted into the Sigma Theta Tau International Honors Society for Nursing.
She also was a three-time CCC Academic All-Conference honoree and a four-time member of the National Field Hockey Coaches Association (NFHCA) National Academic Squad.
Poulin completed internships and/or practicums at Beth Israel Deaconess Medical Center (practice representative), Boston Medical Center (pediatrics), Lawrence General Hospital (labor/delivery/maternity), Bournewood Hospital (psychiatric), Massachusetts General Hospital (medical-surgical), and North Shore Medical Center — Salem Hospital (medical-surgical).
Outside of her academic-based work, Poulin was a two-time captain of the field hockey program and a member of EC L.E.A.D. (Endicott College Leaders of the Athletic Department).
She also completed community service projects with the CCC (breast cancer awareness fundraiser), Haven for Hunger (meal deliveries), Cradles to Crayons, Lifebridge Homeless Shelter, a local skate program, and reading books to preschool students.
Athletics
Poulin finished her standout career as the highest-scoring midfielder in program history with 102 points (40g-22a) in 65 games played (all starts).
Poulin's goal and assist totals rank first and second, respectively, among all midfielders in program history despite playing one less season due to COVID-19.
Meanwhile, from a career points standpoint, Poulin is No. 7 overall among all scorers in the record book, but, based on her season average point totals (34 per season), she had the potential to finish as high as second in program history.
Her trophy case includes two All-America honors, three All-Region accolades (most in program history), the 2021 CCC Offensive Player of the Year award, three All-CCC First Team selections, the 2018 CCC Rookie of the Year and Synapse Sports Division III Rookie of the Year awards, 2021-22 Endicott College Athletics Female Athlete of the Year honors, and the 2021-22 Endicott College Athletics Career Achievement Award.
Poulin other athletic achievements include 2021 NFHCA Senior Team honors, 2018 Synapse Sports Division III All-Rookie Team laurels, and multiple weekly awards from the CCC and Synapse Sports — both on the offensive and defensive ends of the field.
Additionally, Poulin was the first midfielder to win CCC Offensive Player of the Year and/or Player of the Year honors this past season since 2000 when Emily Houtz from Gordon College earned the award. The CCC officially changed the Player of the Year award to Offensive Player of the Year in 2010.
Poulin is the first Endicott midfielder ever to win CCC Offensive Player and/or Player of the Year accolades in program history.
As a team, Poulin led the Gulls to three CCC Championships and three NCAA Tournament Second Round appearances during her career (2018-19, 2021).
Endicott combined for a 51-17 overall record (.750) and 29-1 CCC mark (.967) in that span.
For the latest on Endicott Athletics, follow the Gulls on social media on Facebook, Instagram, Twitter, and YouTube.