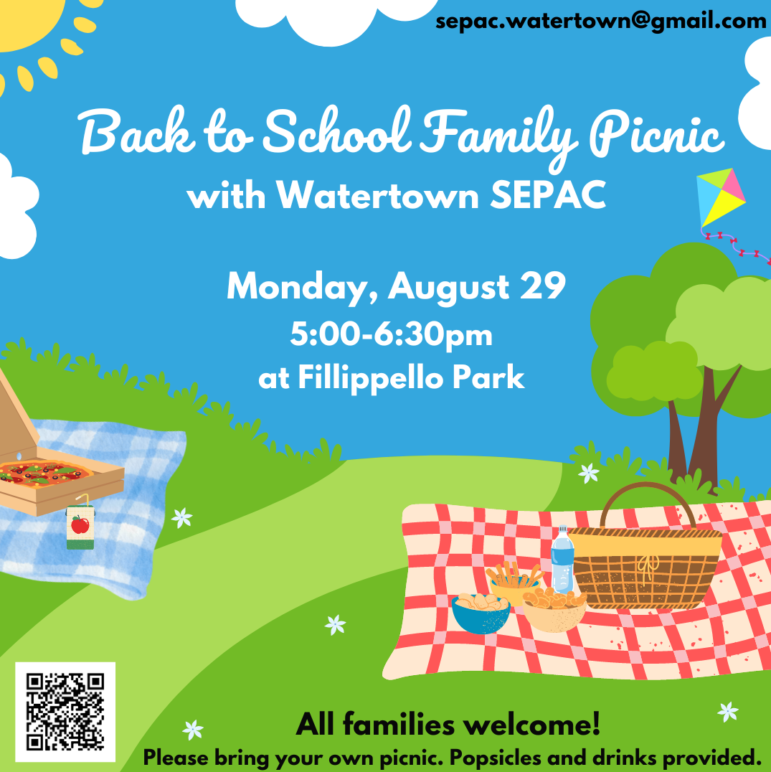 The following information was provided by Watertown SEPAC:
Watertown SEPAC invites all families to attend our Back to School Family Picnic on Monday, August 29 from 5:00-6:30 p.m. at Fillippello Park. Please see the event flyer for more details.  
Watertown SEPAC is run by parent volunteers who were all nominated and elected by parents and includes all stakeholders in our community. Our meetings are free and open to the public. A SEPAC (Special Education Parent Advisory Council) is a district-level, parent-driven group that provides input to the school district on current successes and challenges in special education and related services.  
We provided families and other community members with the following:
information about basic rights for families pertaining to special education
contact information for our school special education administrators and school committee members in Watertown
a space to discuss special education concerns and ask questions
access to local and state-level resources that can help answer more involved questions
community and support
Watertown SEPAC's mission is to encourage honest and effective communication, understanding, and mutual respect in a supportive partnership inclusive of all students, caregivers, educators, and the community at large in an effort to ensure the delivery of appropriate services and supports to students with disabilities and special health care needs. We work directly with district administrators to address system-level challenges, facilitate family-district communication, and provide families with training and resources.
We can be reached at sepac.watertown@gmail.com. To join our mailing list and learn more, including a list of our current officers and upcoming events and training, please visit our website: https://sites.google.com/watertown.k12.ma.us/watertown-sepac