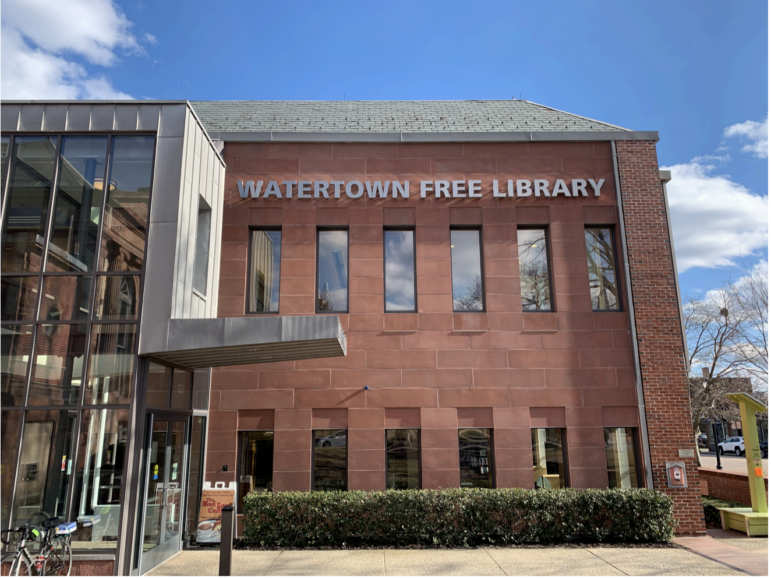 See what's going on in at the Watertown Free Public Library in September.
The Library provided the following information:
Celebrate National Hispanic Heritage Month with WFPL! On Tuesday evening, 9/13, you're invited to a virtual Latinx Heritage Author Panel with Isabel Cañas, Romina Garber, Priscilla Oliveras, and Caridad Piñeiro. Our bestselling panelists will discuss how their diverse Latinx backgrounds have influenced their writing, characters, publishing journey, and fan base. Presented with Ashland Public Library.
Want to meet up in person? Noche de Dominó // Domino Night is a great opportunity to make new friends. We meet at WFPL, 6 PM, on the first Thursday of every month—including tonight, 9/1! Host María Mayobre used to play dominoes every week in Caracas, Venezuela. She will teach newcomers in Spanish and English.
DIRECTOR'S LETTER
Book Bans and Your Right to Read
The idea of "banning books" may conjure scenes from dystopian fiction, but it is very much happening right now.  According to the American Library Association, 1,597 books were affected by censorship attempts in 2021, and that is only what was reported—it's estimated that 82-97% of book challenges go unreported. This September 18 – 24 is the 40th annual Banned Books Week. We're joining libraries across the country to bring attention to these censorship attempts because we are committed to protecting your freedom to read. You will find displays and information about banned and challenged books throughout the Library in September and October. — Caitlin Browne, Library Director
FOR CHILDREN
Saturday Music Series
Saturdays | 10 AM | No Concert on 9/24 | Come sing along and dance on Saturday mornings! In September we are hosting Matt Heaton, Leann McMorrow, and Alissa Coates. Best for ages 5 and under but all ages welcome. Baby Story Time
Tuesdays & Thursdays | 11 AM | For babies who are not walking yet. Rainbow Book Club
Friday, 9/30 | 4 PM | ReadParanorthern and the Chaos Bunny A-Hop-Calypse by Stephanie Cooke and join a book discussion! Copies of the book can be picked up in the Children's Room or requested through the catalog. Grades 3 – 5. 
FOR TEENS
Bored? Games!
Every Tuesday Beginning 9/13 | 3 – 5 PM | Grades 6 – 12.
Crafternoon
Every Thursday Beginning 9/15 | 3 – 5 PM | Grades 6 – 12.
Magic the Gathering
Monday, 9/26 | 6 – 9 PM | Bring your MtG decks and battle other players to win booster packs. Arrive early to trade cards. Grades 6 – 12.
Art With Delia
Thursday, 9/29 | 4 PM | Improve your drawing skills at the Library, all levels welcome! Bring an object (smaller than a water bottle) to use as a still life subject. Space is limited, registration is required.Grades 6 – 12.
LOCAL HISTORY (WE NEED YOU)
Make (Local) History: Engagement Volunteers Needed!
Do you love history and believe it should include everyone? Are you a creative thinker and skilled communicator with Watertown connections? Become an Engagement Volunteer for the Watertown Collective Memory Project! 
ZINE FEST
Find Your Community at Watertown Zine Fest
Saturday, 10/15 | 10 AM – 4 PM | Watertown Zine Fest, hosted by WFPL, is a day-long celebration of zine culture and DIY publishing. Browse the marketplace, attend zinester talks, and check out the Library's growing zine collection. If you're asking, "what's a zine?" that's ok. Zine Fest is a great place to learn! 
See more at the Zine Fest Page
FOR ADULTS
Yoga Flow
Saturdays, 9/3 – 9/24 | 11:30 AM | Yoga at the Library! Registration is required.
The Play Café: Remembering Good Harbor Beach
Saturday, 9/17 | 2 PM | AT WFPL or VIA ZOOM | It's summer, 1932,  in Gloucester, MA. Artists Edward Hopper and Josephine Nivison meet and she encourages him to use watercolors "to capture the light." Get in on the ground floor as actors perform a table read of Remembering Good Harbor Beach by local playwright Debbie Wiess. Registration is required.
Special Screening and Q&A: Recovery City
Saturday, 9/10 | 2 PM |Recovery City, filmed in Worcester, MA, is a documentary portrait of four bold women who refuse to give in to the stigma and despair of addiction. Hear from director Lisa Olivieri, women featured in the film, and addiction experts. Registration is encouraged.
Watertown, A Community of Caring, Addressing Substance Use Disorders: Prevention, Treatment, and Recovery
Thursday, 9/22 | 6 – 8 PM | Join us for a light dinner, program, and performance by 2nd Act, in recognition of National Recovery Month. Co-presented by the Watertown Cares Network and WFPL.
DEMOCRACY TALKS
The Family Roe: An American Story with Joshua Prager
Monday, 9/19 | 7 PM | VIA ZOOM | Prager's deeply-researched book was named a finalist for the 2022 Pulitzer Prize and has been hailed by critics on both sides of the national debate over Roe v. Wade. Presented with Newton Free Library and Morrill Memorial Library.Registration is required.
Gig Workers and Labor Rights
Tuesday, 9/27 | 7 PM |VIA ZOOM | What are the implications of recent ballot measures to classify gig workers as "independent contractors?" Speakers from UMass Boston's Labor Resource Center will help demystify the politics of the gig economy. Registration is required.
VIRTUAL TALKS
A Latinx Author Panel with Isabel Cañas, Romina Garber, Priscilla Oliveras, and Caridad Piñeiro
Tuesday, 9/13 | 7 PM | VIA ZOOM | Presented with Ashland Public Library.Registration is required.
13 Moons: A History of Wampanoag Culture
Tuesday, 9/20 | 7 PM |VIA ZOOM | Join Darius Coombs of the Mashpee Wampanoag Education Department. Presented with Cary Memorial Library.Registration is required.
COMPUTERS AND TECH Introduction to Web Development
Mondays, 9/12 – 10/24 |7 PM | VIA ZOOM | Learn the fundamentals of HTML, CSS and JavaScript. Registration is required.
Streaming & Downloading for Free
Wednesday, 9/28 | 6:30 PM | Learn to access music, movies, ebooks, audiobooks, and more with free apps. Registration is required.
Drop-In Tech Help
Wednesdays | 9/7, 9/21 from 11 AM – 12 PM | 9/14, 9/28 from 7 – 8:45 PM 
REGULAR PROGRAMS
¡Noche de Dominó! / Domino Night
Thursday, 9/1 | 6 – 8 PM | ¡Aprende dominó en español e inglés! Edad 8+ / Learn dominos in Spanish and English! Registration is Required. Ages 8+
LGBTQ+ Book Group for Adults
Wednesday, 9/14 | 7 PM | VIA ZOOM | Read and discuss LGBTQ+ books across fiction and non-fiction genres and make new friends! Registration required.
More Discussion Groups at WFPL
Join the Senior Center, the Mystery Lovers, the Wednesday Book Group, or the Mad About the Movies Group monthly! All groups welcome new members.
VIBRANT: Assistive Technology Training for the Visually Impaired
Monday, 9/12 | 1 – 5 PM | Free, one-hour sessions! Registration required.
See more at Watertownlib.org.